At Growers Choice, the customer is our priority. As the owner of a dispensary, delivery service, or gardening shop, we know you feel the same way. That is why we're pleased to have the opportunity to join you in getting Growers Choice out into the world with a wholesale pot seeds partnership. Our premium pot seeds have been prepared by expert horticulturists, and come complete with an excellent germination guarantee that ensures your customers' satisfaction and good health.
We know you want the very best for your customers as well, so why settle for anything less than Growers Choice? We're one of the leading seed banks in North America. Feel free to browse around our website to get a better sense of who we are and why we do what we do. Our top priority is cannabis education and making sure our customers are happy with our seeds. We welcome feedback! We want to hear from you! We want to help your business grow! No seed collection is complete without Growers Choice.
Now's your chance to buy wholesale pot seeds from Growers Choice, one of the top-rated and most-trusted seed banks in North America. We treat our customers like family. You'll come to love the community of marijuana growers here at Growers Choice. Additionally, we're with you every step of the way during your growing journey, no matter if you're a beginner or seasoned professional. All our seed packets come with a helpful germination guide that you can also find online should you lose it. Our seeds are so easy to germinate, all you need is a paper towel! Don't be fooled into thinking you need a fancy grow room or expensive equipment to take full advantage of our seeds.
Looking for high-quality pot seeds online? Check out Growers Choice Seeds, your source for the very best marijuana seeds for sale online today. All of our cannabis seeds are fully feminized and completely ungerminated, making them legal to buy and own in the United States. We source our cannabis seeds from experienced growers around the globe, and every strain we sell is lab tested for genetic quality. Find out more about our strains when you check out our product detail pages, featuring important info like estimated grow time and average yield. Check out online using our secure server and your payment method of choice. We'll ship your seeds to your door using fast and discreet delivery.
Why Buy Seeds From Growers Choice?
At Growers Choice, we know how important it is to ensure your customers are satisfied – or preferably ecstatic – after trying your products. That's why we stand behind our strains completely and present the highest germination guarantee in the industry: we promise at least 9 out of 10 of your seeds will germinate, or we will replace them free of charge. Just one of our many informative offerings is our step-by-step Germination Guide, a tried-and-true method that ensures the best possible results! Just ask us, and we're happy to include in your order a stack of brochures that outline this simple, straightforward process.
Buy Wholesale Pot Seeds in North America
A North American company based on the west coast, Growers Choice provides an excellent selection of premium wholesale pot seeds guaranteed to delight both you and your customers. Our superior strains have been cultivated and curated by horticulturists with decades of experience in their field, and every pot seed is backed by our unparalleled germination guarantee. We're sure you've done your research, so it should be clear that partnering with Growers Choice is a fantastic idea. If you're not quite convinced, though, let us sweeten the deal!
Lawmakers may not want you to know this, but we're going to tell you anyway! It's legal to purchase weed seeds in all 50 states. It doesn't matter what the current marijuana laws are in your hometown as they do not pertain the weed seeds, specifically. There's a huge difference in chemical structure between marijuana seeds and mature marijuana plants. Since marijuana seeds do not contain THC and CBD, they are legal across the country. Some people even keep weed seeds around the house as a healthy snack.
Discounts on Wholesale Pot Seeds
Growers Choice Cannabis Seeds delivers on their promises, and that includes a guarantee that the wholesale pot seeds you buy will grow into beautiful, healing plants. Our company stands behind our product, and this is evidenced in our 90 percent germination guarantee. If fewer than 9 of 10 seeds germinate, we will replace the problematic seeds, for you or you clients. All you need to do is follow our germination method guidelines – and encourage your customers to do the same – and we will make sure those wholesale pot seeds are worthy of your investment.
| STEP 1 | STEP 2 | STEP 3 | STEP 4 | STEP 5 |
| --- | --- | --- | --- | --- |
| Soak pot seeds for up to 18 hours | Pour seeds and water onto plate with paper towel | Cover with paper towel and keep damp | Place plate in warm, dark spot | Wait 2-7 days until taproot has developed |
Our ever-growing selection of premium pot strains provides our partners and customers with the best of the best. All our seeds are feminized, so your customers will never have cause to weed out male plants and waste their valuable resources. In addition to regular feminized wholesale pot seeds, we also carry auto-flowering varieties, and "medical" strains that are high in curative, non-psychoactive CBD, and low in THC. This variety means you can easily offer strains that perfectly suit your customers' needs.
Forget plastic bubble packs and shoddy packaging. When you place your wholesale pot seeds order, you'll get our unique, custom medical-grade glass vials as well, which ensures cleanliness, freshness, and vitality. The glass vials go in custom plastic cases, and colorful inserts share strain information and details on growing and use.
We believe in keeping our promises, and that goes for the ordering contract between our companies, too. We strive to keep all our products in stock at all times, so you will not need to deal with delays or cancelled orders. If we do temporarily run out of a certain wholesale pot seed strain, we will let you know before your order is placed if at all possible.
It is in the best interest of both our companies to ensure your customers know about our products. As such, we are happy to include complimentary promotional materials with each order, and encourage our partners to display our informative brochures around their stores. Enlighten your customers and bring in new ones with your latest product offerings – as more and more states allow growing, do-it-yourself pot seeds are quickly becoming a sought-after item.
Our dedication to service follows our seeds from the warehouse floor, to your store, to the homes of your customers. We offer fast delivery and will do everything in our power to ensure your pot seeds arrive on time and in perfect condition. We package our seeds discreetly so your business remains your own.
Wholesale Pot Seeds For Sale
Buying wholesale weed seeds from Growers Choice means you're a partner and a friend, and we treat our friends right! Email wholesale@growerschoiceseeds.com to find out more about the fantastic discounts to which you're entitled. Our wholesale customers can receive up to 70 percent off orders of more than 1000 seeds, and can choose from packages of 500, 1000, and 2000 wholesale marijuana seeds. We even offer combo packs that net you two great strains for the price (and discounts) of one.
Medical Wholesale Pot Seeds Online
At Grower's Choice, we're proud to offer real, all-natural wellness products to your customers. Our wholesale pot seeds include strains that can be used to promote overall well-being. More and more research about the therapeutic uses of marijuana is coming out every day. If your customers are looking to cultivate marijuana for wellness purposes, but aren't sure where to start, we're here to help!
Each one of our strains includes detailed information that outlines their most common medicinal uses. And when you're looking for wholesale pot seeds for sale that offer therapeutic relief without the psychoactive effects, we have a selection of high CBD strains that can help. If you're looking for more information about the many ways marijuana has been used to treat medical conditions, save your time googling — we've put together an online library to help answer your questions. Feel free to print out these pages and give them to your medical cannabis customers.
When it comes to all-natural medicine, we know cannabis ranks as one of the top remedies! Bear in mind, though, that cannabis—no matter how strong or potent—can never "cure" or "treat" a medical condition. All the effects of cannabis are temporary. You may feel some relief with your depression, anxious thinking, or stress, but the effects of cannabis will eventually wear off. For a longer sense of relief, please consult with a medical professional. Be sure to ask your doctor if you can mix cannabis with any previous medications you're already taking.
Wholesale Pot Seeds and More
When you buy wholesale pot seeds, you're not just getting seeds. Of course that's the reason you're here, but at Grower's Choice, we also want to help you grow your business. Does your website need a makeover? We have a website and graphic designers standing by, as well as SEO experts who can help give your business a boost online. 
At Grower's Choice, we also want to make sure you have everything you need to offer those wholesale pot seeds for sale. From display cases to posters, to informative pamphlets and strain details, we're happy to send you whatever you need. Just ask!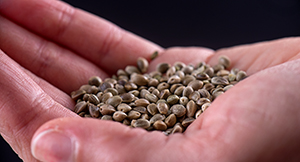 Buying wholesale pot seeds from Growers Choice doesn't just get you a quality product. You also gain access to resources designed to help both you and your customer, such as informative articles about preserving cannabis seeds and how to start growing marijuana. We know that a successful grow means repeat business for you, and we're here to help your clients get the most from their seeds. We don't just stand behind our product, we're also invested in you and your customers.
And when it comes to supplying your customers with the knowledge and information they need to tend to their plants from start to finish, look no further than our online library of Grow Advice. Conveniently located in one place, you can find the answer to nearly every question your clients might have in regard to germinating, growing and harvesting marijuana. Regardless of whether you or your customers are expert gardeners or just starting out, there's always something new to learn about growing cannabis. We're just as interested as you are in how to maximize the potential of each plant in order to get a healthy harvest of high-quality, medical-grade marijuana.
Buying Wholesale Pot Seeds from Grower's Choice
When you buy bulk cannabis seeds from us, you'll receive up to 70% off popular strains your customers love. But that's not the only reason to choose Grower's Choice when you're buying wholesale pot seeds. Along with our 90 percent germination guarantee and selection of close to 100 strains available for wholesale purchase, we offer quality customer service, second to none. 
We're here for you every step of the way, and not just when you place your order. From answering your questions to troubleshooting with your own clients, we want to make sure that both you and your customers get the most out of our seeds. When you buy wholesale pot seeds from Grower's Choice, you become part of our team, and we care about your business and your customers' satisfaction.
Buying Wholesale Pot Seeds on Our Website
As a company that has made its own way, we understand that your business may want to maintain a consistent brand throughout your store. That's why we're happy to provide all our wholesale partners with the option to select white-label packaging. We send your seeds – still available with our medical-grade glass vials, of course – without our Growers Choice logo anywhere in sight, enabling you to choose your own branding and marketing direction. Whether you have our name displayed or not, we will always provide you with a full list of all the medical and recreational benefits of each strain you order.
Sound like the perfect pairing? Want to buy cannabis seeds in 2021? Then why wait? Contact us at wholesale@growerschoiceseeds.com or give us a call at 1-866-811-GROW (request our wholesale department) to request our list of more than 80 cannabis seed strains. When you're ready to place your order, just reach out to us again, and one of our representatives will get you started on this new chapter in your business!
Autoflowering wholesale pot seeds
Not only does Growers Choice have all of your favorite, fully-feminized wholesale pot seeds, but we also carry a wide selection of auto-flowering seeds. The future of cannabis gardening, auto-flowering plants automatically switch to the flowering stage without any work on your part. No need to adjust daylight hours, your plants will morph all on their own. That means you can relax and watch your buds develop without any fuss. And with strains like
You'll get a great harvest with hardly any effort. Once you try auto-flowering seeds, you might not go back to growing regular feminized varieties.
Three more outstanding Auto-Flowering Varieties:
Get Your Wholesale Pot Seeds Delivered
It's so easy to order both wholesale pot seeds and individual products from Growers Choice. Our website is friendly to all, and the information we have gathered about each strain is unparalleled in the industry. Take a look through our offerings to find out why we're quickly becoming a cannabis gardening favorite, and why your customers will thank you for providing our premium pot seeds in-store.
How to order wholesale pot seeds
Browse our fantastic collection of premium wholesale pot seeds and choose the varieties you would like to carry. We recommend selecting a combination of regular feminized, auto-flowering, and medical strains (or a combo that does the mix-and-match for you).
Place your order online (or get in touch with us if you prefer) and we will send you a notice when your order is placed, processed, and shipped.
That's it! Simply ensure all your information is correct, then sit back and wait for your shipment of Growers Choice wholesale pot seeds to arrive! Arrange the eye-catching packages in our custom-made display cases, and bask in the happy faces of your satisfied customers.
Better pricing may be available – please call us at 1.855.811.4769 or email us for more information.
Get Wholesale Combo Packs and Wow Your Customers:
I got two combos from you guys, and my customers have been fighting over them. I definitely need to place another order – such a good idea to offer seeds (and in that awesome rack, too) at my dispensary.