FLEXIBLE PAYMENT OPTIONS
To ensure you feel confident in your purchase, we offer a variety of safe and secure payment methods. Simply select the option that works best for you.
Payment Methods
At Growers Choice Cannabis Seeds, we're happy to accept the following methods of payment for your seed order:

Visa

Mastercard

Amex

Discover Card

Zelle
(US Only)

Payment By Mail
Get Free Seeds!
New to Bitcoin?
Using Bitcoin to pay for your purchase has never been easier. Simply signup for a Coinbase account, and you can purchase Bitcoin, Ethereum, Litecoin, or other crypto currencies with your bank card. The process is fully secure and completely anonymous.
Think of it as buying a giftcard and paying with it, instead of using your own credit card or bank card.
Once your Coinbase account has funds, you can then use it to make purchases and pay for your order securely and quickly!
Please see step by step instructions below.
How To Start Paying with Bitcoin?
1. Signup
Once you create an account, confirm your personal details and login. You may be asked to upload a scan or picture of your ID. Once you've logged in, continue to the next step.
2. Go to account settings
Navigate to the top right corner and click on your name. There should be a drop-down menu where you can click "Settings". Then click "Payment Methods" on the menu at the top and you should see something that looks like the image below. Click on "Add Payment Method" in the right corner.

3. Add your "Credit/Debit Card"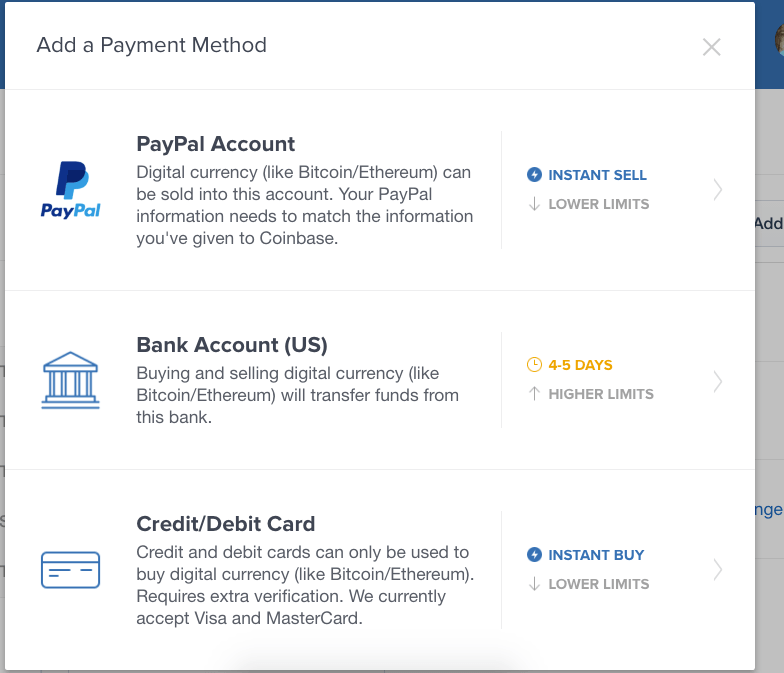 4. Enter your Credit/Debit Card Information
Please note that Coinbase only accepts Visa and Mastercard credit/debit cards at this time.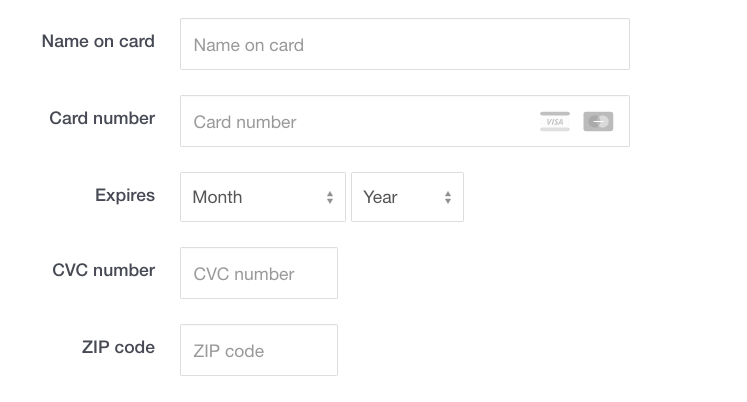 5. Confirmation
You should see a confirmation like the one below. If so, your credit/debit card has been successfully added!

6. Buy Bitcoins!
Go to the buy page and you should see a widget that looks like the image below. Enter the amount you want to buy, and click "Buy Bitcoin Instantly". Your coins will then be delivered to your Coinbase wallet instantly!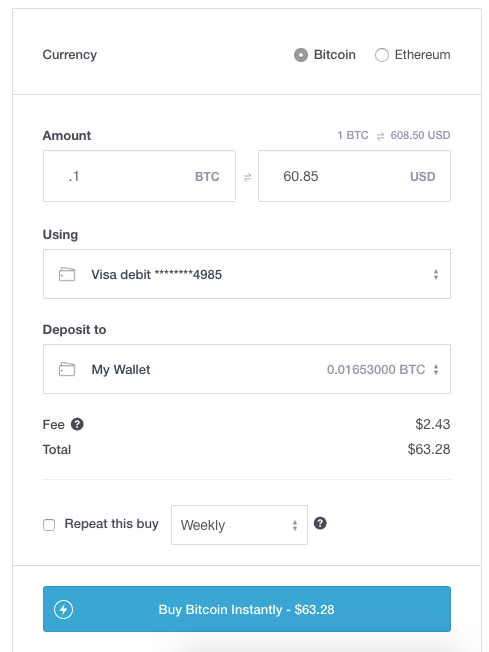 7. Pay with Bitcoin
When you checkout with your order and choose to pay with bitcoin, a followup instructional email will be sent to you. It will provide instructions on how to transferring your bitcoins to us as payment towards your order. Please contact us if you have any questions or concerns. We would be more than happy to walk you through the process so you can pay safely, securely, and most importantly, anonymously, with Bitcoin.
Payment Methods Made Simple
When you order from Grower Choice, you can take your pick of payment options – whatever is easiest for you!
Payment by Mail* Because this method is easier for us to process, we want to show our appreciation by including an extra 3-seed pack when you pay with cashier's or certified check or money order! We cannot accept cash or personal checks.
Cryptocurrency: We accept BitCoin, Litecoin, or Ethereum. It's the fastest and most secure way to pay for your Cannabis seeds order. And you also get a nice discount when you use them. Get started today!
Zelle (U.S. only) Using Zelle to send your payment means you don't pay any transaction fees!
For the above payment methods, instructions will be emailed to you after you sign out, with details on how to complete your payment. You will not be required to enter payment information during checkout.
* To keep your money safe when using the Payment by Mail method, please wrap your money in paper and use an opaque or printed envelope. We also suggest adding tracking to your envelope so you can make sure the payment arrives without issue. Unfortunately, we cannot be responsible for payments that never arrive.
Payments by Mail
You can mail us your payment along with our Payment By Mail order form. If you choose this method, you agree to send a properly titled certified check, or money order, as instructed in the Payment By Mail order form. You also agree to allow us 3 to 5 business days (or a reasonable amount of time based on your location) to receive your mail before we send your order. Please don't hesitate to reach out to our customer service representatives should you have any questions or concerns.
Additional Information
No orders or products will be prepared for shipment until payment has been received in full.
Prices on our website are in US dollars.
Any bank transfer charges are the responsibility of the customer.
Any credit card fees, exchange rates, processing fees, or service fees charged by the customer's credit card issuer are the responsibility of the customer.
In countries where Duty or Import taxes exist, these additional charges are the responsibility of the customer.