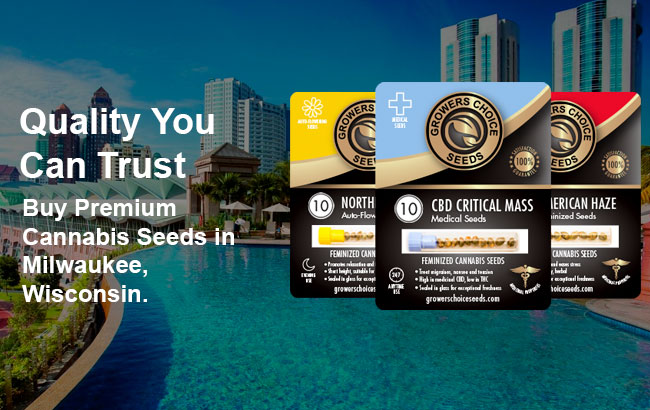 If you're planning to visit or move to Milwaukee, which is known for the classic 70s and early-80s sitcom Laverne and Shirley,  the home of Pabst Blue Ribbon (or "PBR" as it's more commonly known), and being the city where the typewriter was invented, you'll want to be sure to be up to date on what is and is not legal when it comes to using and growing cannabis. As such, this blog will let you know everything you need to know about Milwaukee's marijuana laws, and how you can legally procure your own cannabis seeds!
Marijuana Seeds Milwaukee, WI
Despite the fact that an overwhelming majority of voters in Wisconsin, including those who reside in Milwaukee, believe that medical and recreational marijuana should be legalized, Republican lawmakers are essentially refusing to abide by the will of the people having made clear that they will not support the efforts to legalize and/or decriminalize cannabis in their state.
Meanwhile, with all of Wisconsin's neighboring states having legalized medical and recreational weed, and the borders of Minnesota and Illinois being about a seven- and three-hour drive from Milwaukee, respectively, locals are finding ways around their state's Republican lawmakers who seem content to ignore what Wisconsonites want.
In fact, the state's GOP is so deadset against helping its residents who could potentially be greatly aided by the therapeutic benefits of marijuana that they won't even allow patients access to anything more than CBD, and only if it contains zero psychoactive effects and their physician has provided them with written approval. Initially, this highly restrictive allowance, which was signed into law in 2014 by then-Governor Scott Walker (R), only granted patients with a seizure disorder exemption from criminal penalties for using and possessing CBD. In 2017, Walker did sign an Act into law that expanded this protection to patients with any kind of medical condition.
Therefore, it goes without saying that cultivating marijuana plants for any purpose is 100% illegal in Milwaukee and all of Wisconsin. However, there is one current bright spot for Milwaukee residents when it comes to preparing for the eventual day that the possession and growing of medical and recreational cannabis are legalized. This bright spot is the fact that it is not illegal to order, own, and store ungerminated marijuana seeds from online seed banks like Pacific Seed Bank (PSB) and Growers Choice Seeds (GCS). In fact, it's worth mentioning right now that you can safely store ungerminated cannabis seeds for up to five years.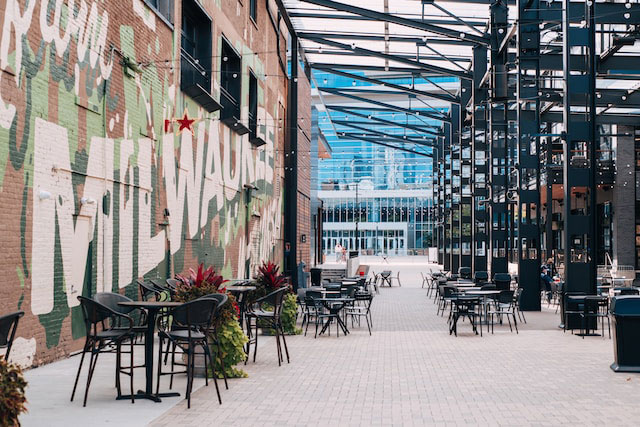 Why Ungerminated Marijuana Seeds Aren't Illegal
The reason that it is not illegal to buy, possess, or store ungerminated seeds from seed banks is because the cannabinoids, like THC, which are what make the growing and possession of cannabis plants illegal, are not activated until the seeds have been germinated and have begun to sprout.
While this is not a perfect example, it's sort of like how it's not illegal to have an unlit cigarette or a book of matches on your person on an airplane. It only becomes illegal if you light the cigarette and start to smoke it on the plane.
As such, Milwaukee residents have already begun ordering their ungerminated feminized seeds from seed banks, and are storing them out of the belief and hope that their state will cease to be the last Upper Midwest holdout, and will in the next year or two get with the times and pass marijuana laws that actually reflect what they and their fellow state residents want.
Why Milwaukee Folk Buy from Online Seed Banks
Currently, the only realistic and easy way for those who reside in Milwaukee to have any access to procuring marijuana seeds is to order them from an online seed bank. While it is true that they could drive several hours to the closest dispensary in Illinois, the fact is, not only do very few people have the time to drive hours just to get some seeds, dispensaries aren't set up to offer the kind of extensive cannabis seed catalog that places like PSB and GCS can.
Along with accessibility and the wide variety of cannabis strains available via an online seed bank, three other reasons that Milwaukee residents order Growers Choice cannabis seeds are as described below.
Speedy and Discrete Shipping: Even though it is not illegal to own and store ungerminated marijuana seeds in Milwaukee, the fact that cannabis is illegal in all of Wisconsin means that folk don't exactly want to announce to their neighbors or local law enforcement that they are storing seeds for the impending day that Wisconsin legalizes its use and cultivation. As a result, the fact that GCS not only quickly ships its seeds out but does so in discrete packaging is something that hopeful prospective cannabis cultivators in Milwaukee greatly appreciate. Plus, the discrete packaging also serves the purpose of not attracting the attention of would-be package, or in this case, cannabis thieves.
Cost: In a city with 11 colleges and universities, Milwaukee has one of the largest college students-per-capita ratios in the entire country. This also means that a good majority of its population who are in their early- to mid-20s are usually on a rather limited income. So, the fact that GCS not only makes its cannabis seeds available at highly competitive prices but also has wholesale marijuana seeds available and features regular monthly sales is something that those who call Milwaukee home truly value.
Germination Guarantee: Because those in Milwaukee are currently buying and storing their ungerminated cannabis seeds until Wisconsin passes legalization laws, GCS' germination guarantee is also a huge plus. GCS states that if 90% of your seeds don't germinate they will replace them for free, provided you stick to their cheap and easy germination guide. (You also need to make sure to properly store them and remember that they have a five-year shelf limit.)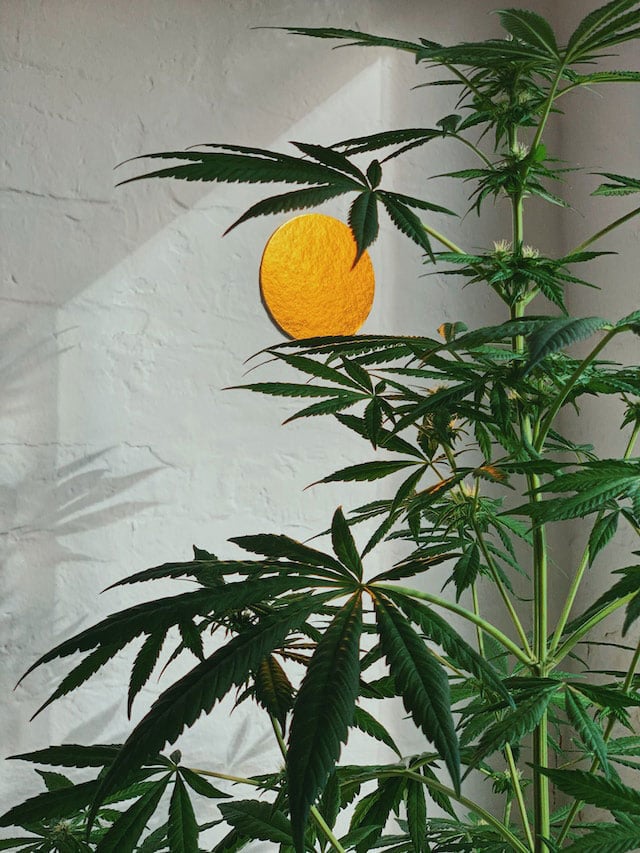 Feminized Seeds vs. Autoflowering Seeds
GCS only sells feminized seeds that are photoperiods or autoflowers because they have a 99% chance of growing into bud-producing female plants. They don't sell regular cannabis seeds because they produce both male and female plants, and while pollinator male plants are invaluable to cannabis breeders who are creating new strains, etc. they tend to be of little use to at-home cannabis growers.
Feminized Cannabis Seeds
Feminized seeds are photoperiod strains that require having their light/dark cycles switched from what is generally an 18/6 cycle to a 12/12 cycle in order for their plants to transition from the vegetative growth stage to their flowering phase. While this could present a small challenge to first-time medical growers in Milwaukee, the reality is those who live in Milwaukee have plenty of time to learn about cannabis cultivation before it's legalized thanks to the fact that GCS has a highly informative, and free, blog that has information on almost everything you need to know about growing cannabis both indoors and out, light cycles, the vegetative and flowering stages of a marijuana plant and so on. Therefore, once cannabis cultivation is legalized in Wisconsin, even first-time cannabis growers in Milwaukee will be well-prepared to start applying all the things they've learned to low-maintenance strains like Cinderella's Dream and Candy Jack.
Feminized Autoflowering Seeds

Autoflowers are feminized strains that are able to automatically transition to their flowering stage on their own, and generally produce smaller, more robust, faster-flowering plants than most feminized strains. The reason that they have all of these amazing attributes is because they contain ruderalis, which is a hardy landrace strain that originated in the regions of Central Asia that traditionally have prolonged cold and dark winters, and short summers with extended hours of daylight.

Once Wisconsin legalizes cannabis, autoflowers like Blue Amnesia and Hawaiian, which can thrive indoors and out, will be a huge benefit to growers in Milwaukee, which also has short warm to hot summers with frequent thunderstorms; and freezing, snowy, and windy winters. Basically, if you think of Chicago, you have an idea of what Milwaukee's four distinct seasons are like, only slightly colder.
Three More Popular Cannabis Seed Strains in Milwaukee
In addition to the four strains listed under feminized and autoflowering seeds above, here are three more that are popular amongst Milwaukee residents who are currently creating their own little at-home seed storage banks for when current Wisconsin lawmakers are replaced by ones who believe in listening to what state voters want.
Again, remember that it is 100% illegal to possess or cultivate cannabis, so all the recommendations provided are for once it is legal to germinate and plant your cannabis seedlings in Milwaukee.
1. Exodus Cheese autoflowering seeds: This evenly-balanced hybrid, which does require some previous cultivation experience to grow it, gives users the best of both worlds when it comes to experiencing the traits that people love about sativas and indicas where neither side outweighs the other.
2. Space Bomb feminized seeds: This easy-to-grow wake-and-bake sativa is like having that perfect first cup of coffee in the morning. It will thrive indoors, and should be ready for an outdoor harvest before the first frost hits in Milwaukee.
3. Dr. Who autoflowering seeds: This indica-leaning hybrid with its mind-bending, yet soothing effects that won't couchlock you, should begin to flower in an outdoor cannabis garden before the first frost of the year in Milwaukee, and indoors should start to flower in just 8-9 weeks.
Growers Choice Has Great Discounts
So pumped to see my favorite pot seeds on sale – finally! Affordable stock and – as my friends tell me – no skimping on great genetics and freshness. You can bet I'll be telling everyone how much I loved my Northern Lights cannabis seeds from Growers Choice. Thank you!
 Our Most Popular Cannabis Strains