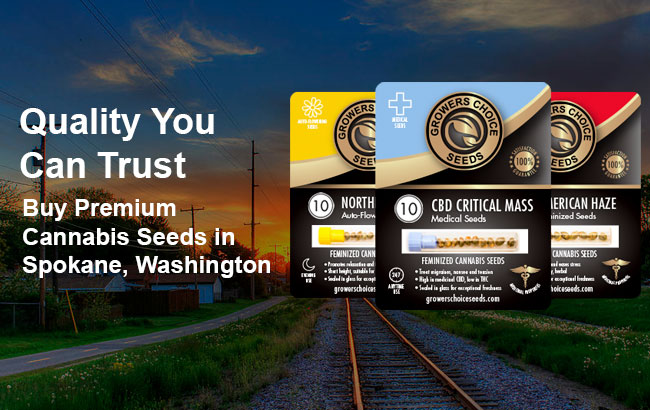 Curious about growing cannabis in Spokane? Unsure of what Washington State's marijuana laws are? Unsure of the difference between regular, feminized, and autoflowering seeds? Well, all of these questions and more are covered in the article below–so, keep reading!
Marijuana Seeds in Spokane, Washington
Often listed as one of the best places to live in all of Washington State, Spokane is a vibrant, cultural, and picturesque city renowned for its intermingling of urbanity and nature. It is also, like all of Washington, one of the few places in the country where medical and recreational cannabis are legal, but where adult recreational users are still not legally allowed to grow it at home. In fact, even though Washington has been one of the most progressive states in the U.S. as the fourth in the nation to legalize medical cannabis in 1998, and the first of two to legalize recreational marijuana in 2012, it is somehow the ONLY state that has legalized cannabis where those who do not have their medical marijuana cards and who are caught growing cannabis plants at home will still be charged with a felony!
Even more unfortunate is that the most recent piece of legislation that would have allowed Spokane and Washington residents to legally cultivate marijuana plants at home was pulled from consideration before a planned committee vote, which means that for the time being, prospective recreational at-home growers will have to wait at least another year before seeing any major changes to recreational cultivation laws in their city and state.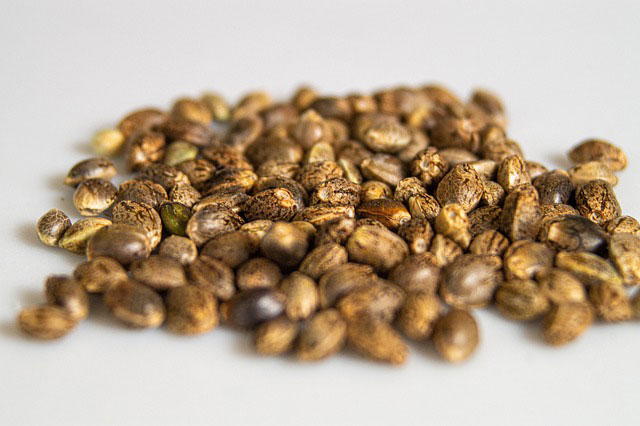 Ungerminated Cannabis Seeds Legal in Spokane
There are still a few positives for Spokane growers in that not only is it legal for registered medical marijuana users and their caregivers to grow medicinal cannabis plants at home, it is not illegal in Spokane, or anywhere in the U.S., to buy, own, and store ungerminated cannabis seeds from online seed banks like Pacific Seed Bank (PSB) and Growers Choice Seeds (GCS). This is because the THC and other cannabinoids found in female plants are not activated in ungerminated indica and sativa seeds until they have been properly germinated.
As such, because it is only a matter of time before Washington State passes recreational cultivation laws, prospective growers have already begun ordering their favorite cannabis seeds from GCS. In addition, since it is legal for medical cardholders to grow cannabis at home, medical marijuana patients have been ordering and growing their favorite marijuana strains at home for medicinal purposes for years.
Medical and Recreational Cannabis Laws in Spokane
Laws for Medical Marijuana Patients:
You must be 18+, or have a designated caregiver who is 21+.
Registered medical users and their caregivers may purchase, sales-tax-free, the following quantities from a state-licensed cannabis dispensary:

3 ounces of usable marijuana
48 ounces of cannabis products in solid form
216 ounces of marijuana products in liquid form, or
21 grams of cannabis concentrates.

If a patient or their caregiver chooses to be entered into the state's voluntary database are known as "recognition card holders" and may cultivate up to six plants at home for personal medicinal use, and they can possess up to 8 ounces of usable cannabis harvested from their plants.
If the patient's health care provider determines that the patient needs more, then they have the authority to authorize up to 15 plants, and a possession limit of up to 16 ounces of usable cannabis harvested from these plants.
If you are a qualified patient but choose not to become a recognition card holder by being entered into the state's database you are permitted to cultivate four cannabis plants at home, and posses up to 6 ounces of usable marijuana grown from these plants.
Whether you are a recognition card holder or a qualified patient with valid authorization, no more than 15 plants can be grown in any residence even if several registered medical card holders live there.
Recreational Marijuana Laws
You must be 21+ to be considered a legal adult-user.

You can purchase the following from a recreational dispensary:

1 ounce of usable cannabis
16 ounces of cannabis-infused products in solid form (i.e. edibles), or
72 ounces of marijuana-infused products in liquid form


It is illegal to use any form of cannabis in public, but you can legally use and consume it on private property.
If you are driving with more than 5 nanograms of active THC in your blood, there could be serious legal repercussions.
It is a felony to cultivate marijuana at home for recreational purposes.
Spokane's Growing Environment
Located between the Cascade and Rocky Mountain Ranges, which shield the city from the typical weather patterns much of the Pacific Northwest tends to experience, Spokane has more distinct four seasons than other areas in Western Washington. On average, Spokane has a frost-free growing season that last 180 days. Traditionally, it sees mild springs; short and hot summers that are Mediterranean-like; mild and rainy autumns; and cold, snowy, and mostly cloudy winters.
When it comes to cultivating medicinal cannabis, Spokane's springs and summers are conducive to both feminized and autoflower strains that thrive in warm to hot, dry, Mediterranean-like climates.
While a good majority of autoflower seeds and feminized marijuana seeds can both be grown indoors and out in Spokane, there are certain advantages to growing autoflowers outdoors during the city's 180-day growing season.
Feminized Seeds vs. Autoflowering Seeds
The reason that seed banks like GCS only sell feminized marijuana seeds is because they have a 99% chance of growing into bud-producing female plants, as opposed to regular seeds, which produce both male and female plants. In addition, GCS is so confident in the germination rates of their cannabis seeds that it makes available to customers that they provide a germination guarantee that if 90% of your seeds don't germinate they will replace them for free, provided you stick to their cheap and easy germination guide.
Feminized Marijuana Seeds
Feminized seeds are photoperiod strains that are unable to flip to flower on their own without having their light/dark cycles changed from what is generally an 18/6 cycle to a 12/12 cycle. As such, they can present a minor challenge to first-time medical growers in Spokane as they will have to learn about light cycles and the flowering stages of their crops. However, GCS has an incredible, and free, blog that has information on almost everything you need to know about growing cannabis both indoors and out, amongst numerous other things. As such, beginner growers can arm themselves with all of this easy-to-access information and apply it to feminized strains like Marionberry Kush and CBD-rich Dance World that are easy for beginner growers to nurture in regard to their cultivation needs and care.
Feminized Autoflowering Seeds

To start with, while not all feminized strains are autoflowers, all autoflowering strains are feminized. Autoflowers are feminized strains that contain approximately 10% ruderalis, which is a robust landrace strain that originated in Central Asia. Their ruderalis genetics not only empower them to be able to automatically flip to flower on their own, they are also imbued with the tendency to produce smaller, faster-flowering plants that tend to be hardier than most feminized strains.
As such, at-home medical cannabis growers in Spokane love being able to grow autoflowers like Hempstar and White Rhino outdoors from about early May until early October, and one of the things that they love about growing them indoors is that they tend to be smaller, which means they take up a lot less space in a limited indoor grow space.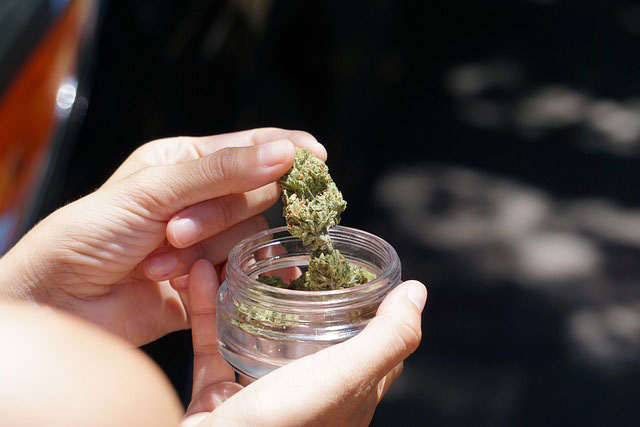 Why Spokane Cultivators Buy Their Medical Marijuana Seeds from Online Seed Banks
To start with, the fact that recreational cultivation is still illegal means that finding a wide selection of cannabis seeds for medicinal purposes is extremely limited in Spokane. As such, the fact that seed banks like GCS offer such an extensive selection of strains is a huge draw for at-home medical growers in Spokane.
Two of the other big reasons why medical users and prospective recreational growers in Spokane prefer to order from highly reputable seed banks like GCS are provided below.
Speedy and Discrete Shipping: While it is not illegal to own and store ungerminated marijuana seeds in Spokane, most adult users who are waiting for the encroaching day that Washington legalizes at-home recreational growing don't exactly wish to broadcast the fact that they have received cannabis seeds in the mail. And, for medical patients in Spokane who suffer from limited mobility issues, having their favorite medical and high-CBD strains delivered right to their door is an invaluable service.
Cost: Not only does GCS make its cannabis seeds available at competitive prices, they also make wholesale marijuana seeds available and have regular monthly sales.
Three More Top Strains to Grow in Spokane
In addition to the four different feminized and autoflowering strains already provided, here are three more that should thrive both indoors and out in Spokane.
1. UW feminized: it's easy to understand why this indica that's rumored to have been created in the medical research lab of the University of Washington in the 1990s is so popular in Spokane.
2. Green Queen autoflowering: this sativa-leaning beauty should thrive in Spokane's dry, Mediterranean-like summers.
3. Jesus OG autoflowering: when grown outside this transcendent sativa likes a warm Mediterranean-like setting and should be ready to harvest before the first frost of the year in Spokane.
In Spokane, Gardeners Choose Growers Choice
I've bought from this company twice now, and each time I've been beyond impressed. They really raise the bar, and I'll definitely be back again.
 Our Most Popular Cannabis Strains