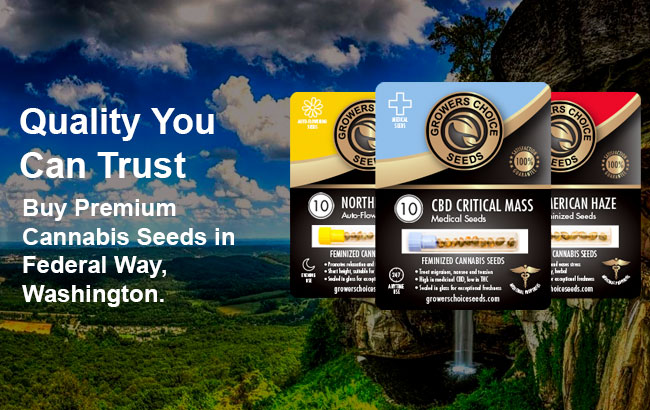 Can I legally plant kush cannabis seeds in Federal Way?
Although fifty-six percent of voters approved the state's 2012 Initiative 502 to legalize cannabis (adults are allowed to possess up to one-ounce of cannabis for their own personal use, in private), cultivation remains legal only for medical patients.
Anyone registered with the state's medical marijuana program can legally grow up to six plants in their home, while if you haven't registered, you can legally grow four plants – still nothing to sneeze at, especially when you consider there are measures you can take to extend the life of your cured cannabis.
Buy cannabis seeds in Federal Way
You shop for clothes, toys, presents, and groceries online, why not shop for your cannabis seeds that way too? Top quality Federal Way cannabis seeds are but a click away when you shop online with Growers Choice Cannabis Seeds. Explore our site and find a variety of popular kush strains, ideally suited to your therapeutic needs. Every seed is carefully hand-picked and inspected to ensure viability, and, once you place your order, sealed in medical-grade glass vials to guarantee freshness on delivery. We ship our seeds nationwide from our facility in Canada to your home address, and offer our customers a 90% Germination Guarantee – if your seeds don't pop, we'll replace them.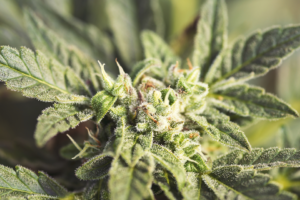 Cannabis seeds for sale in Federal Way
Kush is a variety of the weed plant that is descendant from the Hindu Kush mountains. This range, which spans the border of Afghanistan and Pakistan, is one of the few geographic areas where these particular plants grow natively. Kush cannabis plants will usually feature deep green colas and leaves that have hints of purple, with dense and chunky buds. The aroma can vary greatly, anywhere from sweet or floral, to earthy and pungent, or even like gas. As for the flavor, it should be smooth with the hint of flowers, grape, diesel, or earth.
What are kush cannabis seeds?
The story of cannabis is as rich as some of its most potent strains. Not content to remain a single strain, there are three different (and useful) varieties – cannabis sativa, cannabis indica, and cannabis ruderalis. To narrow it down even further, you may notice that some of your favorite strains also have been further defined by common terms such as Haze, Kush, and Purple. These names refer to similarities in strains that are characterized by distinct smells, flavors, effects, and more. At Growers Choice Cannabis Seeds, we carry a variety of kush Federal Way cannabis seeds, and want to delve a little deeper into what these strains have to offer.
What are the effects of kush weed seeds?
Depending on the strain, the typical effects of kush weed is heavily sedative, and can offer a bright euphoria that will leave you rested and in a good mood. It's often used as a meditative strain. A few popular Kush varieties carried by Growers Choice include:
Customers in Federal Way have great things to say about Growers Choice
Growers Choice is fantastic, from customer service to shipping, they're prompt and reliable. I'd have to say the AK is one of my favorites of theirs, but I also like the Tangerine Dream, such a great smell. I'd love to see them add more strains, but they still have some very good ones. I've ordered from here some 15 times now, I've never been disappointed. Thumbs up!
 Our Most Popular Cannabis Strains