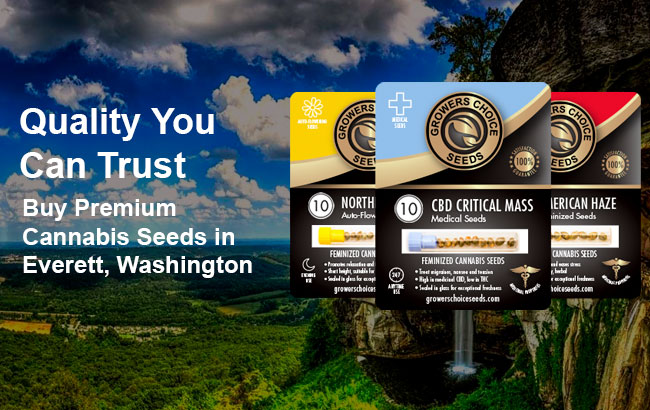 Buy cannabis seeds in Everett
Harvesting your buds at the right time will also ensure you get maximum cannabinoids. There is about a 2-3 week window during the flowering stage where your buds are mature and have their highest levels of THC. You can tell this visually, by checking out the trichomes, or resin glands, that cover the buds. They should be a milky white, while most of the pistils (hairs) will have darkened in color and curled inwards.
Our last tip, ensure that you're using a really high quality LED or MH/HPS grow light during the flowering stage. Cannabis plants will not produce significant amount of bud without very bright light during this period of their growth.
Marijuana seeds for sale in Everett
If you're ready to pick up your next package of Everett cannabis seeds, take some time to peruse the selection of high quality indica and sativa strains available online from Growers Choice Cannabis Seeds. Our strains are handpicked from across the world, each chosen for their specific potency and quality. We carefully cultivate our cannabis seeds in our facility in Canada, and package them in sealed glass containers for shipment across the border to your Everett address. And each purchase comes backed by our 90% germination guarantee.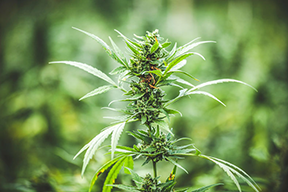 Can I grow more potent cannabis at home?
You can look at growing cannabis as nothing more than a fun way to pass the time, but it's really an investment of your time and hard earned money. That you would want to be able to get the most out of every Everett cannabis seed (like those available online from Growers Choice Cannabis Seeds) you purchase makes a lot of sense, and there are a few easy and effective ways that even the most novice gardener can achieve.
You'll achieve greater mental and physical effects from the same amount of bud – your harvest will go that much further
Higher THC levels may mean greater relief from symptoms like nausea, pain, spasticity, and other conditions, especially if you practice micro-dosing.
Many of the tricks to increase THC levels can also increase your overall cannabis yields – more, better, what more can you ask for?
What's the easiest way to boost the THC in my weed seeds?
When you want to ensure your final harvest has the maximum amount of THC (or CBD, if you prefer the medical strains) you can get, first and foremost, you need to start with excellent genetics. Plant genetics set an "upper limit" of how much THC and other cannabinoids the particular plant will ever be able to produce, so it's important to note here that although you'll only ever be able to boost the level of THC within this limit (for instance, a strain like Cheese has 10% THC, and will never go beyond that threshold.
Are there other ways to get more out of my cannabis harvest?
For Colorado residents, cannabis use, both medical and recreational, has been a part of the fabric of the state for some time now, and Boulder locals should take advantage of their ability to get experimental with their home grown cannabis (in Colorado, residents can grow up to six plants at home for personal use). If you've not done so before, now is a great time to try your hand at making cannabis hash, a pot product made by collecting the resin left over from the fan leaves and plant material that didn't make the cut.
Growers Choice is top of the class
So there are a few places near me in Everett where I can get pot seeds but I prefer to shop with Growers Choice. It's not just about convenience, I actually picked up my first pack from a dealer here and I was hooked. Their seeds are just superior, in my opinion. I've yet to be let down.
 Our Most Popular Cannabis Strains