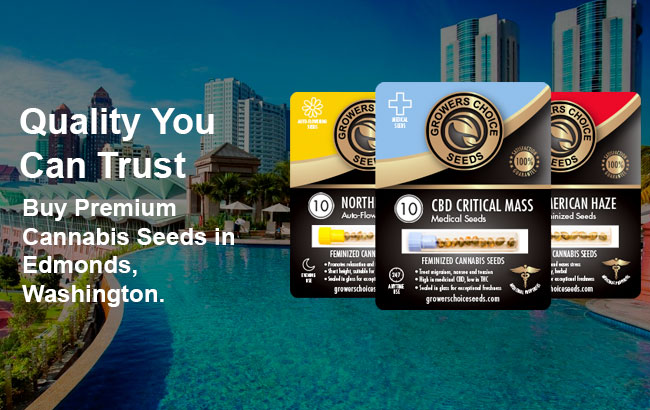 Is Cannabis Legal in Edmonds, Washington?
Washington voters authorized decriminalization of cannabis in 1998. In 2012, they voted in favor of marijuana again, this time permitting limited adult recreational use, including a regulatory framework for producers, processors and retailers.
It's legal to order seeds and take delivery of them. However, only registered medical marijuana users can grow their own. Medical growers are limited to up to six plants for personal medical use, and can be in possession of up to eight ounces of usable cannabis produced from those plants.
Getting a medical marijuana card is not too difficult. Washington state law provides a very specific list of qualifying conditions that allow medical marijuana authorization. That list includes pain, PTSD, cancer, glaucoma, traumatic brain injury and more. Make an appointment with your healthcare practitioner, who is qualified to grant you authorization. Once you've got your card, you can grow indoors, outdoors or in a grow room.
Where to Buy the Best Cannabis Seeds in Edmonds, Washington
Ready to grow some top quality cannabis in Edmonds, Washington? It's simple to go online, order from our huge selection of cannabis seeds, take delivery in just a few days, and get those seeds planted. Imagine your lush crop of outdoor plants in the foreground, with the lapping shores of Puget Sound and a striking view of the Olympic Mountain range beyond. Or grow year-round indoors, to supply a reliable stash of cannabis for the hiking, biking and paddling beloved by most everyone in this Seattle suburb.
How to Order Weed Seeds in Edmonds, Washington
Ordering is always a breeze with Growers Choice, proud to be one of the biggest suppliers in the USA. Our site is easy to navigate. We've also got a whole series of free online education for growers, whether you are a beginner or experienced. You can also peruse our blog for useful information like how to store your weed seeds, details on certain strains and more.
How to Decide on the Right Cannabis Seeds to Order
At Growers Choice, our cannabis seeds are tried and true. We've got varieties for all your needs, just hop online and click on the category you're looking for. We sort our seeds into three categories to make your online buying experience easy:
Our handy pull-down menus make it super easy to sort for a variety of qualities. Check out our top five strains and see what fellow growers love. Simple clickable menus let you filter what you are and aren't looking for in your Edmonds cannabis seeds. Just like shopping for shoes, but instead, you get weed!
How do our Edmonds, Washington customers feel about their Growers Choice cannabis seeds?
What a harvest! My plants have been thriving since day one. When I think of how much I save by growing my own with your excellent cannabis seeds, it kind of blows my mind.
Most Popular Cannabis Seeds