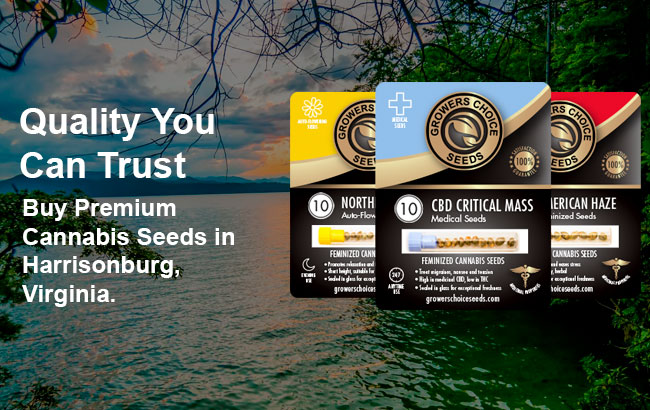 Buy cannabis seeds in Harrisonburg
If you're looking for high quality Harrisonburg cannabis seeds then look no further than Growers Choice. We offer a selection of over 40 of the most popular cannabis seed strains available, and our premium seeds are discreetly delivered directly to your door. With easy online ordering and safe and secure payment options, including Visa, MasterCard, and Bitcoin, purchasing our feminized cannabis seeds is quick and easy. We're dedicated to helping people discover the many therapeutic benefits of cannabis and are committed to providing a high quality product while delivering impeccable customer service. That's why all of our orders come with a 90% germination guarantee—that means if you order 10 seeds and only 9 produce results then we'll replace the non-viable seeds right away.
Are Harrisonburg cannabis seeds legal?
Cannabis seeds are legal to own and purchase in Harrisonburg and all of North America. This is due to their classification as an adult novelty item, making them legal to own as a collector's item. While many marijuana laws are changing across the country, both in terms of medical and recreational use, Virginia is a bit slow to follow this progress. While medical and recreational marijuana use are both still illegal in the state, a bill signed into law in 2015 created an affirmative defense against possession of CBD and THC-A oil that are used for the treatment of epilepsy. This means if an individual is charged with possession and can prove that the oil was recommended by a doctor, then they will face no legal consequences of possession.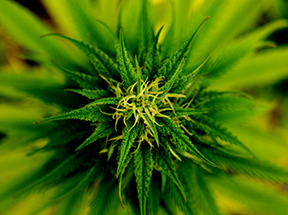 Cannabis seeds for sale in Harrisonburg
Your Harrisonburg cannabis seeds could be at your door in a matter of days if you simply order from Growers Choice today. Every order in the U.S. comes with flat-rate shipping fees and the ability to track your order, so you know that your cannabis seeds will arrive when they're supposed to. Additionally, all of our seeds are sealed in air-tight, medical-grade vials to ensure freshness through the delivery process and beyond. This packaging even makes for great storage if you need to save your seeds for future use.
Best weed seeds for seizures
It has been proven many times over that cannabis has a number of medicinal benefits, and much attention has been paid recently to the effectiveness of marijuana for the treatment of debilitating seizure conditions. Even states with the strictest marijuana laws are allowing patients with such conditions to have access to CBD oils that offer all the medicinal benefits of marijuana without the psychoactive effects that are caused by THC. At Growers Choice, we're proud to carry a line of high-CBD medical cannabis seeds, which may be helpful for patients who suffer from seizures:
Growers Choice is the first choice in Harrisonburg
I have learned so much from Growers Choice! Their amazing website is so informative and the customer service representatives are so helpful. This company has definitely opened my eyes to the many benefits of medical cannabis. Thanks Growers Choice!
Most Popular Cannabis Seeds