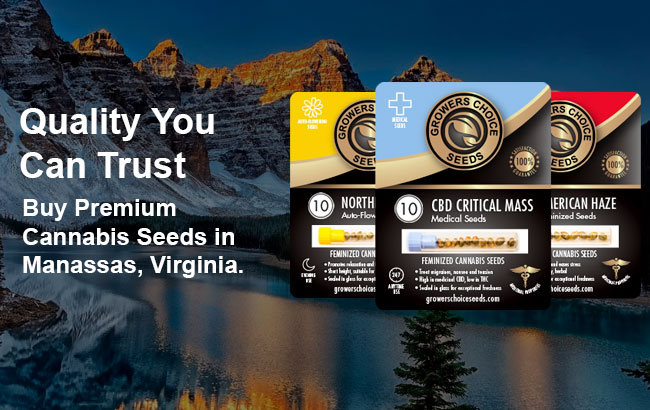 Order High-Quality Manassas Cannabis Seeds
Premium Manassas cannabis seeds are just a few clicks away from Grower's Choice Seeds. We are an online cannabis seed retail store that delivers high-quality seeds directly to our customers. If you want great seeds discreetly delivered to your doorstep, go with Grower's Choice Seeds!
Virginia Cannabis Laws
Did you know that you can legally order cannabis seeds online from Grower's Choice Seeds? You can! Even in the state of Virginia. Though it is not yet legal to grow plants at home, you are legally allowed to purchase cannabis seeds for your private collection. Just leave your seeds from Grower's Choice ungerminated and unplanted so you are following the law. Lawmakers in Virginia took a huge step forward with medical marijuana legalization in 2019. This means that approved patients now have legal access to their medicine. The lives of thousands of people in the state will be greatly helped by this new law. Hopefully soon, patients will be able to legally grow their medicine in their own backyard! Until then, legally stock up on your favorite seeds from Grower's Choice Seeds.
Buy Weed Seeds On Sale
Grower's Choice Seeds carries cannabis seeds on sale! These seeds are a great opportunity to save some hard earned cash! We are always updating our inventory of high-quality weed seeds on sale, so be sure to check back regularly to see if your favorite strain is discounted. Remember, seeds from Grower's Choice can maintain their excellent germination rates for up to 3 years if stored properly. That means you can take advantage of today's low prices even if you aren't planning on growing plants right away. Grower's Choice Seeds is the marketplace for budget-minded growers! Order now!
Get Premium Cannabis Seeds Delivered to Your Home
If you want high-quality Manassas cannabis seeds delivered to your doorstep, Grower's Choice Seeds is here to help. We deliver legal seeds around the USA daily, so feel free to get started on your premium cannabis seed order today!
Most Popular Cannabis Seeds