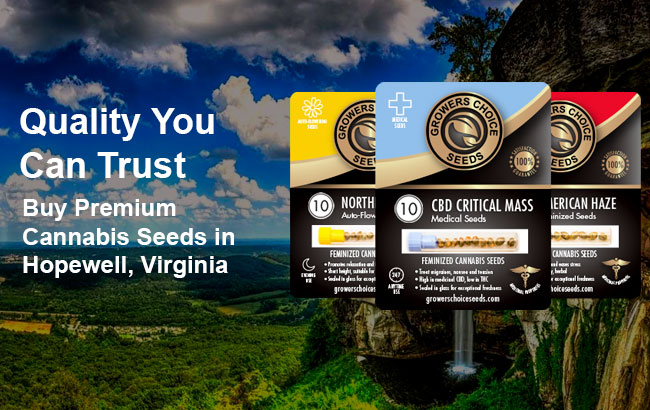 How to Buy Hopewell Cannabis Seeds Online for Delivery
Have you been thinking about buying cannabis seeds online? There's never been a better time with Growers Choice Seeds. As the premier cannabis seed bank in the United States, it's easy to see why we're the number one place to buy Hopewell cannabis seeds online. We carry a large selection of high quality cannabis seeds in our online inventory, including all of your favorite sativa, indica, and hybrid strains. Find your perfect seeds and check out online using our secure payment portal, and we'll ship your seeds directly to your door using our fast and discreet delivery.
Is Growing Cannabis Plants Legal in the State of Virginia?
Unfortunately, growing cannabis plants for either recreational or medicinal use is not allowed in the state of Virginia at this time. Although the state does allow for industrial hemp plants to be cultivated on an agricultural level, individuals may not grow their own cannabis or marijuana plants for personal use. However, it is legal for adults over the age of 21 to buy and own cannabis seeds, as long as the seeds are ungerminated. Ungerminated cannabis seeds are commonly considered novelty gifts that are not prohibited in the United States. You'll find a wide selection of high quality ungerminated cannabis seeds in our online inventory when you shop with Growers Choice Seeds today. All of our cannabis seeds are completely ungerminated, and each seed pack we sell is backed by our germination guarantee. We offer fast and discreet delivery on every order, and tracking is provided so you can follow your seeds on their journey from our doors to yours. Remember, cannabis seeds that are stored in a cool, dry place will not germinate, so make sure to store your marijuana seeds appropriately.
Order the Best Autoflowering Cannabis Seeds Online
We recommend our autoflowering strains of cannabis seeds to both first time growers and to those who plan on growing their cannabis plants outdoors. Autoflowering cannabis plants won't require a complex change in light exposure to flower, making them ideal for outdoor growing areas. We carry a wide selection of autoflowering cannabis seeds, including
Haze XL Autoflowering Feminized Cannabis Seeds
Hindu Kush Autoflowering Feminized Cannabis Seeds
Critical Purple Autoflowering Feminized Cannabis Seeds
Sour Kush Autoflowering Feminized Cannabis Seeds
Northern Lights Autoflowering Feminized Cannabis Seeds
Discover more about these easy to grow autoflowering cannabis seeds when you view their product pages. You'll find strains details like grow time and yield, plus reviews from other buyers.
Order High Quality Weed Seeds for Delivery Today
Ordering Hopewell cannabis seeds online has never been easier. With Growers Choice Seeds, you know that you'll get fast and discreet delivery of your weed seeds. Follow us on social media to get the latest cannabis news and promotions, and sign up for our newsletter to win free seeds!
Most Popular Cannabis Seeds