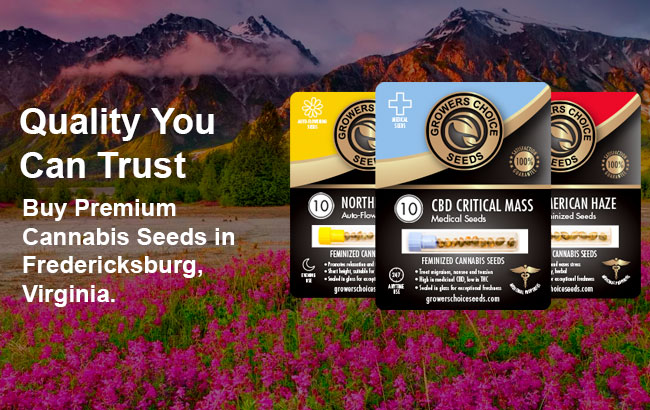 Where to Find Fredericksburg Cannabis Seeds For Sale Online
If you've been wondering where to get high quality Fredericksburg cannabis seeds online, then look no further than Growers Choice Seeds. We are proud to bring you the very best cannabis seeds for sale on the market today, all sourced from our trusted community of cannabis cultivators from around the globe. Simply select your favorite seeds, check out online using our secure payment portal, and we'll ship your cannabis seeds directly to your doorstep. Delivery is fast and discreet, with tracking available on every order so you'll know exactly when your seeds are arriving.
Is it Legal to Grow Medical Marijuana Plants in Virginia?
As of 2020, the state of Virginia does not have a medical marijuana act in place. Unlike neighboring states and areas, including Washington, D.C, which has legalized both medical and recreational cannabis, Virginia does not allow for medical or recreational cannabis use by individuals. The state has some of the harshest penalties for personal cannabis use in the country. Only limited access to medical CBD is available to patients with a qualifying condition, such as cancer, epilepsy, or a terminal illness. Regardless, it is still legal for adults over 21 years of age to buy and own cannabis seeds in Virginia, as long as the seeds are ungerminated. Cannabis seeds that are ungerminated are novelty items and are legal to buy and own in the United States, including online from cannabis seed banks such as Growers Choice Seeds. You'll find a large selection of high quality ungerminated cannabis seeds for sale now in our online catalog. To get started, simply browse our digital shelves to find the seeds that are right for you, and then check out online using our secure server. We provide fast and discreet delivery on every order.
Order the Best Autoflowering Cannabis Seeds Online
We recommend our autoflowering strains of cannabis seeds to both first time growers and to those who plan on growing their cannabis plants outdoors. Autoflowering cannabis plants won't require a complex change in light exposure to flower, making them ideal for outdoor growing areas. We carry a wide selection of autoflowering cannabis seeds, including
Discover more about these easy to grow autoflowering cannabis seeds when you view their product pages. You'll find strains details like grow time and yield, plus reviews from other buyers.
Buy High Quality Weed Seeds Online for Delivery
Want high quality weed seeds delivered to your door? Order online from Growers Choice Seeds today. As the best place to buy Fredericksburg cannabis seeds online, we've fully stocked our digital inventory with all of your favorite strains. Shop our selection of cannabis seeds now to get started.
Most Popular Cannabis Seeds