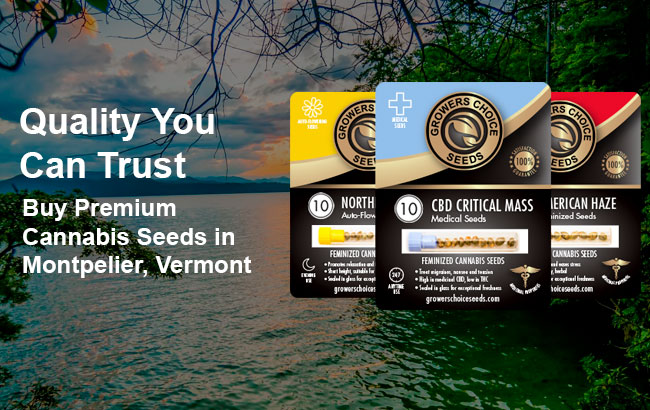 Buy Cannabis Seeds in Montpelier
Growing cannabis is no easy feat, even if this plant is considered a "weed". Yet to be legalized across the United States, in cities like Montpelier, VT., residents are legally allowed to cultivate marijuana in the privacy of their own homes and use the entirety of their harvest for personal reasons, whether medical or recreational. The toughest choice you have here is where to buy your Montpelier cannabis seeds from. The easy answer? Growers Choice Cannabis Seeds, your one-stop-digital shop for high-quality cannabis seeds in the Vermont area, offers delivery nationwide.
Legal cannabis plants in Montpelier
Cannabis use, at least for medical purposes, has been legal in Vermont since 2004 when the state passed their medical marijuana program. In 2018, they followed up their pro-cannabis position by allowing residents 21 years and older the right to cultivate up to 6 plants, two of which may be mature (flowering) at any given time.
Get Cannabis Seeds Delivered to Your Home
Ordering marijuana seeds for home delivery is pretty par for the course these days, we know. We don't need to convince you that shopping online (in certain cases) gives you way more selection and convenience than traveling from shop to shop looking for exactly the product you need. But in addition to the obvious, deciding to throw in with Growers Choice gets you helpful and insightful articles and blog posts, high-quality, feminized seeds that have been lab-tested and hand-selected for your order, and helpful customer service agents who really know their stuff. Whether you're a new grower or an old green thumb, we'll hook you up.
Buy Cinderella 99 Cannabis Seeds Online
Also known as Cindy or C99, Cinderella 99 is a popular sativa-dominant strain fathered by the famous Jack Herer cannabis plant. High in THC (our version is around 22%), Cinderella 99 cannabis seeds grow into potent plants. At 70% sativa, this sweet, citrus-scented strain will give you a serious burst of energy and creativity; avoid using Cinderella 99 too close to bedtime; you'll likely find it difficult to fall asleep, though once the high has dissipated a little, it has been known to fade into sedation.
Is it better to plant cannabis seeds indoors or out?
Not everyone has the luxury of debating this question, though it's an interesting one. Should you let your weed develop as nature intended or take full control, tweaking their development with tried-and-true techniques to increase yield and cannabinoid content?
Whether you choose to plant your ganja garden indoors or out, there are benefits to both, as well as drawbacks.
Order Cannabis Seeds Online Through Our Website
It's never been easier to shop online — many of our credit cards prove this without a doubt! You can discover so much more when you browse Growers Choice than you would scan the racks at a local shop — usually just because we have more space and time to source a variety of seeds than a brick-and-mortar store. So, go ahead. Take a look at the detailed product descriptions that accompany each of our strains, and the characteristics that give you info like the flowering time, expected effects, and gardening skill level. Then choose how many seeds you want (3, 5, 10, or 25) and click "checkout". In minutes, you'll be sitting back with your feet up or hastening on to the next activity in your busy life. There's nothing like a quick online shopping trip to set you up and let you carry on quickly.
Cannabis seeds for sale in Montpelier
Planting outside gives your plants room to breathe, grow, and the benefit of full-spectrum light from the sun. It also means you don't have to worry about buying expensive equipment or a spike in your electricity bill. Cons include being limited to a certain grow period (when the weather is agreeable), the potential of loss to pests and other common diseases, and unpredictable conditions that might effect your ultimate harvest.
Indoor growers can have complete control over temperature, humidity, air circulation, nutrition, etc. (you get the picture) and a major benefit to having an indoor grow set up is the ability to plant year-round. Cons include a house that smells like growing weed (which some may consider a plus), higher energy bills, and sometimes smaller yields.
Is it easier to grow indica or sativa weed seeds?
With hundreds of different cannabis strains on the market, you'd are hard pressed to find many pure sativa and indica weed seeds today. They do exist, often with the addition of Autoflowering genetics (such as our Durban Poison) but mostly, you'll find hybrids that blend the beautiful characteristics of different strains.
We wouldn't say it's easier to grow one over the other, but it's important to remember that indica and sativa cannabis plants don't thrive in the same conditions (even artificial). Indica strains originate from the mountainous region between India and Afghanistan, where sativa strains prefer lots of warmth and humidity. If you're concerned about the integrity of your green thumb, you can always opt for cannabis seeds that are either feminized, Autoflowering, or both, to ensure you always end up with female plants (the ones that produce the sticky buds) that are triggered to switch from vegetative to flowering once the plant reaches a certain height
Buy cannabis seeds in Montpelier
When you're ready to let your mary jane garden grow, stock up on top quality Montpelier cannabis seeds by shopping online with Growers Choice Cannabis Seeds. Peruse our selection of superior quality seeds, each hand-picked and inspected for signs of virility and freshness before shipping orders to our customers across the United States. Every order comes backed by our 90% Germination Guarantee – if your seeds don't germinate, we'll gladly replace them!
Most Popular Cannabis Seeds