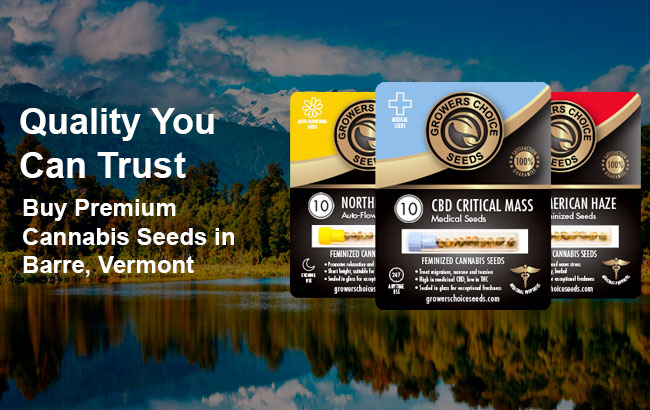 Cannabis seeds Barre
With cannabis – both medical and recreational – becoming more widely accepted across the United States and Canada, the conversation inevitably turns to cultivation. There will always be a need for dispensaries, but there are a still a lot of benefits to growing your own weed, especially when you start with high quality Barre cannabis seeds like those available online from Growers Choice Cannabis Seeds, a leading vendor offering delivery across America.
Why should I grow my own cannabis?
Aside from the feelings of satisfaction and pride from having taken a cannabis plant – one with so much potential – from tiny seed to flowering, growing your own cannabis at home means you have:
Access to high quality medicine when you need it
Peace of mind knowing that the medicine you're using hasn't been treated with chemicals or pesticides
An ability to practice grow techniques that can enhance the overall quality of your bud and often encourage larger harvests
Should I order my cannabis seeds online?
You could walk into your local shop and choose a package of seeds from off the shelf, but you never know how long they've been sitting there. When you order from a vendor like Growers Choice, you know that you're guaranteed to receive fresh and viable seeds, a guarantee we enforce with our 90% Germination Guarantee which states if all of your seeds don't germinate, we'll replace them (some conditions apply).
Not only will your seeds be fresh, but they'll also be delivered directly to your front door – isn't that the kind of service you want in today's fast-paced, techno-savvy world?
Is it legal to order weed seeds in Barre?
Ordering cannabis seeds used to be a shot in the dark – there was no way to verify whether a company was as legitimate as it claimed. It's a lot harder to take advantage of customers today, and you'll find companies like Growers Choice are dedicated to ensuring their customers receive top quality cannabis seeds no matter where they are in the world.
Cannabis seeds for sale in Barre
In Barre, you can order and own weed seeds since cannabis cultivation – as of July 2018, adults over the age of 21 were granted the legal right to cultivate up to six plants (two of which may be in the flowering stage) for their personal use, and "possess the total quantity of their harvest".
Great White Shark
CBD Moby Dick
Buy cannabis seeds in Barre
When it comes time to place your order for Barre cannabis seeds, make sure you stop by Growers Choice Cannabis Seeds online to peruse our selection of high quality strains from around the world. Our customers love our Autoflowering and feminized genetics, which make it that much easier to cultivate potent and healthy pot plants at home. Indica, sativa, or balanced hybrids, choose your favorite strains and we'll ship them directly do your front door, backed by our 90% Germination Guarantee.
Most Popular Cannabis Seeds