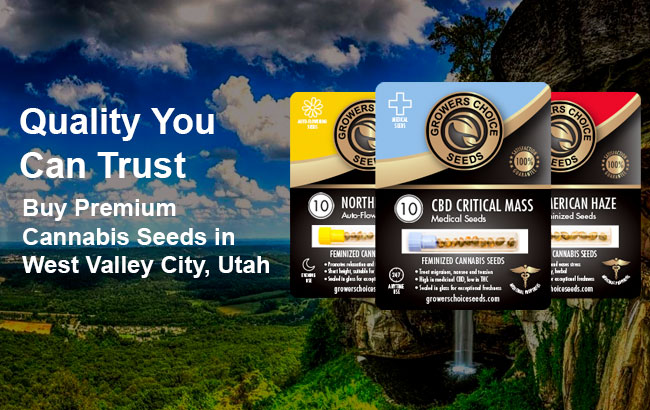 Visit West Valley City
In West Valley City, Utah, the Oquirrh Mountains watch over the city to the west, and the Jordan River marks the eastern boundary. The best thing to do in West Valley City is to get outside and enjoy one of the many public parks, like Centennial Park, a grassy space featuring softball fields, tennis and basketball courts, and areas for play and picnicking. Alternatively, the Hale Centre Theatre is a family theater offering a variety of Broadway and off-Broadway favorites.
Can I get medical cannabis seeds in West Valley City?
For the time being, the use of medical cannabis in Utah is highly restricted, although cannabis proponents and medical researchers are working to make it a legal alternative for patients who might benefit from this plant's potent clinical applications. If you want to purchase cannabis seeds for personal use, you can visit our website, Growers Choice Cannabis Seeds, and peruse our selection of high quality cannabis seeds. Your health and happiness are our main priority, which is why we carefully cultivate, hand-pick and inspect each seed before packaging and shipping straight to your door. Recreational users can shop online with us as well, as cannabis seeds are considered an adult novelty item.
What is medical cannabis?
Medical cannabis refers to cannabis products that are prescribed by physicians to patients suffering from a wide variety of ailments and conditions.
More bang for your buck when you shop with Growers Choice
Growers Choice really does have some excellent stealth packaging. I've bought from a few banks, but these guys are very good at discretion. Also, best value (quality/service/price) of the shops I've used. Thanks, Growers Choice.
Most Popular Cannabis Seeds