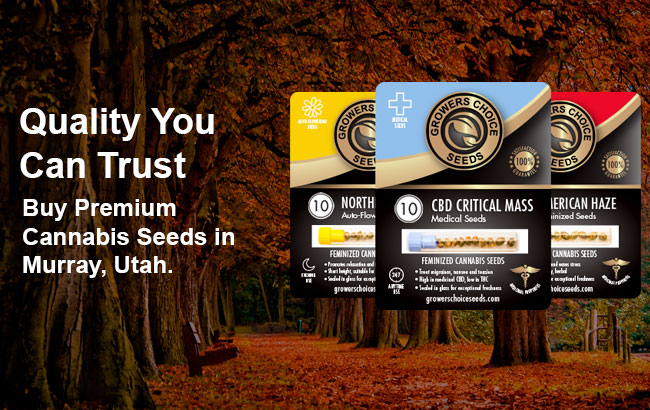 Is it legal to grow cannabis seeds in Murray?
Despite being bordered by states with lax cannabis laws (Nevada and Colorado have both made the move to legalize medical and recreational cannabis alike), Utah remains a hold-out state with distinctly conservative views. The good news, however, is that as the country moves towards a more liberal opinion of cannabis, the state is likely to change their mind and allow patients living here in cities like Murray the right to access at least medical cannabis as part of their treatment regime.
For the time being, purchasing cannabis seeds is a legal prospect, since the are considered collector's items when not germinated.
Cannabis seeds for sale in Murray
No two Murray cannabis seeds are created equal, and if you want superior quality and excellent service every transaction, shop online with Growers Choice Cannabis Seeds. Our selection of cannabis seeds has been cherry-picked from the world's most popular and potent strains, and are cultivated by a team of horticultural experts with over 40 years experience between them. Every seed is hand-picked and inspected to guarantee viability (though we do offer a 90% Germination Guarantee in light of the chance human error comes into play). Sealed in medical-grade glass vials for safety during shipping, we deliver our seeds everywhere in the United States, direct to your front door. Convenience and quality – that's why we're the top choice for American ganja gardeners.
Buy cannabis seeds in Murray
We know that the cannabinoid THC can leave a patient feeling "happy" and with a characteristic case of the munchies.
Because of its hallucinogenic qualities, many patients will shy away from cannabis strains that feature high levels of THC, which is why CBD strains have become increasingly popular among the medical set. CBD can be derived from both hemp and cannabis plants (hemp plants, by nature, do not produce high levels of THC, making them ideal for use in textiles and other products).
Our seeds and service make the grade in Murray
Great seedshop. This was my first order, but will surely not be my last. They have a nice selection, nice beans, and they're really great about communicating. Their customer service team was on my emails within the day – I like that, feels like someone is actually paying attention, and not just some bot. Can't wait to place my next order, probably Durban Poison this time, I want to test out their genetics.
Most Popular Cannabis Seeds