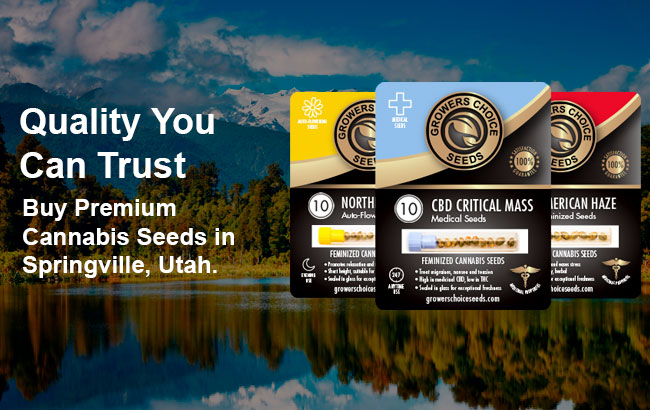 How to Order Springville Cannabis Seeds Online For Delivery
Ordering high quality cannabis seeds online is quick and easy when you choose Growers Choice Seeds. We carry the best Springville cannabis seeds available online today, including your favorite diesel, kush, and haze strains. Simply select the seeds that are right for you, and check out online using our secure payment portal. We offer fast and discreet flat rate shipping with tracking available on every order.
Can I Legally Grow Medical Marijuana Plants In Utah?
Medical marijuana will soon be legal in the state of Utah. This means that residents of the state will be able to obtain a medical marijuana prescription for their qualifying illness or condition. You'll need a medical marijuana card from the state to buy your cannabis legally from a state licensed dispensary. Medical marijuana will be available as raw cannabis flower, tinctures, salves, edibles, and more. Cultivating cannabis plants may or may not be allowed for medical marijuana card holders. Lawmakers continue to work on this legislation and as of 2020 the medical marijuana laws have not yet gone into effect. If cultivation is allowed, it will be in limited quantities, most likely between 4 and 12 cannabis plants at one time. All states that allow for medical or recreational cultivation of cannabis place legal limits on the number of plants that may be grown by an individual at a time. Even if you don't have a medical marijuana card, you can still legally buy and own ungerminated cannabis seeds, like those sold by Growers Choice Seeds. We carry more than 200 strains of ungerminated seeds to choose from. Shop our selection of high quality ungerminated cannabis seeds today and order online using our secure server. We'll provide fast and discreet delivery directly to your door in as little as one week.
Find High Content CBD Cannabis Seeds For Sale
Many medical marijuana patients prefer high content CBD seeds for their daily cannabis use. Cannabis strains that are high in THC provide the physical pain and stress relieving effects of cannabis, without the heady after effects. You'll find a wide selection of CBD cannabis seeds in our inventory, including
Get the CBD cannabis seeds that are right for you when you shop online with Growers Choice Seeds today. We offer fast and discreet delivery on every order.
Get High Quality Weed Seeds Delivered Fast
Get the high quality weed seeds you need delivered fast when you order online from Growers Choice Seeds today. We carry a huge selection of fully feminized, ungerminated Springville cannabis seeds in our digital catalog. Find the seeds that are right for you, and order online using our secure server for fast delivery. Follow us on social media for seasonal sales and promotions, and sign up for our newsletter to win free seeds!
Most Popular Cannabis Seeds