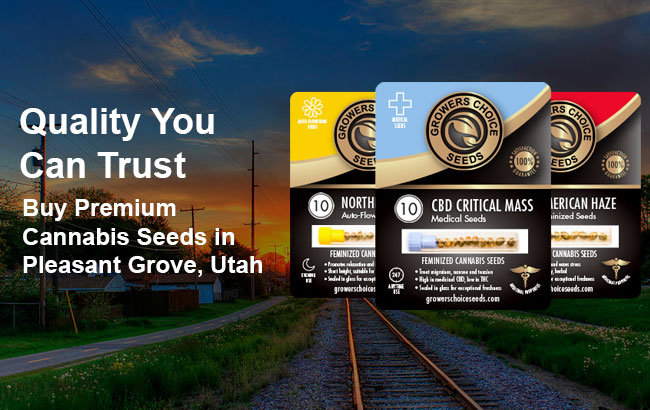 How to Order Pleasant Grove Cannabis Seeds Online For Delivery
Ordering high quality cannabis seeds online is quick and easy when you choose Growers Choice Seeds. We carry the best Pleasant Grove cannabis seeds available online today, including your favorite diesel, kush, and haze strains. Simply select the seeds that are right for you, and check out online using our secure payment portal. We offer fast and discreet shipping with tracking available on every order.
Is it Legal to Grow Medical Cannabis Plants in Utah?
With medical marijuana legalization in progress in the state of Utah, growing cannabis plants may soon be legal for medical marijuana patients. While it's unclear if the legislation will allow for the cultivation of cannabis or not, many states with legal medical marijuana do allow for individual card holders to grow their own cannabis plants. Medical marijuana patients in these states can grow cannabis plants in small quantities for personal use. Always be sure to check your local municipal regulations as well as state ordinances as they may vary. No matter whether you have a medical marijuana card or not, legal adult residents in the United States can legally buy ungerminated cannabis seeds. Commonly considered novelty gifts or collector's items, ungerminated cannabis seeds are simply cannabis seeds that are dormant, and have not started to sprout. Cannabis seeds that are kept in a cool, dry place will not germinate. Order your ungerminated cannabis seeds online from Growers Choice Seeds today for fast and discreet delivery right to your door in as little as one week. Shop our inventory today to get started.
Order High Quality Indica Cannabis Seeds Online Today
For a relaxing, calming strain, choose one of our indica dominant strains of cannabis seeds. Growers Choice Seeds carries a large selection of indica dominant cannabis strains, including
Find the indica cannabis seeds that are right for you when you browse our selection today. All of our high quality cannabis seeds are fully feminized and ungerminated for your convenience.
Find High Quality Weed Seeds For Sale Online
It's easy to find high quality weed seeds for sale online when you shop with Growers Choice Seeds. We carry a large selection of Pleasant Grove cannabis seeds, supplied from our expert teams of cannabis cultivators from around the world. Shop online using our secure server, and we'll deliver your seeds right to your door in as little as one week. Don't forget to sign up for our email newsletter for your chance to win free seeds!
Most Popular Cannabis Seeds