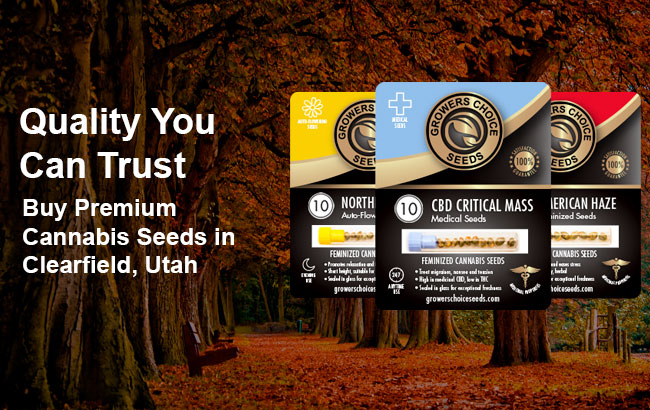 How to Get Clearfield Cannabis Seeds Delivered Fast
Get the cannabis seeds you need delivered fast when you order online from Growers Choice Seeds. We carry a large selection of Clearfield cannabis seeds, all fully feminized and completely ungerminated. To get fast delivery right to your door, simply select your favorite cannabis seeds, and order online using our secure server. We'll provide fast, discreet delivery of your cannabis seeds directly to your door in as little as one week.
Can I Grow Cannabis Plants in the State of Utah Legally?
At this time, neither recreational nor medical cannabis can be grown by residents of the state of Utah. Although legislation allowing for the legalization of medical marijuana was signed in 2018, the laws have yet to take effect. Medical cannabis will be available via prescription from a health care provider for state qualifying conditions. Whether or not medical marijuana card holders will be able to grow their own cannabis plants remains in question at this time. Utah is a large rural state with many remote areas, and access to medical cannabis may be challenging for residents who cannot readily get to a state licensed dispensary. Most medical marijuana patients, however, will be able to purchase their medical cannabis from a dispensary in their area. Medical marijuana will be available in various forms, including tinctures, edibles, and other cannabis products. Even if you're not a medical marijuana card holder, all legal adults can buy and own ungerminated cannabis seeds. Ungerminated cannabis seeds are considered novelty items, and can be ordered online legally from cannabis seeds banks, including Growers Choice Seeds. We carry a wide selection of high quality ungerminated cannabis seeds to choose from. Shop our fine selection of ungerminated cannabis seeds today to get started.
Best Selling Autoflowering Cannabis Seeds
For first time growers, we recommend our autoflowering cannabis seeds. Autoflowering strains are easier to grow than photoperiod cannabis plants, and won't need a complicated light change to mature and flower. We carry a large selection of autoflowering cannabis seeds, including favorites like
Find the autoflowering cannabis seeds that are right for you when you shop our online inventory today. All of our seeds are fully feminized and completely ungerminated.
Order High Quality Weed Seeds Online for Delivery
There's never been a better time to buy high quality Clearfield cannabis seeds, thanks to Growers Choice Seeds. We carry the finest selection of weed seeds available online today, including all of your favorite indica, sativa, and hybrid strains. Our cannabis seeds come from expert growers from around the globe, and are all lab tested for genetic quality. Follow us on social media for the latest cannabis news and growing tips.
Most Popular Cannabis Seeds