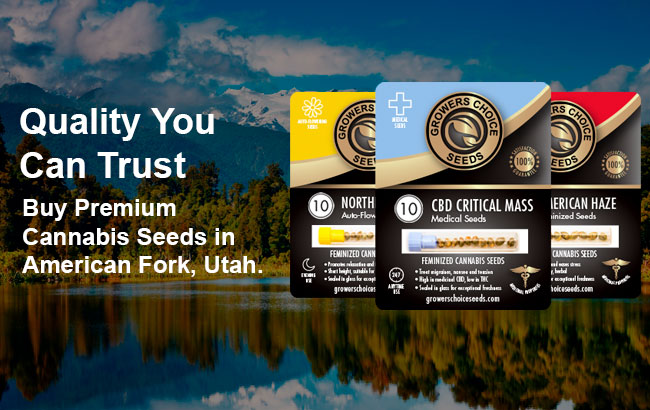 How to Order American Fork Cannabis Seeds Online For Delivery
Ordering high quality cannabis seeds online is quick and easy when you choose Growers Choice Seeds. We carry the best American Fork cannabis seeds available online today, including your favorite diesel, kush, and haze strains. Simply select the seeds that are right for you, and check out online using our secure payment portal. We offer fast and discreet delivery with tracking available on every order.
Is Growing Medical Marijuana in the State of Utah Legal?
The state of Utah currently allows for the legal cultivation of industrial hemp to be used for commercial uses. Hemp is commonly used to make textiles, rope, and paper from it's coarse fibers, and hemp oil is made from the pressed seeds. Other hemp products, including hemp flour, can be made from these versatile plants. While recreational cannabis remains prohibited, the state did sign legislation allowing for medical marijuana use in 2018. This legislation has yet to take effect as of early 2020, with lawmakers continuing to debate the specifics of this bill. Medical cannabis cultivation may or may not be allowed when the law goes into effect. If cultivation is allowed, medical marijuana patients will be allowed to grow a small number of cannabis plants for their own personal use. Medical marijuana cards will be available via a licensed healthcare provider for those suffering from certain conditions. Even though cultivation is not permitted at this time, you can still buy ungerminated cannabis seeds online, as they are considered novelty items. Growers Choice Seeds carries a large selection of ungerminated cannabis seeds in our online inventory. 
Get High Quality Sativa Cannabis Seeds Delivered Fast
Sativa strains are known for their uplifting, creative effects. Additionally, sativa dominant strains are often preferred for daytime or social use. Browse our selection of high quality sativa cannabis seeds, including favorites like
Mazar Feminized Cannabis Seeds
American Haze Feminized Cannabis Seeds
Sour Diesel Feminized Cannabis Seeds
Gorilla Glue Autoflowering Feminized Cannabis Seeds
Amnesia Feminized Cannabis Seeds
Order your sativa cannabis seeds online today from Growers Choice Seeds. Our cannabis seeds are fully feminized and completely ungerminated.
Order High Quality Weed Seeds Online for Delivery
There's never been a better time to buy high quality American Fork cannabis seeds, thanks to Growers Choice Seeds. We carry the finest selection of weed seeds available online today, including all of your favorite indica, sativa, and hybrid strains. Our cannabis seeds come from expert growers from around the globe, and are all lab tested for genetic quality. Follow us on social media for the latest cannabis news and growing tips, and sign up for our newsletter for a chance to win free seeds!
Most Popular Cannabis Seeds