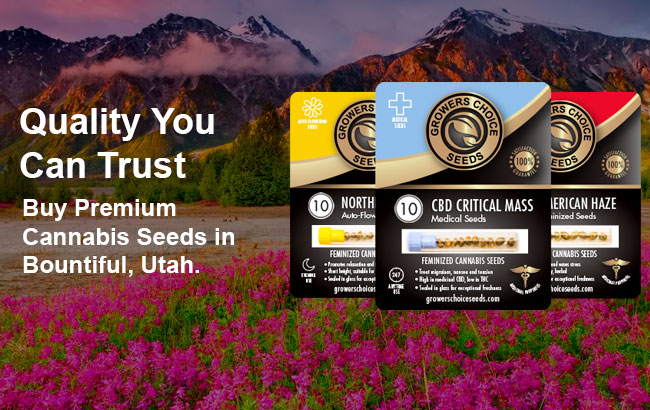 Buy cannabis seeds in Bountiful
For the time being, cannabis seeds are legal to purchase and own in Bountiful, as they are considered "collector's items" when not germinated (meaning they remain in a dormant state). You can purchase your favorite seeds online and preserve them for up to three years.
Cannabis seeds for sale in Bountiful
You could buy your Bountiful cannabis seeds online from just any vendor, but when you want top quality strains at reasonable prices and a guarantee that your seeds will germinate, you should shop with Growers Choice Cannabis Seeds – we've worked hard to be one of the Internet's leading seed vendors, passing the quality on to our customers. From heirloom strains like Durban Poison to hybrid's like Sour Kush and Gorilla Glue, we guarantee something for everyone. Our auto-flowering and feminized cannabis strains take the guess work out of growing, making it easier than ever for customers to get healthy harvests in less time, with less effort. Every seed is hand-picked to ensure viability, and shipped in medical-glass vials to preserve freshness and prevent damage during transit.
Are weed seeds legal in Bountiful?
Though popular opinion of cannabis has begun to swing from largely negative to positive as more and more scientific research and anecdotal evidence comes to light, there are still states in the nation – including Utah – who prefer to remain close-minded to the subject. Proponents in the state continue to petition their local governments to change state-level law to allow at least medical cannabis use, and there is hope that patients in cities like Bountiful will be given access to medical marijuana for treatment purposes in the near future.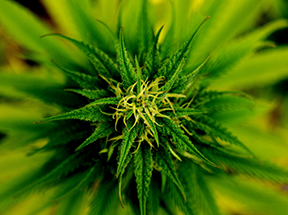 Why should I buy cannabis seeds?
There are a number of reasons a patient or person might consider purchasing cannabis seeds for their own gardening project, the least of which would be to have clean and potent medication on hand when you need it. We believe being able to trust the provenance of your pot is important, plus it's important to know the medicine you're using is free from pesticides and other chemicals that can cause more harm than good.
Growing your own weed can also be cost effective and gratifying – who doesn't love to be self-sufficient?
Why should I buy cannabis seeds online?
The Internet has made the world a smaller place, and though tall tales of less-than-trustworthy cannabis seeds being sold on the black market may have soured your opinion of online seed vendors, as marijuana becomes more common place, you're sure to find brands, like Growers Choice Cannabis Seeds, that not only take pride in their product, but also place their customers at the forefront of their operations. After all, without loyal customers, what's the point?
Peruse our selection of top-quality cannabis seeds, selected from the world's most popular and effective marijuana strains. Indica, sativa, or hybrid, we pride ourselves on providing our customers with seeds that will produce enviable harvests, ideal for both medical and recreational use.
From your favorite fashion to groceries and even meal prep kits, shopping online has made getting your hands on the things you need most more convenient than ever. So why not shop online for top quality Bountiful cannabis seeds from a vendor you can trust, like Growers Choice Cannabis Seeds? We offer superior genetics and customer service, not to mention door-to-door delivery of your favorite seed strains. Pizza and pot, anyone?
What do customers in Bountiful have to say about Growers Choice?
Weirdly, this was one of the only places I could find online that would take a credit card. Got my shipping info mailed to me within a day or so of placing my order, and the seeds arrived in about 7 days (there was a weekend between my placing the order and delivery, so I don't blame the company). 10 out of 11 germinated, I'm happy with those results. I'll be using them again.
Most Popular Cannabis Seeds