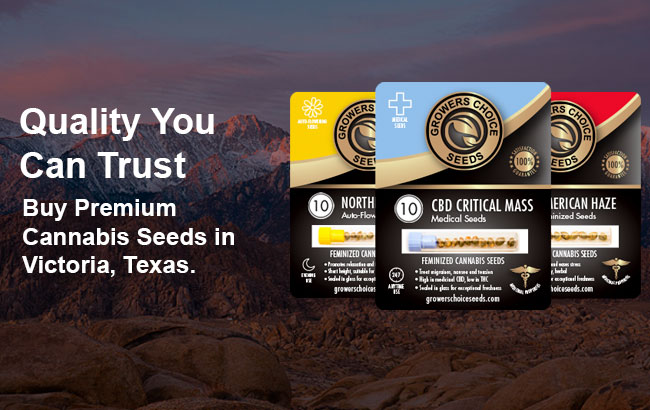 What's the status of Victoria cannabis seeds?
Since 2015, a small number of children with severe and debilitating forms of epilepsy have been able to benefit from medical CBD-rich cannabis strains thanks to the Compassionate Use Act. Local Texan cannabis advocates, like Rep. Eddie Lucio III, continue to fight to expand the list of qualifying conditions to make cannabis available to the hundreds of thousands of patients statewide that need this potent plant.
Find Victoria cannabis seeds
When it comes time for you to purchase your next round of Victoria cannabis seeds, why not stop by the Growers Choice Cannabis Seeds website to see what we have to offer? Our selection of popular strains was chosen by our team of expert growers, who have 40 years experience in cannabis gardening between them.
Cannabis seeds for sale in Victoria
All our seeds are inspected for quality and freshness before being sealed in glass vials (unless stealth mailing is requested) and shipped from our facility in Canada to your address in the US. Every purchase is backed by our 90% germination guarantee. If your cannabis seeds don't sprout, we'll ship you a new set, free of charge.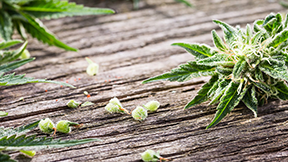 How do I know if I have a low tolerance for cannabis?
Using cannabis a personal experience. Every individual using it is going to feel the effects in the same way, and for some, a first toke can lead to the kind of experience that sees that user cutting cannabis out of their life forever. Typically, this reaction has to do with feeling overwhelming levels of anxiety or paranoia, effects associated with high levels of THC, which suggests that the user might have a low-tolerance for the cannabinoid. First time users may not be aware that there are ways to mitigate those uncomfortable feelings, however, which will still allow them to take advantage of the many medical benefits of cannabis without any of the unpleasantness. Find excellent quality Victoria cannabis seeds for sale online through Growers Choice Cannabis Seeds.
How can low-tolerance users still enjoy pot seeds?
Look for a cannabis strain like CBD Critical Mass, which, although it it features a moderate level of THC, the high percentage of CBD (7%) will effectively block the uncomfortable effects you're looking to avoid.
You can also consider microdosing high-THC cannabis strains, a practice that involves ingesting smaller amounts of those strains, like American Haze, to feel the medical benefits without the hallucinogenic high. Read more about microdosing in our recent blog post.
For quality and service, we hit it out of the park every time
All I can say is this company did me right. I ordered for a second time and I'm very happy. They are honest, the customer service is so fast, I got both orders in 5 days. Where else can you say does that? Exactly what I want, they've got. I want to say thanks again, you guys are awesome.
Most Popular Cannabis Seeds