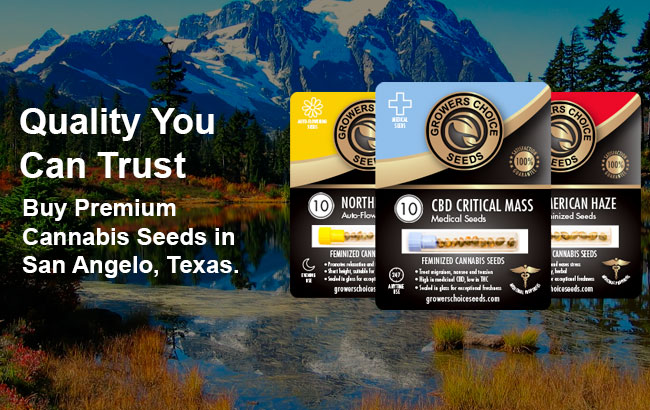 Cannabis seeds for sale in San Angelo
For San Angelo cannabis seeds that will truly rock your world, shop online with Growers Choice Cannabis Seeds. We carry a range of world-class indica and sativa strains, all carefully cultivated by our team of expert horticulturalists. Our seeds are hand picked and sealed in medical glass vials before being shipped from our headquarters in Canada to your address in the US. Your seeds are guaranteed to germinate, or we'll send you a fresh pack, on us. We also offer discreet packaging, simply speak with one of our friendly customer service reps for more information.
Buy cannabis seeds in San Angelo, Texas
In 2015, Texas signed into action the Compassionate Use Act that allowed for a small number of children to benefit from the healing properties of low-THC, high-CBD cannabis strains. CBD strain provide a host of medical benefits without the psychoactive high, and can even block the uptake of THC in the body.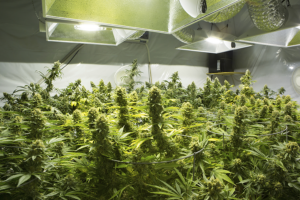 Why should I grow my own medical weed garden?
Organic, non-gmo, raised without pesticides, free from chemicals… We live in a time when we put a lot of care and concern into the products we put in and on our bodies. Why wouldn't you invest the same level of interest into the medicine you use to treat yourself? Planting and cultivating a medical cannabis garden pays off in a number of ways, the least of which being financial. When you grow your own medical cannabis, you know what it is, where it comes from, and that it's fresh, safe, and plentiful. Find San Angelo cannabis seeds for your therapeutic garden online at Growers Choice Cannabis Seeds.
Is it easy to grow cannabis at home?
If you set yourself up with the right equipment, growing cannabis at home for your personal medical use is a lot easier than it might look. Although you can grow cannabis both outdoors and in, it may be easier to invest in setting up a comprehensive and complete indoor grow room. This will give even the most amateur grower much more control over your eventual harvest.
Second most important step? Figure out which cannabis seeds you want to grow. This will ultimately depend on the effect you're looking to achieve. If you're looking for relief from pain or help getting to sleep at night, Northern Lights is a good choice. For help with anxiety or a little creative boost, try Jack Herer. The general thing to keep in mind is that sativa and sativa-dominant strains are most likely to energize you, while indica and indica-dominant strains will offer bone-deep relaxation and should help you sleep. That said, sativas can wear down into relaxation after the climax of the high, so they can be an excellent choice for late afternoon.
What are customers in San Angelo saying about Growers Choice?
So happy with my Growers Choice seeds. I was intrigued when I saw my friend's set up, she got her seeds from Growers Choice and helped me figure out what to buy. Right now I've got Northern Lights on the go, strong and healthy, and I'm germing Tangerine Dream. I definitely recommend GC to anyone and everyone who'll listen!
Most Popular Cannabis Seeds