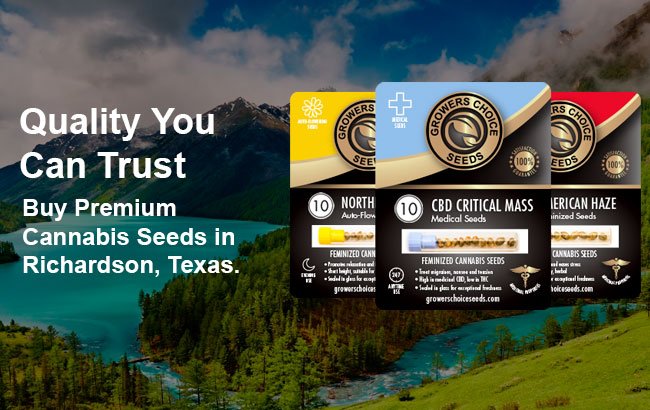 Buy cannabis seeds in Richardson, Texas
Though medical cannabis proponents continue to fight for the rights of Texas patients statewide, the cannabis laws here remain focused on allowing children with severe forms of epilepsy access to low-THC, high-CBD cannabis strains as a treatment option.
Now that you've decided to join the hundreds of thousands of other American's planting and cultivating their own medical gardens at home, head to Growers Choice Cannabis Seeds online for the high quality Richardson cannabis seeds that will get you started on the right foot.
Peruse our selection of world-class strains, all picked for their quality and potency. Our seeds are hand selected and sealed in glass vials before being shipped from our office in Canada to your address in the US.
With every purchase we offer a 90% germination guarantee, and stealth packaging for customers concerned customs might poke through their shipment.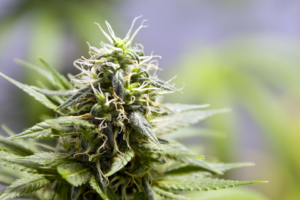 Why is weed a good medicine?
Many people know that weed is great for a good time – it gets you high! But for centuries, cannabis has been used by medical practitioners to treat a number of illnesses and conditions, including pain, muscle spasms, and mood disorders like anxiety. They didn't know it then, but cannabis' potency is derived from the cannabinoids that are naturally secreted by the buds, and work by imitating compounds that our bodies naturally produce, called endocannabinoids, which activate to maintain our overall health. You can find high quality medical Richardson cannabis strains online at Growers Choice Cannabis Seeds.
When cannabis is consumed, cannabinoids like THC and CBD bind to receptor sites throughout the brain and body, having different effects depending on which receptor they bind to, i.e. THC will bind with receptors in the brain, producing that "high" we all know and love.
What kinds of cannabis strains are there?
When we talk about the different subspecies of cannabis, there are hundreds, with new names being developed on a daily basis. There are three main species of cannabis that all strains are derived from, however, and these are indica, sativa, and ruderalis. Indica and sativa pot strains are used for consumption. They provide different effects: indica has a characteristic "couch-lock" body high that is excellent for pain relief and relaxation, while sativa strains can help lift the mood or provide a creative boost of energy. Ruderalis strains are sought out for their auto-flowering ability. Cannabis is a photoperiod plant, meaning it will enter the flowering stage when the light conditions change from near constant to 12 hours light, 12 hours dark. Ruderalis, on the other hand, has adapted to near-constant light conditions and will flowering when the plant reaches a certain stage of development. Knowledgeable growers have figured out how to breed this desireable trait into indica/sativa plants to create auto-flowering varieties, like Tangerine Dream and Northern Lights cannabis seeds, that take some of the guess work out of cannabis gardening.
We treat our customers like family
Thanks to Growers Choice, I've been able to get a really potent medical cannabis garden off the ground that has helped both myself and my mother, who suffers from joint pain and fibromyalgia. This company has been a God send. I've dealt with other brands in the past and they were just so unreliable. I was about to give up again but I gave it one more shot and I'm glad I did. Growing our own weed at home, we've been able to save a lot of money, and the quality you get from GC is phenomenal. Many thanks from your friends in Richardson!
Most Popular Cannabis Seeds