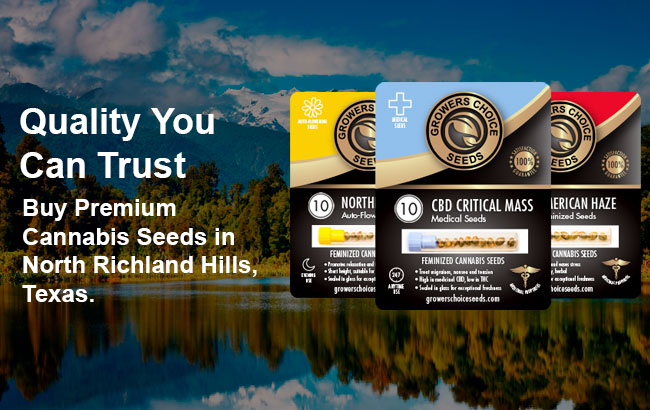 Cannabis seeds for sale in North Richland Hills
So you want to grow cannabis for your personal consumption, and you don't know where to get North Richland Hill cannabis seeds. You will find the finest cannabis strains all in one place when you visit the Growers Choice Cannabis Seeds website. From CBD Blueberry to our own OG Kush, we have curated a selection of world-class strains, cherry-picked for their high quality and potency.
Buy cannabis seeds in North Richland Hills
Our cannabis seeds are cultivated in our Canadian facility, and hand-picked and inspected by our team of expert cannabis horticulturalists. Once you've placed your order, your little babies are sealed in a glass vial (unless discreet packaging is requested) and shipped across the border to your US home address. We're so confident in our product we happily offer a 90% germination guarantee. Seeds didn't germinate? We'll replace them, free of charge.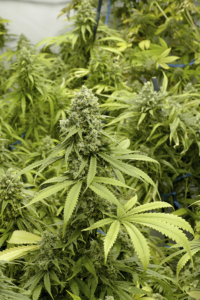 How long does weed last it's cured?
If you do it just right, your dried and cured cannabis can last upwards of two and a half years, but there are a number of factors to consider if you're looking to maximize the shelf-life of your bud. Light, or lack thereof, plays a huge role in how long your cannabis will last. Find high quality cannabis seeds to start your North Richland Hills cannabis seed stash off right at Growers Choice Cannabis Seeds online.
Studies have found that cannabis exposure to UV during storage facilitated the degradation of THC to CBN, a cannabinoid that only occurs as a symptom of degradation, and it's much less potent than THC. Ideally, you'll keep your cannabis in a dark place like a closet or seldom used room where it won't be exposed to light very often.
Additionally, the amount of humidity in the container and in the area you keep your cannabis may affect mold growth. Ingesting cannabis that is moldy can lead to a number of health problems you just want to avoid like diarrhea, respiratory difficulties, heart palpitations or even aspergilloma. Lab studies suggest that pot is best when stored between 59% and 63% relative humidity.
What's the best way to store cured cannabis?
As with most things pot related, there are a handful of schools of thought surrounding the best way to store your dried and cured buds. Some growers think popping the buds in the fridge or freezer for longer periods is best, but we like keep it simple, and stick with good old fashioned jars with tight fitting lids. Don't pack your buds in too tightly, you'll need them to have a bit of breathing room. While too much moisture is obviously a problem, the leaves and flowers need a little bit to keep from drying out too much and becoming brittle, which could result in a harsher high when you're ready to use them.
Customers are raving about our seeds and service
This is one of the two seed shops I do all of my business with. They offer great deals and always have the strains I'm looking for. Seeds arrive in a timely fashion, no red flags on their shipments. If anyone has a problem with them, you're crazy, this is a great shop! Love you guys, keep it up.
Most Popular Cannabis Seeds