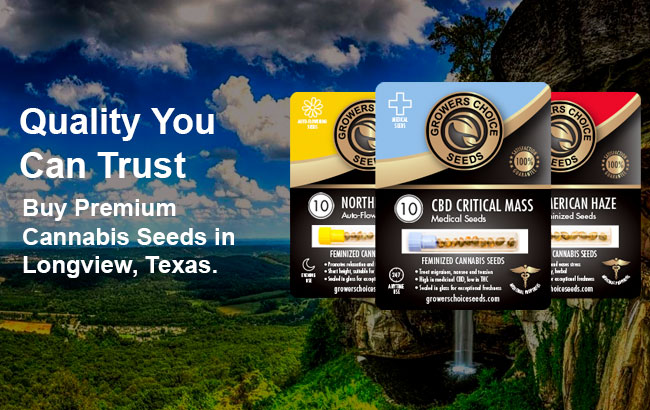 Buy cannabis seeds in Longview
For top quality Longview cannabis seeds, shop the virtual shelves of Growers Choice Cannabis Seeds. On our site you'll find a curated selection of popular world-class strains, all picked for their quality and potency. It's our mission to aid you in your healthy lifestyle, and once you have made your purchase, your seeds are sealed in a medical-grade glass vial before being shipped from our facility in Canada to your US home address.
What's the best way to get cannabis seeds in Longview, Texas?
The use of medical cannabis in Longview and the state of Texas is still up for debate, though in 2015 the state government passed a strict Compassionate Use Act that allowed a small number of Texan children access to low-THC high-CBD cannabis strains, such as Growers Choice CannabiS eeds CBD Moby Dick, to treat severe forms of epilepsy.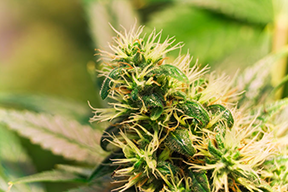 What do I need to know about high-THC pot?
Cannabis has earned its reputation as a recreational drug of choice thanks to the psychoactive cannabinoid THC, but THC isn't just for kids looking to have a good time. Sure, when you toke a little THC-rich cannabis you'll get that characteristic high, but these strains can also provide relief from conditions like pain (studies have shown that THC can activate pathways in the central nervous system that work to block pain signals being sent to the brain), trauma (oral doses of THC, which is associated with temporary impairments of memory, have proven successful in relieving a variety of PTSD-related symptoms including flashbacks, agitation and nightmares), and nausea and vomiting (THC pills to treat these symptoms have been available for cancer patient since the 1980s). Find THC-rich Longview cannabis seeds online with Growers Choice Cannabis Seeds.
Can I use THC cannabis and not get high?
Although THC is very psychoactive, there are a few ways to benefit from the medicinal properties of this cannabinoid without experiencing the negative effects associated with it. One way is to use a cannabis strain like CBD Blueberry, that also has a relatively high level of CBD, another cannabinoid that is credited with a multitude of benefits and can effectively block the uptake of THC in the body, rendering its psychoactive tendencies useless. Alternatively, you can consider the practice of microdosing. This involves taking smaller amounts of a THC-heavy cannabis strain to feel the benefits without the uncomfortable psychoactive effects that can interfere with your every day.
Our customers in Longview know they can rely on us to come through
As a longtime seed shopper, my biggest concern when choosing a new company is whether my seeds are actually going to arrive. Quality is nothing if the beans don't show up! I'm happy to report, I've ordered from Growers Choice a few times now and every time I've gotten my delivery, on time. Reliability is important to me, as is freshness. I still opt for stealth, just to keep the anxiety at bay. But worth every penny. Thanks, Growers Choice!
Most Popular Cannabis Seeds