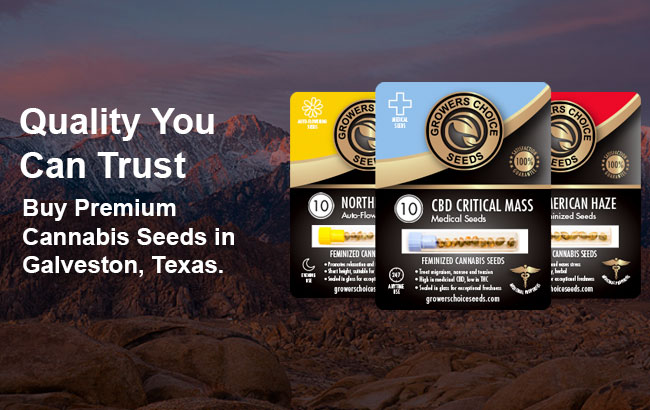 Buy cannabis seeds in Galveston
Whether you're new to the cannabis community or a knowledgeable vet, you want to be sure you order quality cannabis seeds. At Growers Choice, we have over 20 years of research under our belts that we use to grow and harvest premium Galveston cannabis seeds. We ensure each seed has high-quality genetics, so you can be sure that you know exactly what you are getting. When you order online from Growers Choice, we package your seeds in a medical-grade glass vial before delivering them to your doorstep.
Are Galveston cannabis seeds legal to buy?
If you live in Texas, you're probably already aware that the state is a little behind in its cannabis laws, especially its medical laws. Currently, recreational cannabis is illegal, but cannabis seeds are completely legal to buy own. CBD oils are sometimes prescribed to those with epilepsy, but the laws don't extend past that.
That being said, even though recent proposed bills have not been approved, they get farther and farther through the process each time a new one is proposed. As new studies emerge, Texans, along with everyone else in the US, are starting to see the incredible medical benefits of medicinal marijuana. It may not be long before we see a huge change in all the states!
Cannabis seeds for sale in Galveston
When you order cannabis seeds online, you won't find better quality than Growers Choice. As our name suggests, we pride ourselves in being one of the most trusted cannabis seeds sellers in the industry. Not only do we hand-pick and test each seeds before sending them out, but we continuously keep you up-to-date on all things cannabis! What's more, we also have a 90% germination guarantee, which is the highest in the industry! As well, we accept Visa, Mastercard, and Bitcoin for easy checkout and payment options. Browse through over 40 different strains, find the ones you like, and order away! Your Galveston cannabis seeds will be in your mailbox in no time.
Weed seeds and anxiety
Whether you have a diagnosed anxiety disorder, or you get very stressed, cannabis can help. Anxiety and stress can inhibit your ability to live to life to its fullest and make every task more strenuous than it needs to be. We get it. But, you do have options when it comes to managing symptoms. Outside of exercise, finding a hobby, therapy, and other options, pharmaceuticals may not be working for you. Indica cannabis plants are known to help reduce stress and soothe anxiety, allowing you to go through your day with ease.
Discover some of our most popular weed seeds to combat anxiety symptoms:
Turning me into a collector
Growers Choice always provides excellent customer service and great options. I have about 6 or 7 strains now, and love them all. Best part about it is the detail of each strain. Everything is thought out down to a T.
Most Popular Cannabis Seeds