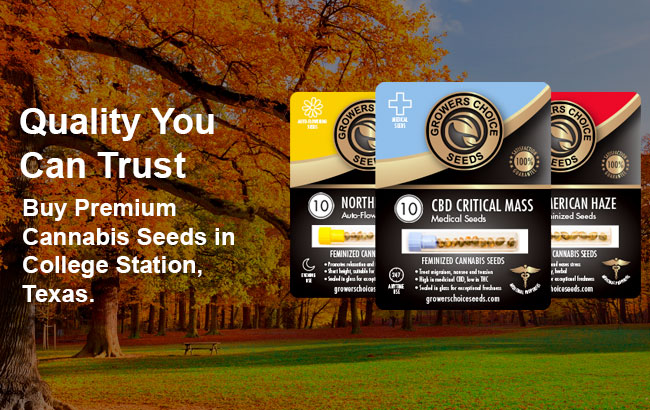 Are cannabis seeds legal in College Station?
In Texas, under the Compassionate Use Act passed in 2015, medical cannabis has been approved for use by some children who are suffering from severe forms of epileptic seizures. Cannabis proponents, like Rep. Eddie Lucio III, are working tirelessly to expand the act, and make cannabis available to patients from all walks of life.
You can always keep ungerminated cannabis seeds for collection purposes.
Cannabis seeds for sale in College Station
There are a number of benefits to growing cannabis for personal use at home, the least of which being that high quality medicine will always be a few short feet away. To get your therapeutic garden up and going, start with world-class College Station cannabis seeds bought from Growers Choice Cannabis Seeds online. We carry a selection of strains for both medical and recreational use, all cultivated by our expert team of horticulturalists.
Buy cannabis seeds in College Station
We carefully package our seeds in medical-grade glass vials, unless otherwise requested. While some states remain strict on their views of cannabis, it's understandable that some customers may worry their seeds will be confiscated in transit, so we provide discreet packaging to bring you peace of mind. And every purchase of College Station cannabis seeds is backed by our 90% germination guarantee.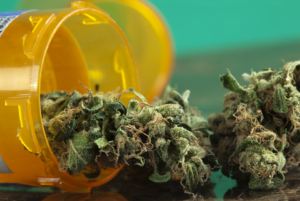 Is there a difference between indica and sativa cannabis?
There are three main forms of cannabis – indica, sativa, and ruderalis, and all three are featured in our premium Growers Choice College Station cannabis seeds. When we discuss cannabis for medical and recreational use, we're almost always talking about either indica or sativa. Gardners breed ruderalis with indica and sativa to create auto-flowering cannabis strains (like College Station cannabis seeds available online at Growers Choice Cannabis Seeds, which will flower at a certain period of development rather than when the light conditions change.
Indica and sativa both provide very different effects when ingested. In general, indica strains are known for providing a deep, relaxing full-body high that can act as a sedative and pain reliever, excellent for individuals looking to unwind after a long day, or for a little help getting some good quality sleep. Sativa, on the other hand, is more often seen to provide a cheery, uplifting high. Generally high in THC, these strains are popular among recreational users.
Which strains are considered medical weed?
Both indica and sativa cannabis strains have potent medicinal properties, but many people are not interested in the psychoactive side effects associated with THC-rich cannabis strains like Jack Herer. Instead, users looking for medical benefits without the high should turn to cannabis strains that are higher in CBD. These are, for the most part, indica strains like CBD Blueberry and CBD Critical Mass, but sativa strains that are high in CBD exist as well.
Happy customers in College Station rave about our seeds
10/10. Growers Choice is at the top of their game. Excellent selection of seeds, excellent prices. Even the stealth shipping is on point. I ordered four packs of seeds, they arrived within about five days, and I didn't have any trouble getting them to germinate. The plants I've got going are nice and sturdy, doing well indoors. Looking forward to a lovely harvest. Keep up the good work, guys!
Most Popular Cannabis Seeds