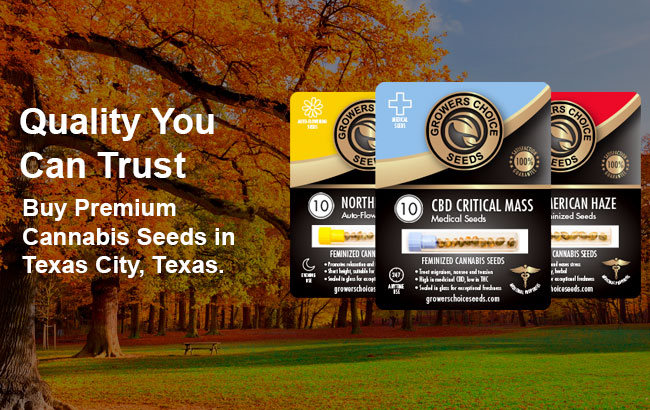 How to Get Texas City Cannabis Seeds Delivered Fast
Getting Texas City cannabis seeds delivered has never been easier, thanks to Growers Choice Seeds. We've fully stocked our digital catalog with the very best indica, sativa, and hybrid seeds for sale online today. All of our high quality cannabis seeds are fully feminized, so you never have to waste time or resources on male plants. We source our fine selection of cannabis seeds from experienced growers around the globe to bring you new and innovative strains along with all of your favorites. We carry a wide selection of high content CBD seeds, along with over a dozen varieties of easy to grow autoflowering cannabis seeds. Autoflowering seeds are ideal for beginner growers, as they don't require any changes in light exposure to mature and flower. Find the seeds that are right for you in our inventory and order online today using our secure server. We'll provide fast and discreet shipping right to your door in as little as one week.
Can I Grow Cannabis Plants Legally in the State of Texas?
Unfortunately, cannabis cultivation is prohibited in Texas at this time. The state strongly prohibits recreational cannabis, although personal use and possession have been decriminalized locally in places like Austin. All cannabis cultivation is prohibited, including the cultivation of industrial hemp plants. Hemp refers to cannabis plants with negligibly low THC content that are commonly used to make commercial products such as textiles, rope, and paper. Additionally, the state does not provide any medical marijuana legislation to allow access to medicinal cannabis for patients with conditions such as ALS, MS, cancer, HIV/ AIDS, and others. Only limited medical CBD is permitted for patients with epilepsy and other seizure disorders or a terminal illness. Regardless of your state's position on cannabis, you can legally buy and own cannabis seeds, as long as the seeds are ungerminated. Ungerminated cannabis seeds are considered novelty items, and are legal to buy and own in the United States. Want to help advocate for better cannabis laws in your state? Call or email your local lawmakers and representatives, and register to vote!
Order High Quality CBD Weed Seeds for Fast Delivery
Growers Choice Seeds carries a wide selection of high content CBD cannabis seeds. CBD is often preferred by medical marijuana patients or by those seeking a strain for daytime use. Some of our favorite CBD strains of weed seeds are
Find out more about these CBD weed seeds when you browse our product pages. You'll find strain detail and reviews from other customers.
Buy High Quality Cannabis Seeds Online for Delivery
Buying Texas City cannabis seeds online is easy when you choose Growers Choice Seeds. We've stocked our digital shelves with the best cannabis seeds around, all fully feminized and completely ungerminated. Order your high quality cannabis seeds online today for fast delivery to your door.
Most Popular Cannabis Seeds