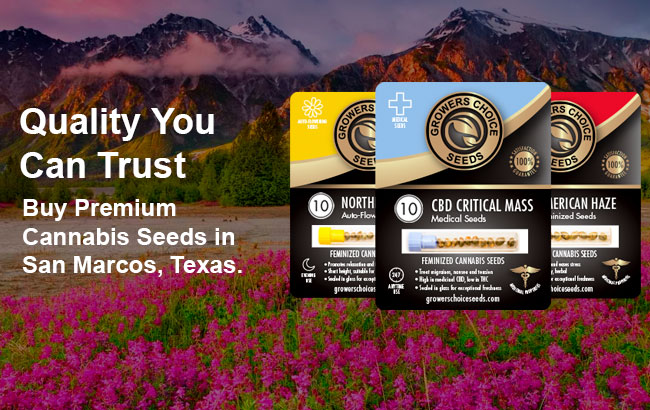 Order San Marcos Cannabis Seeds Online for Fast Delivery
For fast delivery of cannabis seeds to your door, shop online with Growers Choice Seeds today. Our online inventory is fully stocked with the best cannabis seeds for sale on the market today. Find your favorite strains and order online using our secure server. We offer fast and discreet flat rate shipping with tracking available on every order, so you can follow your seeds on their journey from our doors to yours. Whether you're looking for an energizing sativa or a relaxing indica, you're sure to find it when you browse our extensive selection of high quality cannabis seeds today. Order online using our secure server, and we'll deliver your seeds in as little as one week. There's never been a better time to order cannabis seeds online. Find the San Marcos cannabis seeds that are right for you when you shop our selection of cannabis seeds today.
Can I Grow Medical Marijuana Plants Legally in Texas?
At this time, there is no medical marijuana legislation in place in Texas. Although the state does offer limited access to medical CBD for patients with qualifying conditions, such as epilepsy and other seizure disorders, it does not have a full medical marijuana act in place. Recreational marijuana also remains prohibited in the state, although some local decriminalization for personal use and possession has occurred in places like Austin and other metropolitan areas. Industrial hemp cultivation is prohibited as well. Although cultivation is not allowed, individuals may still purchase ungerminated cannabis seeds online legally. Because ungerminated cannabis seeds are considered to be collector's items, they are legal to buy and own in the United States for adults over the age of 21. You'll find a wide variety of ungerminated cannabis seeds available now when you shop online with Growers Choice Seeds. All of our ungerminated seeds are fully feminized and are backed by our germination guarantee. Want to help fight for a greener future in Texas? Get involved with your local cannabis activism group or chapter of NORML, call or email your local representatives, and make sure you're registered to vote!
Buy Autoflowering Weed Seeds Online for Delivery
Autoflowering weed seeds are recommended for first time growers. These cannabis plants will mature automatically and won't need a change in exposure to light in order to flower. Our favorite autoflowering strain in stock now are
Get your autoflowering weed seeds delivered fast when you order online today. We offer fast and discreet shipping with tracking on every order
Order High Quality Cannabis Seeds for Fast Delivery
This is the best time to order San Marcos cannabis seeds online. Growers Choice Seeds has a huge selection of fully feminized and ungerminated cannabis seeds in stock now. Find the seeds that are right for you and order online today using our secure server, and wee'll ship your seeds right to your doorstep.
Most Popular Cannabis Seeds