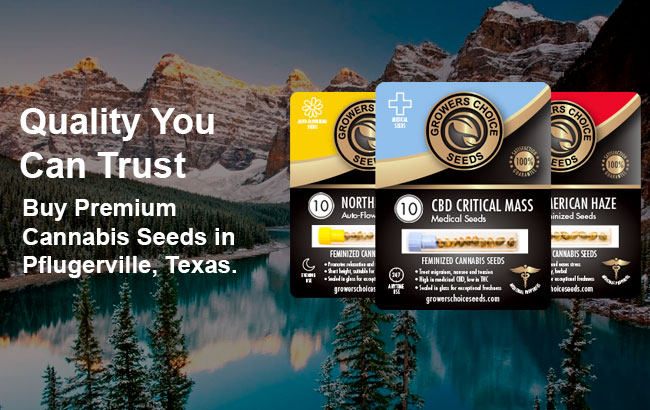 Where to Buy Pflugerville Cannabis Seeds Online Now
If you've been thinking about ordering cannabis seeds online, then look no further than Growers Choice Seeds. We've fully stocked our online inventory with the very best strains available online today, including all of your favorite sativa, indica, and hybrid strains. We also carry high content CBD seeds, as well as easy to grow autoflowering seeds. Whether you're looking for a classic favorite or an innovative specialty seed, you're sure to find it when you browse our digital catalog. Simply select your preferred cannabis seeds and check out online using our secure server. We'll provide fast and discreet delivery right to your door in as little as one week. We even provide tracking on every order, so you'll know exactly when your seeds are arriving. Find out what makes us the number one place to buy Pflugerville cannabis seeds online today. Shop our fine selection of ungerminated cannabis seeds today to get started.
Is it Legal to Grow Cannabis Plants in the State of Texas?
Growing cannabis plants is not currently allowed in the state of Texas for any purpose. Recreational cannabis remains widely prohibited, although personal use has been somewhat decriminalized locally in places like Austin. There is no medical marijuana legislation in place at this time, although nearby states, including neighboring Oklahoma, have recently legalized medical marijuana for patients in their states. These medical marijuana laws provide legal access to safe and natural medical marijuana for patients with qualifying conditions, such as cancer, PTSD, MS, epilepsy, and more. The only medical cannabis use permitted in Texas is medical CBD, which is available via prescription by a licensed health care provider. Even though you can't grow your own cannabis plants at this time, you can still buy cannabis seeds legally, as long as they are ungerminated. Ungerminated cannabis seeds are considered collector's items and are legal to buy and own in the United States. Growers Choice Seeds carries a wide selection of ungerminated cannabis seeds in our online inventory. Shop now to get started.
Best Strains of Indica Weed Seeds For Sale Online
If you're seeking a relaxing experience from your cannabis, then we recommend one of our indica dominant strains of weed seeds. Indica strains are known for their relaxing, calming and introspective properties. Our best selling indica strains are
Gelato Feminized Cannabis Seeds
Grape Ape Feminized Cannabis Seeds
Critical Kush Feminized Cannabis Seeds
Bruce Banner Feminized Cannabis Seeds
Skunk Kush Feminized Cannabis Seeds
Order your indica weed seeds online today from Growers Choice Seeds to get started. All of our cannabis seeds are fully feminized and ungerminated.
Order High Quality Cannabis Seeds Online for Delivery
There's never been a better time to order Pflugerville cannabis seeds online. Thanks to Growers Choice Seeds, you can quickly and easily order high quality cannabis seeds online for fast delivery right to your door. Shop our fine selection of ungerminated cannabis seeds today to get started.
Most Popular Cannabis Seeds