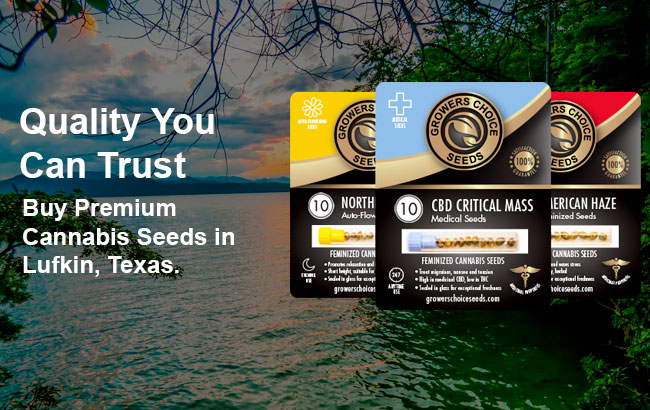 Where to Buy Lufkin Cannabis Seeds for Fast Delivery
Finding high quality cannabis seeds for sale online has never been easier. Growers Choice Seeds is proud to bring you our selection of Lufkin cannabis seeds, all fully feminized and completely ungerminated. Our premium seeds are supplied by our trusted team of cannabis cultivators from around the world, and every seed pack we sell is backed by our germination guarantee. Shop our catalog today to find the seeds that suit your needs, and check out online using our secure server and your payment method of choice. We'll ship your seeds right to your door in as little as one week with our fast and discreet delivery options. Shop our selection of ungerminated cannabis seeds today to get started.
Is Cannabis Cultivation Legal in the State of Texas?
Growing cannabis plants is not allowed in the state of Texas at this time. Cannabis plants cannot be cultivated for any reason, including recreational or medical marijuana use, as well as industrial hemp. Even though you can't grow your own cannabis plants in Texas, you can still legally buy and own ungerminated cannabis seeds. Ungerminated cannabis seeds are considered novelty items, and are legal to buy and own in the US. Growers Choice Seeds carries a large selection of high quality ungerminated cannabis seeds, all available now for fast delivery. If you want to help fight for better cannabis laws in Texas, then get involved with your local marijuana activism group, reach out to your lawmakers and representatives, and make sure you're registered to vote.
Get Indica Dominant Cannabis Seeds Delivered Fast
Indica dominant strains of cannabis seeds are known for their relaxing and calming effects. Usually preferred for night time use, these strains are known to cause drowsiness and can be effectively used to fight insomnia. Indica strains are great for managing chronic pain. We carry a large selection of indica dominant cannabis seeds, including
Get your indica dominant cannabis seeds delivered fast when you order online today from Growers Choice Seeds. All of our high quality cannabis seeds are fully feminized and completely ungerminated.
Order High Quality Weed Seeds Online for Fast Delivery
Ready to order your high quality weed seeds online? Look no further than Growers Choice Seeds, the premier place to buy Lufkin cannabis seeds online. We've fully stocked our digital shelves with the very best cannabis seeds available on the market today, all fully feminized and backed by our germination guarantee. Delivery is always fast and discreet, with tracking provided on every order. Follow us on social media for the latest cannabis news, and be sure to sign up for our email newsletter for an opportunity to win free seeds.
Most Popular Cannabis Seeds