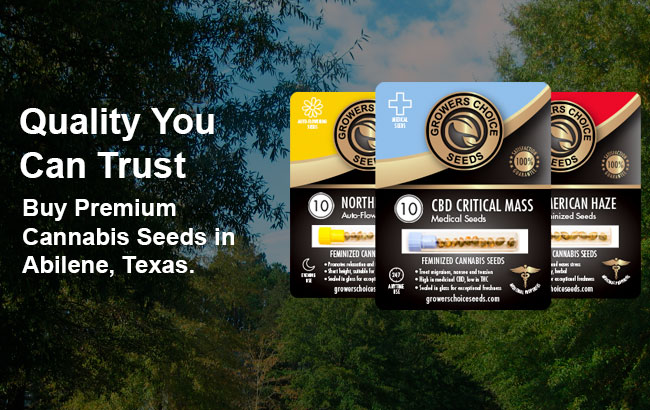 Buy cannabis seeds in Abilene
Discover cannabis seeds in Abilene with Growers Choice. Our high-quality pot seeds are hand-picked and sealed in medical grade glass vials. You get nothing but the best, and we guarantee at least 90% of your seeds will germinate. When you order from us, you never have to second-guess that you're getting top-quality Abilene cannabis seeds.
Cannabis seeds for sale in Abilene
Not sure what you're looking for? We have over 20 varieties for you to choose from, including high-CBD, medical, and auto flowering. Check out our THC reference guide to see which strain might work best for you, then have it shipped straight to you! It's really that simple with Growers Choice.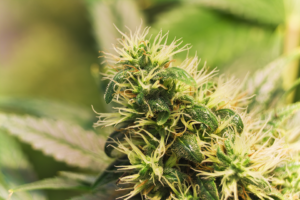 Can I legally buy cannabis seeds in Abilene?
If you aren't sure that buying cannabis seeds is legal in Abilene, don't worry. It is completely legal to buy cannabis seeds in North America. In Abilene, cannabis usage is restricted to medical patients.
Green thumbs in Abilene
Abilene is a history buff's dream, so don't miss out on learning about the past while you're here. The 12th Armored Division Memorial Museum, The Grace Museum, Fort Phantom Hill, and Frontier Texas are all a must for your history circuit tour. Learn about the American West like never before. Then, raise a glass for it at the Pappy Slokum Brewery Co., where you'll find craft beers. This brewery also donates a portion of its craft beer proceeds to charity. If you're up for a show, check out the Paramount theater to see what's playing while you're there!
Which Abilene cannabis seed strain is best for low tolerance?
The question isn't which strain is best for low tolerance, but where to start for someone with low tolerance. The answer might not be that simple, as what you are looking to get from weed might require a high-THC level.
Regardless of where you are starting out, our Blueberry medical cannabis seeds are great. They have a high-CBD and low-THC level, which give this strain great anti-anxious thoughts and anti-stress properties. Blueberry medical can be used in conjunction with other strains. From here, you can decide what other strains might work for you, then get your Abilene cannabis seeds from us. Use high-THC strains, if you need them, in moderation.
Our Austin customers rave about our seeds
A friend recommended growers choice to me after I was diagnosed with glaucoma, so I ordered from them. Within a few months, I ordered 2 more strains because I loved the result of the first one!
Most Popular Cannabis Seeds