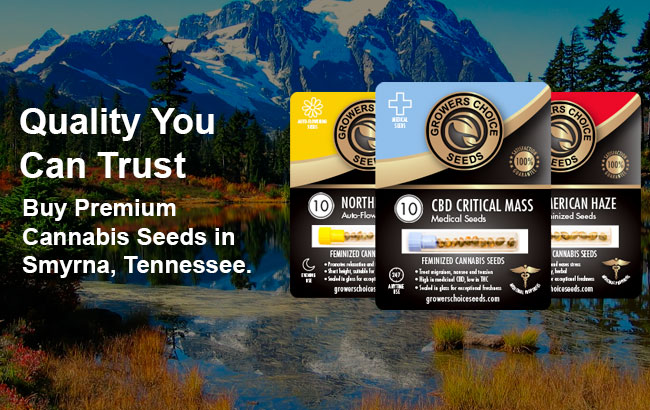 Is it legal to purchase cannabis seeds in Smyrna?
In the first quarter of 2018 a motion was introduced to the general legislature that seeks to legalize medical marijuana in the state, meaning that more patients would be able to access cannabis and use it as part of their therapeutic regime. For now, you can legally purchase cannabis seeds in Smyrna, as they are considered an adult novelty item, but you cannot grow marijuana plants.
Buy cannabis seeds in Smyrna
The prospects are positive for pot proponents in Tennessee who are dying to get going on growing their own medical gardens, but it's never too early to start prepping. Have top quality Smyrna cannabis seeds delivered to your home address when you shop online with Growers Choice Cannabis Seeds. Peruse our selection of world-class strains, all carefully cultivated by our team of experts and hand-picked to guarantee viability and perfection. We seal every order in medical-grade glass vials to ensure your seeds make it to you in one piece, and ship from our facility in Canada anywhere in the United States. Speak with our dedicated customer service team, available during office hours by online chat or after hours via email, to discuss which shipping options might best for you.
Cannabis seeds for sale in Smyrna
In general, however, when anyone starts talking about "medical cannabis", they're usually referring to weed seeds that are higher in the cannabinoid CBD, because this chemical is not psychoactive like its partner, THC, which can deliver a euphoric effect alongside its other medical benefits.
Some states have passed medical cannabis laws that specifically allow only CBD-rich weed seed strains, though that have very little to no THC content. This designation is unfortunate, because THC can help a lot of people, but it's better than nothing, and CBD can be beneficial for a wider range of patients, including young children and the elderly.
Customers in Smyrna have great things to say about Growers Choice
Awesome! I have been buying my beans from Growers Choice for awhile now, and you guys are the best I've dealt with so far. Website, customer service, payment methods, tracking info… by far, better than anything I have received in the past. Even the packaging is nice and discreet, took me awhile to find my seeds! Haha. Very happy with this company. I'd recommend to anyone.
Most Popular Cannabis Seeds