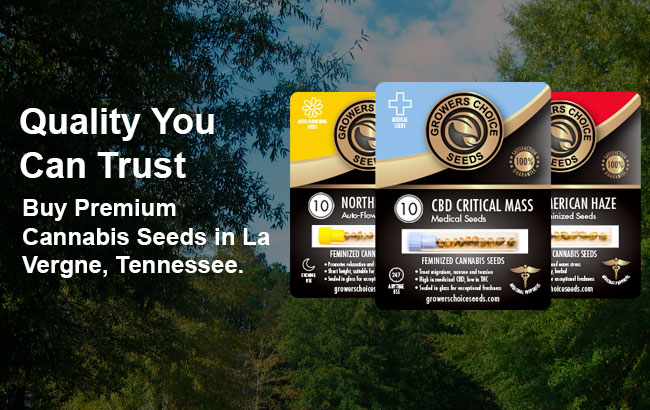 How to Buy La Vergne Cannabis Seeds Online for Delivery
If you're looking for high quality La Vergne cannabis seeds, then choose Growers Choice Seeds. We've got a huge selection of premium cannabis seeds in stock now, all fully feminized and completely ungerminated. Shop our selection today and order online for fast delivery right to your door in as little as one week.
Is Cannabis Cultivation Legal in the State of Tennessee?
Currently, cannabis cultivation is not allowed in the state of Tennessee for medicinal or recreational use. Recreational marijuana remains widely prohibited across Tennessee, which has some of the harshest penalties for possession in the country. Additionally, the state does not have any medical marijuana laws in place. Medical marijuana is commonly available in over 30 state to patients with qualifying conditions. There is some limited access to Medical CBD available in the state to patients with a prescription from their health care provider. Nonetheless, individuals may still buy and own cannabis seeds that are ungerminated. Ungerminated cannabis seeds are commonly considered collector's items, and are legal to purchase and possess by adults over 21 years of age throughout the United States. Shop the selection of ungerminated cannabis seeds available now from Growers Choice Seeds to find the seeds that are right for you. Help fight for better cannabis access in your state by calling or writing your lawmakers and representatives and by registered to vote in upcoming elections.
Find High Quality Kush Cannabis Seeds For Sale
One of the oldest strains of cannabis in the world, kush cannabis seeds originated in the Hindu Kush mountain range of Afghanistan and Pakistan in Central Asia. These strains are known for their introspective, meditative effects. As indica dominant strains, you can expect relaxing, calming feelings from kush strains of cannabis plants. We carry a large selection of high quality kush strains, including best sellers like
Find the kush seeds that fit your needs when you order online from Growers Choice Seeds today. All of our high quality cannabis seeds are fully feminized and completely ungerminated so you can buy with peace of mind.
Order High Quality Weeds Seeds Online for Delivery
Ordering high quality weed seeds online is easy, thanks to Growers Choice Seeds. Simply check out online using our secure server, and we'll provide fast and discreet delivery right to your door in as little as one week. We provide tracking on every order, so you'll know exactly when your seeds are arriving on your doorstep. Browse our selection of indica, sativa, and hybrid seeds today to find the cannabis seeds that fit your needs. Find out what makes us the number one place to buy La Vergne cannabis seeds in Tennessee when you shop our selection today.
Most Popular Cannabis Seeds