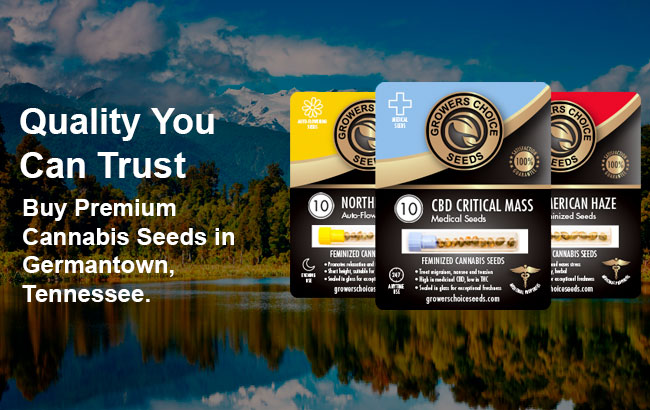 Tennessee Cannabis Laws
Did you know that you can legally order marijuana seeds online from Grower's Choice Seeds and get them delivered to your home in Tennessee? You can! Even though the state has laws prohibiting marijuana use and growing plants at home, it is 100% legal to purchase ungerminated cannabis seeds for your private collection. As long as you leave your seeds ungerminated and unplanted, you are following the law. There are good signs that this new year will bring change to existing MJ laws in the state of Tennessee. Currently, Tennessee has some of the most strict laws in the country regarding marijuana. Only approved medical patients are allowed low-THC oils at this time. Medical legalization of the plant may be just around the corner! Until then, you can legally purchase ungerminated cannabis seeds from Grower's Choice Seeds. When the home cultivation laws change, you will be ready to hit the ground running with high-quality seeds from Grower's Choice.
Order Legal Germantown Cannabis Online
You can now order high-quality Germantown cannabis seeds directly to your home in Tennessee from Grower's Choice Seeds. We ship legal seeds fast! If you want the best seeds available on the internet, choose Grower's Choice!
Buy Weed Seeds On Sale
Grower's Choice Seeds sells cannabis seeds on sale! This is a great way to get started with high-quality yet affordable weed seeds. We understand that costs can add up quick, so here is a great opportunity to save some cash. Grower's Choice has a wide-variety of strains that go on sale. Choose from traditional feminized, high-CBD, and even auto-flowering seeds and save money. The seeds that go on sale are always being updated, so be sure to check back regularly. Grower's Choice Seeds is your source for affordable cannabis seeds online!
Get High-Quality Cannabis Seeds from Grower's Choice
Getting Germantown cannabis seeds has never been easier with the help of Grower's Choice Seeds. Premium seeds are just a few clicks away! Order high-quality seeds today from Grower's Choice.
Most Popular Cannabis Seeds