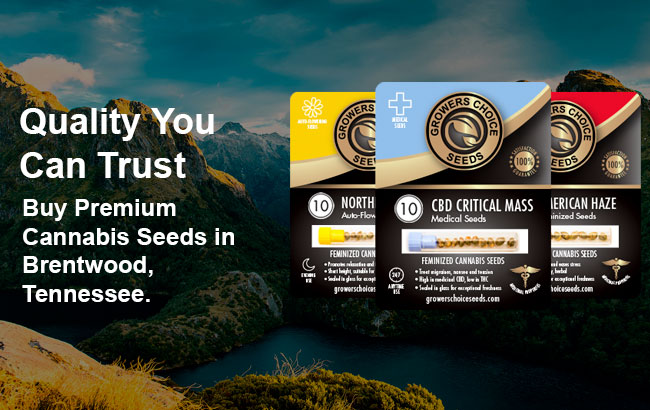 Where to Buy Brentwood Cannabis Seeds Online for Delivery
Are you looking for the best Brentwood cannabis seeds for sale online today? Look no further than Growers Choice Seeds, your source for high quality cannabis seeds. Order online using our secure server, and we'll provide fast and discreet delivery right to your door. Shop now to get started.
Is Growing Cannabis Plants Legal in the State of Tennessee?
At this time, the cultivation of cannabis plants for medical or recreational use is not allowed in Tennessee. There is no medical marijuana laws in place currently, and recreational marijuana remains prohibited as well. There is limited access to medical CBD available to patients with a qualifying condition, available via prescription from a licensed health care provider. Additionally, industrial hemp plants may be grown for commercial use as textiles, rope, and paper. Hemp plants are cannabis plants that are negligibly low in THC content and are a popular agricultural crop throughout the midwest. Even though you can't grow your own medical or recreational cannabis plants, you can buy cannabis seeds, as long as they are ungerminated. Growers Choice Seeds carries only ungerminated cannabis seeds in our online inventory. All of our high quality ungerminated cannabis seeds are fully feminized for your convenience. To help change the outdated cannabis laws in your state, get involved with your local marijuana activism group, call or email your local lawmakers, and make sure you're registered to vote!
Best Selling Autoflowering Cannabis Seeds For Sale
Autoflowering cannabis seeds are ideal for those who are new to growing cannabis plants, as well as those who prefer outdoor growing. These easy to grow cannabis plants will not require a complex lighting change, and will mature and flower automatically, as their name suggests. Growers Choice Seeds carries a large selection of high quality autoflowering seeds in our online inventory, including best selling strains like
Learn more about these great autoflowering cannabis seeds when you check out their product pages, linked above. You'll find strain data and details like average growing time, estimated yield, THC and CBD content, and more.
Get High Quality Weed Seeds Delivered Fast Today
Getting high quality weed seeds delivered is easy when you shop online with Growers Choice Seeds. We carry dozens of premium cannabis seeds in our digital inventory, all fully feminized and completely ungerminated. Find the seeds that fit your needs and check out online using our secure server. We provide fast and discreet delivery with tracking available on every order. Shop now to find out what makes us the premier place to buy Brentwood cannabis seeds in Tennessee today, and sign up for our newsletter for a chance to win free seeds.
Most Popular Cannabis Seeds