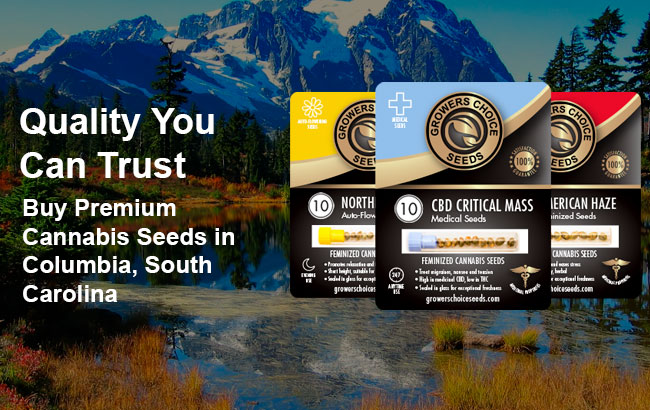 Growing Cannabis in South Carolina
The first step in growing marijuana plants is getting the seeds. You can buy marijuana seeds in South Carolina via Growers Choice. On our website, you'll not only find growing tips from our blog, but also but a variety of seeds to choose from. The seeds we offer are
Autoflowering
Medical
Clone
Feminized
Each seed plays to a different strength, so be sure to read all the descriptions on our website before buying. Or, if you're the adventurous type, try them all! It's a win-win situation no matter which seeds you choose.
Is cannabis legal in Columbia?
The use of medical cannabis has been legalized in South Carolina since 2014, although the state poses some restrictions on the type. In Columbia, only those suffering from severe debilitating diseases like Dravet Syndrome, Lennox-Gastaut Syndrome, and refractory epilepsy are allowed to use CBD-heavy medical cannabis.
How can I get cannabis seeds in Columbia?
Buying cannabis seeds in Columbia may prove difficult, unless you shop online with Growers Choice Cannabis Seeds. Our catalog features a selection of both indica and sativa based cannabis seeds, all hand-picked and inspected to ensure they are the highest quality available. We ship our seeds worldwide, a policy even recreational users can take advantage of, as cannabis seeds are considered a novelty item.
Visit Columbia
Columbia, South Carolina: home of the University of South Carolina, the state's flagship and largest university, and also of Fort Jackson, the largest US Army Installation for Basic Combat Training. Residents can enjoy the Riverbanks Zoo and Garden, or super fun Edventure, where kids can explore human biology, nature, inventions and careers. The South Carolina State house is in Columbia, as is the Congaree National Park, a large hardwood forest featuring hiking trails and creeks for canoeing and fishing.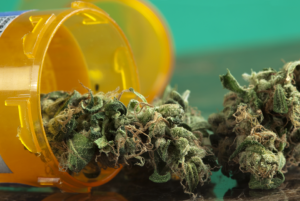 What is medical cannabis?
Medical cannabis simply refers to cannabis that has been prescribed to treat medical conditions. Although cannabis has gained a reputation as a recreational aid over the years, recent scientific study has sought to change this, focusing on the efficacy of cannabis as a therapeutic alternative to conventional medicine.
Sativa Cannabis Seeds for Sale
One of the best-selling cannabis strains in the world, sativa dominant strains are valued for their uplifting, energizing effects. These strains are perfect for daytime use or social situations and can be used to relieve anxious thoughts and depression. Sativa dominant strains are also popular among artists, writers, and musicians, and are effective at boosting creativity and improving focus in their users. Our favorite sativa strains in stock now are
Sour Diesel Feminized Cannabis Seeds
Mazar Feminized Cannabis Seeds
Power Plant Feminized Cannabis Seeds
Chemdog #4 Feminized Cannabis Seeds
Green Crack Feminized Cannabis Seeds
Order the sativa cannabis seeds that are right for you using our secure server today. We provide fast and discreet delivery on every order. Shop our selection today to get started.
Can I use cannabis for pain relief?
Cannabis is actually a great addition to any pain management routine. Cannabidiol, or CBD, is an effective analgesic and is prescribed for headaches and migraines, chronic pain, and can be used as a muscle relaxer. Indica-dominant cannabis strains like Jack Herer and Northern Lights tend to be higher in CBD than THC (the compound known for its hallucinogenic effects), and are best used when you want some relief from aches and pains.
High-CBD Cannabis Strains
Growers Choice Seeds carries a large selection of high content CBD cannabis seeds in our online inventory. CBD seeds are preferred by many medical marijuana patients, as well as those looking for a daytime use strain. Strains with a high level of CBD are valued for their anti-inflammatory and pain-relieving effects and are effective at reducing stress as well. Our favorite CBD seeds are
CBD Blueberry Feminized Cannabis Seeds
CBD Shark Feminized Cannabis Seeds
ACDC CBD Feminized Cannabis Seeds
CBD Moby Dick Feminized Cannabis Seeds
CBD Critical Mango Feminized Cannabis Seeds
We come highly recommended by our customers in Columbia
After shopping at Growers Choice, I'm not going anywhere else. Pricing, delivery, quality, they're hitting all the right notes. I recommend anyone try GC at least once, cuz I know you won't need to find another shop.
Most Popular Cannabis Seeds