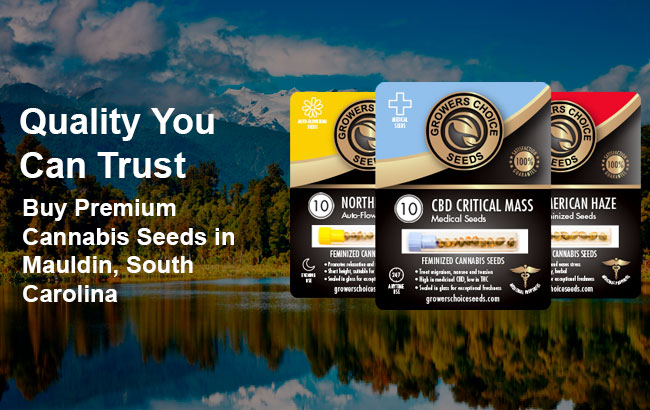 How to Order Mauldin Cannabis Seeds for Fast Delivery
If you're looking for the best Mauldin cannabis seeds online, then look no further than Growers Choice Seeds. We carry a huge selection of fully feminized and completely ungerminated cannabis seeds, all sourced from our community of experienced cannabis cultivators around the world. Order online using our secure server and your payment method of choice, and we'll ship your seeds right to your door in as little as one week using our fast and discreet delivery. Check out our selection today to get started.
Is Growing Cannabis Plants Legal in South Carolina?
Growing cannabis plants for medical or recreational purposes is not allowed in South Carolina at this time. The state prohibits both recreational and medical cannabis use, possession, and cultivation, and there are no current ballot measures to change these laws. There is limited access to medical CBD products available to patients with qualifying conditions, such as epilepsy or a terminal illness. Industrial hemp plants may be cultivated for commercial use as textiles or paper, as these cannabis plants have a negligibly low level of THC in them. Regardless of your state's stance on cannabis cultivation, adults in the United States may legally buy and own cannabis seeds that are ungerminated. Ungerminated cannabis seeds are considered novelty gifts and are not prohibited. Growers Choice Seeds carries a large selection of ungerminated cannabis seeds in our online inventory. Want to help change the outdated cannabis laws in your state? Get involved with your local marijuana activism group, call or write your local lawmakers, and make sure you're registered to vote!
Order High Quality Sativa Cannabis Seeds Online
Those seeking an uplifting and energizing experience from their cannabis should try one of our high quality sativa strains of weed seeds. Sativa dominant strains are known for their energizing, creative effects and are best enjoyed for daytime use and in social situations. Try a sativa strain to help with creative blocks, or to relieve depression and anxiety or to improve focus. Check out our selection of sativa seeds now, including favorites like
Find the sativa dominant cannabis seeds that are right for you when you browse our online inventory today. Our cannabis seeds are fully feminized and ungerminated, so they're legal to buy and own in the US.
Order High Quality Weed Seeds Online Today
Get your Mauldin cannabis seeds delivered fast when you order online from Growers Choice Seeds today. We've stocked our online catalog with the best cannabis seeds available on the market now. All of our high quality weed seeds are fully feminized and completely ungerminated, and are backed by our germination guarantee. Order online today to get started.
Most Popular Cannabis Seeds