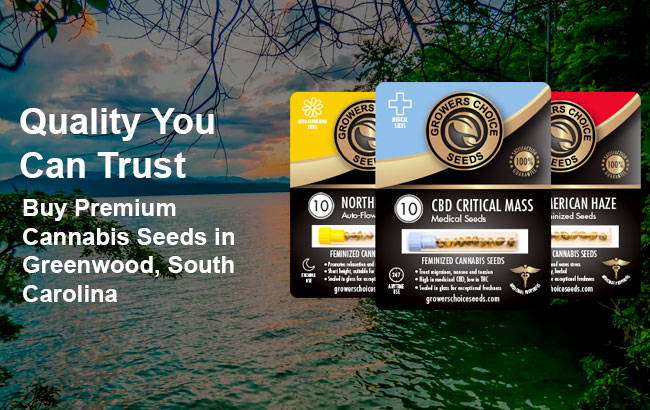 Where to Buy Greenwood Cannabis Seeds Online Now
Are you in the market for high quality cannabis seeds, but aren't sure where to shop? Growers Choice Seeds has made it easy to buy Greenwood cannabis seeds online. We've fully stocked our online inventory with the best indica, sativa, and hybrid seeds on the market today. Check out online using our secure server, and we'll provide fast and discreet delivery right to your door in as little as one week. Shop now to find out what makes us the premier place to buy cannabis seeds online in South Carolina today.
Is Medical Marijuana Legal in South Carolina?
Medical marijuana has not yet been legalized in South Carolina. Although medical marijuana legislation is expanding slowly into the south, South Carolina has yet to pass its own medical marijuana laws. However, the state does provide for limited access to medical CBD for patients with a qualifying condition, such as a terminal illness. The cultivation of industrial hemp is also allowed, as hemp plants are negligibly low in THC. These cannabis plants are a common agricultural crop and can be used to make paper, rope, and textiles for commercial purposes. Although cannabis cultivation for either recreational or medical use is prohibited at this time, it is legal to buy ungerminated cannabis seeds, such as those sold by Growers Choice Seeds. Ungerminated cannabis seeds are commonly considered novelty gifts, and are legal for adults over 21 years of age to buy and own in the United States. We carry exclusively ungerminated cannabis seeds in our online inventory, all fully feminized and backed by our germination guarantee. Shop our selection of high quality cannabis seeds today.
Get the Best Cannabis Seeds to Relieve Insomnia
If you suffer from insomnia, you know that it can have detrimental effects on your life. Insomnia is the inability to fall asleep or stay asleep at night, and can come with other issues such as depression, increased risk of heart disease, and more. Fortunately, cannabis is a tried and true way to help relieve insomnia by making its users drowsy and promoting sleep. Try these cannabis seeds for insomnia relief:
Skunk Kush Feminized Cannabis Seeds
Northern Lights Autoflowering Feminized Cannabis Seeds
Tangerine Dream Autoflowering Feminized Cannabis Seeds
Skywalker OG Feminized Cannabis Seeds
Forbidden Fruit Feminized Cannabis Seeds
Order the insomnia fighting cannabis seeds that are right for you when you buy online from Growers Choice Seeds today. We offer fast and discreet delivery on every order.
Buy High Quality Weed Seeds Online for Delivery
It's never been easier to get high quality Greenwood cannabis seeds delivered, thanks to Growers Choice Seeds. We've fully stocked our digital shelves with the very best cannabis seeds available online today, including all of your favorite diesel, kush, and OG strains. Find the weed seeds that fit your needs when you order online today using our secure server.
Most Popular Cannabis Seeds