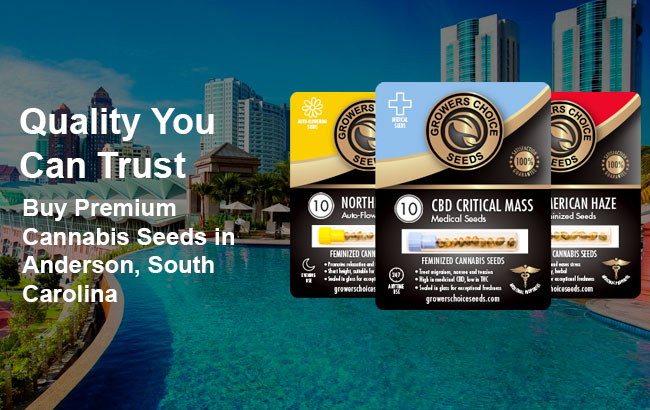 Order Anderson Cannabis Seeds Online for Fast Delivery
The time to buy cannabis seeds is now! Thanks to Growers Choice Seeds, it's easy to get high quality Anderson cannabis seeds delivered to your door quickly. We've sourced our fine selection of seeds from our trusted growers around the world, many with decades of experience in the cannabis industry. Find the seeds that are right for you and check out online using our secure server for fast and discreet delivery with tracking provided on every order. Discover what makes us the best cannabis seeds bank in North America today.
Is it Legal to Grow Cannabis Plants in South Carolina?
At this time, the cultivation of cannabis plants for either medicinal or recreational use is prohibited in the state of South Carolina. Although the state does allow for the cultivation of industrial hemp, individuals may not grow cannabis plants for their own medical or recreational purposes. The state has no medical marijuana laws in place as of 2020, and both recreational and medical marijuana remain prohibited. Only industrial hemp plants may be grown for commercial use as paper, textiles, and rope. Additionally, there is some limited access to medical CBD products for patients with a qualifying condition, such as a terminal illness. Even though you can't grow you own cannabis plants at this time, you may still buy cannabis seeds online legally, as long as they are ungerminated. Ungerminated cannabis seeds are considered collector's items and are legal to buy and own in the US. Growers Choice Seeds carries only the best ungerminated cannabis seeds in our digital catalog. To help advocate for better cannabis laws in your state, get involved with your local chapter of NORML, call or write your state lawmakers and representatives, and make sure to get out and vote!
Order High Quality Sativa Weed Seeds Online
Those seeking an uplifting and energizing experience from their cannabis should try one of our high quality sativa strains of weed seeds. Sativa dominant strains are known for their energizing, creative effects and are best enjoyed for daytime use and in social situations. Try a sativa strain to help with creative blocks, or to relieve depression and anxiety or to improve focus. Check out our selection of sativa weed seeds now, including favorites like
Find the sativa dominant weed seeds that are right for you when you browse our online inventory today. Our cannabis seeds are fully feminized and ungerminated, so they're legal to buy and own in the US.
Buy High Quality Cannabis Seeds Online for Delivery
It's never been easier to get high quality Anderson cannabis seeds delivered, thanks to Growers Choice Seeds. We've fully stocked our digital shelves with the very best cannabis seeds available online today, including all of your favorite diesel, kush, and OG strains. Find the seeds that fit your needs when you order online today using our secure server.
Most Popular Cannabis Seeds