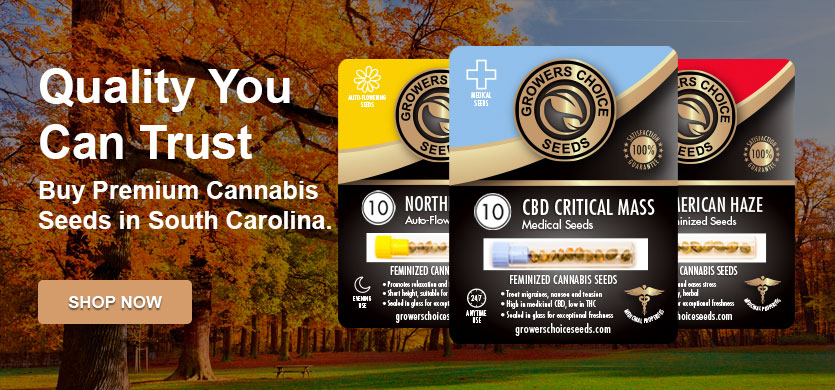 South Carolina stands out from other states since marijuana is completely illegal, even for medical purposes. That said, purchasing marijuana seeds themselves is still legal in South Carolina and all across the country.
Each state has its own set of marijuana laws that weed enthusiasts need to be aware of before enjoying their favorite strains. While there's so much wonderful weed to have and try across this great country, it's not legal everywhere. In some places, the laws are a little murky, but one of the places where it's crystal clear is South Carolina. The state has some pretty strict laws in place regarding its citizens and weed, so it's a good idea to look at the history behind cannabis laws in South Carolina.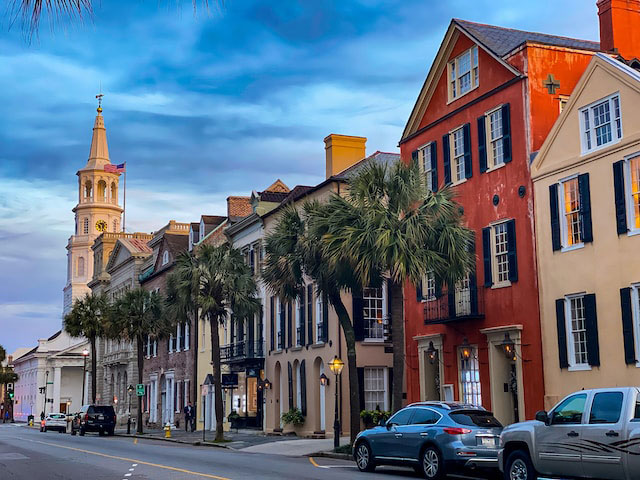 Overview of South Carolina's Cannabis Laws
What's the deal with recreational cannabis in South Carolina? What about medical marijuana patients? Well, unfortunately, it's illegal in both categories. There are no exemptions for marijuana in the state. However, there's one caveat — it's okay to purchase and possess weed seeds in the state.
When it comes to the history of cannabis in South Carolina, it has been illegal since the 1970s. While lawmakers and citizens in other states have tried to legalize marijuana, South Carolina is a state where its people have remained firm in not allowing marijuana to be sold, purchased, or possessed.
However, one group of hemp products got some love in 2014 when lawmakers decided to make extracts with high CBD and low THC levels legal. Medical patients with certain conditions could get their hands on some of these products. Afterward, the state's legislature passed a law that allowed residents to purchase CBD products with a THC content of 0.3% or less.
Now, that we've established the rules on hemp-derived products, it's time to get back to weed and its legal status. Possession of marijuana in South Carolina is a serious offense and violators can face a sentence in prison depending on the quantities of cannabis in their possession.
Marijuana is classified as a Schedule 1 controlled substance, meaning possessing even a small amount can lead to charges. If you're caught with less than an ounce of weed as a first-time offender, you can face a maximum $200 fine and up to 30 days behind bars. In some situations, possession of drug paraphernalia charges can apply.
If you're caught possessing and trying to distribute weed, that's a felony in South Carolina. That's when you can face a sentence in prison of 5 years. For people who have larger amounts of weed, they might face a mandatory term. Some people who fall into this category can face a 10-year term of imprisonment.
Cultivating less than 100 cannabis plants can lead to a 5-year prison sentence in South Carolina. Additionally, possession of more than 100 plants can result in a 25-year mandatory term. The bottom line? Possession of marijuana and even marijuana plants in South Carolina is quite serious and can cost you money and lead to time in prison.
Different Types of Seeds
Since you can legally purchase and possess marijuana seeds in South Carolina, it's always a good idea to learn and understand more about the variety of seeds available. Once you buy these seeds, you can plant and cultivate them in places where weed is legal. Here's more about marijuana seeds to help you differentiate between high-quality seeds and ones that are of lesser quality.
Feminized Cannabis Seeds
Feminized marijuana seeds are one of the favorites among growers with discerning tastes because they understand all the advantages that these seeds really offer. The most important thing to know is that only female plants flower from feminized seeds. They are produced in a way that prevents male plants from growing.
Because of this, you get consistent results and know what to expect. It also prevents cross-pollination and means you don't have to separate female marijuana plants from male plants. These weed seeds are also known to produce mind-blowing yields compared to other types of strains. Not only do you get more premium weed, but you also get higher-quality marijuana. And, one more big plus, female plants are higher in potency with more THC to give smokers bigger, better effects. That's definitely a win-win!
With all of these advantages, female seeds are an ideal choice for beginner growers and those without a ton of growing experience. They also have a quicker flowering time than some other varieties of weed seeds. That means that from the time you plant them to flowering time to harvest time, it's a shorter period. You can also enjoy the fact that these tend to be pest-resistant seed strains, where you don't have to worry about things like mold and mildew as much.
When you're looking for the best cannabis strain seeds for sale in South Carolina, there are plenty of choices to choose from at online seed banks. You can look at a wide variety like Northern Lights, Cheese, True OG, Triangle Kush, Pot of Gold, and more.
Hybrid Seeds
Hybrid seeds create marijuana crops that are a blend of the indica and sativa strains. As a result, you can get 80/20, 60/40/, and 50/50 percent hybrid strains that veer either sativa or indica. You'll end up getting a blend of effects and properties from each type of strain. Whether you want to feel euphoric, uplifted relaxed, sleepy, or any other effect you can imagine, choose hybrid seeds for the perfect strain.
These marijuana seeds also provide smokers with higher amounts of THC for extra potency. And if you love having more choices, you can choose between autoflowering or feminized hybrid seeds, which are both high-quality weed options.
Hybrid seeds are great for growers of all experience levels and are perfect for indoor and outdoor growers since they're so versatile. Growing these weed seeds is very efficient since they've been optimized to produce only high-quality weed. They also have a shorter flowering time compared to other forms of cannabis seeds.
Best of all, you can find some of your favorite strains in hybrid form to get the best weed possible. When you're shopping for weed seeds in South Carolina, this is one of the best varieties.
Autoflowering Seeds
Autoflowering seeds are also known as fast-flowering cannabis seeds since they grow and flower regardless of the lighting schedule. As a photoperiod cannabis seed strain, you don't have to manually change the amount of light and darkness because they will sprout independently, making them perfect for outdoor growth.
These plants also grow shorter, so they're the perfect seed strain for growers who are limited in space since they don't need much room. You'll love how they flower sooner with most seed strains available to harvest in as little as 8-10 weeks, so you can get to your weed faster than ever.
Plus, you'll get higher outdoor yields in virtually any type of climate, including in South Carolina. Growers will appreciate how autoflowering seeds are pest and disease-resistant seed strains. That means you don't have to keep as close of an eye on your crop. They can withstand common pests, mildew, mold, various pathogens, and much more as they grow into healthy plants.
Choose from a variety of seeds, including the Jack Herer Autoflower Seed Strain, Auto Girl Scout, Jack Herer Auto, and more.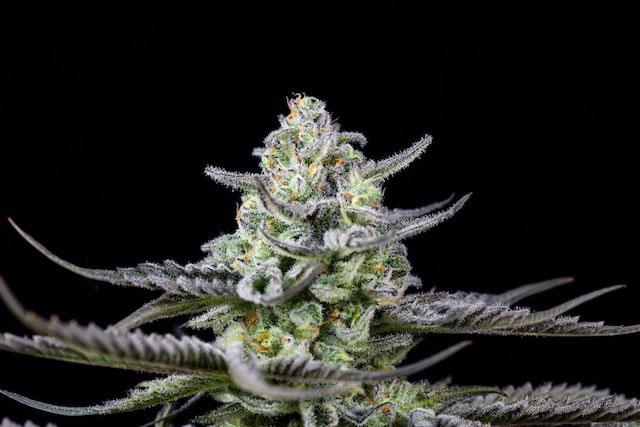 Variety of Weed Strains and Types
Where do we even begin when it comes to the variety and weed strains and types? There are so many to choose from in South Carolina, but we can give you a quick rundown to help you make an informed decision to ensure you get the weed that best meets your needs.
Whether you want sativa, indica, hybrid, normal seeds, cheap seeds, feminized, or autoflowering, it begins with choosing the perfect strain. When you want something uplifting or energizing, opt for a sativa. If you're in the mood to wind down and relax, choose an indica. If you want to try something in between, that's when a hybrid is your best choice.
Depending on your growing experience, your potency needs, how quickly you want your marijuana to grow, and how big of a yield you want, you'll need to differentiate between regular, feminized, and autoflowering marijuana seeds.
As far as choosing a particular strain, it's best to do a bit of research to find the right one for you. Since there are too many strains to count, you'll be happy that you took the time to do your due diligence!
Where to Buy Cannabis Seeds in South Carolina
Since weed is illegal in South Carolina, you will need to turn to a reputable seed bank to purchase your seeds. Are you looking for top-shelf cannabis seeds? You're in luck because Growers Choice Seeds offers nothing but the best when it comes to seeds. You'll enjoy fast, discreet shipping, various quantities to choose from, and affordable prices. With Growers Choice at your fingertips, you'll be able to purchase your weed seeds whenever it's convenient for you!
Crepe Myrtle at sunset, South Carolina
Most Popular Cannabis Seeds