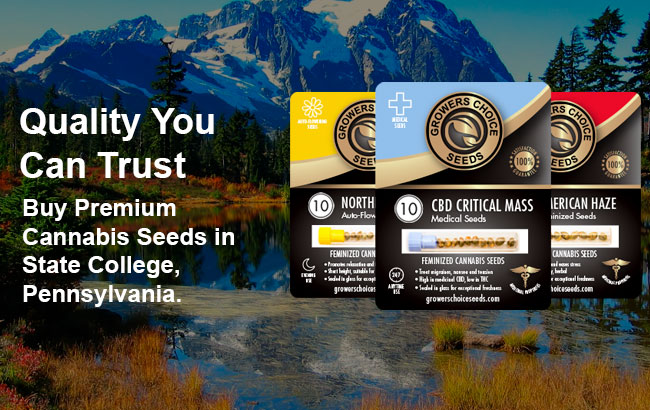 Cannabis Laws in Pennsylvania
Did you know that you can legally buy cannabis seeds in Pennsylvania by getting them delivered to your home from Grower's Choice Seeds? It's true! Grower's Choice is your source for legal seeds. Even though the state of Pennsylvania has laws against the use of MJ, you are still allowed to purchase and collect ungerminated seeds for your private collection. Just leave your seeds unplanted and you are following the law. Recently, the state passed legal access to medical marijuana for those with certain health conditions. This is a step in the right direction, and hopefully soon, all adults will have access to high-quality marijuana and will be able to grow it at home. Until then, collect your favorite cannabis seed strains from Grower's Choice Seeds!
Buy Premium State College Cannabis Seeds from Grower's Choice
High-quality State College cannabis seeds are just a few clicks away with Grower's Choice Seeds. Just browse our online store, make your order, and premium cannabis seeds will be on their way to your doorstep, fast!
Is Cannabis Healthy?
Grower's Choice Seeds is proud to carry high-CBD medical cannabis seeds for those looking for pain relief. So what is the deal with CBD? It is a natural compound found in the plant that has serious anti-inflammatory effects on the body. Interestingly, CBD does not cause any psychoactive effect, making them perfect for those online looking for the healing properties of marijuana. Grower's Choice Seeds is your trusted and reliable source for high-CBD medical seeds. Place your order today!
Auto-Flowering Weed Seeds
Have you thought about growing cannabis at home but don't have the experience? Though research and preparation is very rewarding, Grower's Choice Seeds carries a very special type of weed seed that makes growing super easy. Auto-flowering seeds from Grower's Choice is the perfect choice for a first time grower. What are auto-flowering seeds? With traditional marijuana seeds, growers need to adjust the amount of light given to their plants at the correct time to properly shift the plants from the vegatative growth stage to the flowering stage. With auto-flowering seeds, no extra light manipulation is required! Just plant your seeds and wait for high-quality buds to form. Auto-flowering seeds are a great option for a beginner or veteren alike. Grower's Choice will deliver easy to grow auto-flowering seeds directly to your doorstep. Order now!
Order High-Quality Feminized Cannabis Seeds Online
Our mission at Grower's Choice Seeds is to get you premium State College cannabis seeds quickly and hassle-free. Make Grower's Choice your supplier for the best marijuana seeds available on the internet.
Most Popular Cannabis Seeds