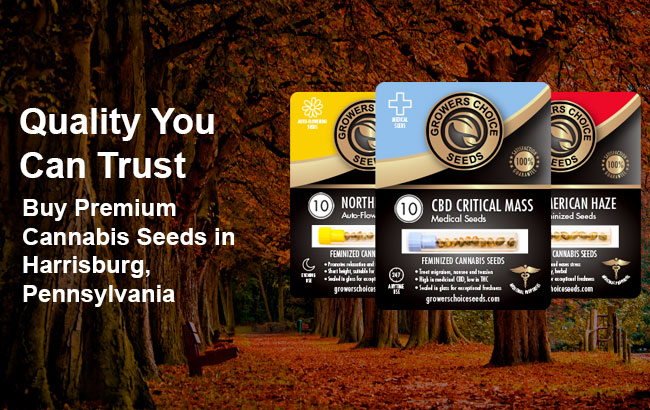 Are Harrisburg cannabis seeds legal
In the state of Pennsylvania, so long as the cannabis seeds that you buy are ungerminated, the sale is not illegal. As mentioned, all that you'll need to do when your Growers Choice Seeds arrive is to germinate them, preferably using the Water Glass/Paper Towel germination method. This method requires that you soak your cannabis seeds first in pure or distilled water, followed by a short period of time (around four to seven days, typically) when your cannabis seeds will need to rest in a damp and warm spot until those tiny tap roots emerge. All that you'll need for the Water Glass/Paper Towel method are a few common household items, including: Water Glass
Plate
Growers Choice Seeds
Pure or Distilled Water
Paper Towels
Tweezers
Where to get cannabis seeds
Not sure where to get cannabis seeds? Well, it's never been easier to shop for cannabis seeds for sale in Harrisburg, now that you can shop online for them at Growers Choice Seeds. Growers Choice Seeds can be accessed quickly and conveniently from your own smartphone or your computer, at whatever time of the day works best for you. Because Growers Choice Seeds is located online, we can offer a huge range of feminized cannabis seeds for sale, including autoflowering seeds, and we ship all of our seeds directly to our customers. You don't even have to worry about buying dud seeds from Growers Choice Seeds, thanks to our incredibly customer-friendly germination guarantee.
How to germinate weed seeds
When you get your weed seed order from Growers Choice Seeds delivered, you might be tempted to plant them right away. But, unfortunately, that would be a big mistake! Nope–you need to germinate your cannabis seeds before they can be planted, a process that involves giving your seeds moisture, darkness and warmth. When your seeds are provided with those things using a method like Growers Choice Seeds' recommended Water Glass/Paper Towel method, they will be able to sprout small tap roots, letting you know that germination was successful and you can now plant your cannabis seeds.There's even a handy dandy germination guide that shares all of the ins and outs of cannabis seed germination on Growers Choice Seeds' website.
Reasons to buy cannabis seeds online
There are so many advantages to buying cannabis seeds for sale in Harrisburg from a cannabis seed bank like Growers Choice Seeds. Obviously you simply cannot beat the convenience of shopping online for cannabis seeds, nor the privacy of getting all of your cannabis seeds shipped directly to you. And, due to the fact that Growers Choice Seeds isn't confined to a smaller retail space, we're able to offer an astounding selection of seeds to choose from to our valued customers.
How to Germinate Cannabis Seeds
Germinating your cannabis seeds is what gets them started on their cultivation journey. While you could just plant your seeds straight out of the medical-grade glass vial, it's much safer and more efficient to follow the Water Glass and Paper Towel method we describe on the website. Not only is this a well-accepted process for germination, but following our simple instructions will ensure you remain covered under our 90% Germination Guarantee; if you follow our method and more than 10% of your Harrisburg cannabis seeds don't germinate – we replace them! This keeps your investment safe and sound. The Water Glass and Paper Towel method is simple and straightforward, requiring only a cup, plate, paper towel, and water. What could be easier than that?
Most Popular Cannabis Seeds