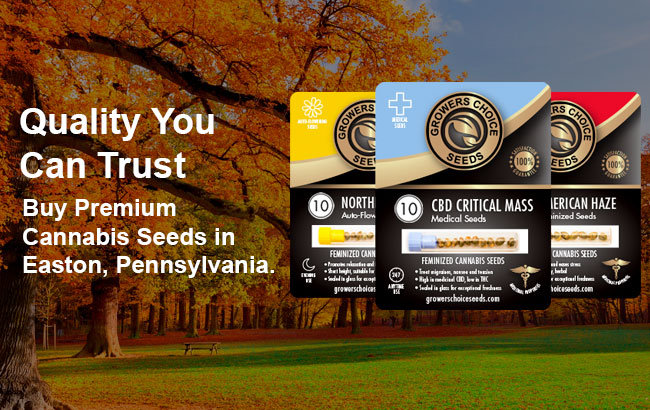 How to Order Easton Cannabis Seeds Online in PA
Ordering Easton Cannabis seeds online is simple when you choose Growers Choice Seeds. We've made it easy to shop online for your favorite cannabis strains. Simply find the seeds that are right for you by browsing our extensive inventory, and order online using our secure server and your payment method of choice. We offer fast and discreet flat rate shipping with tracking available on every order, so you can follow your seeds on their journey from our doors to yours. Shop our digital catalog now to find the seeds that fit your needs.
Is it Legal to Cultivate Cannabis Plants in the State of Pennsylvania?
Cannabis cultivation is not permitted in the state of Pennsylvania at this time. Recreational cannabis is still prohibited in the state, although it has been somewhat decriminalized locally in parts of Pennsylvania. Medical marijuana legislation, passed in 2016, provides legal and safe access to medical cannabis via state licensed dispensaries. Individual residents and medical marijuana card holders are not allowed to grow their own cannabis plants for personal use. However, all adult residents of the state may legally buy cannabis seeds that are ungerminated. Ungerminated cannabis seeds are considered novelty gifts or collector's items, and are legal to buy and own in the United States. Growers Choice Seeds carries a wide selection of ungerminated cannabis seeds in our online inventory. All of our high quality cannabis seeds are completely feminized and are backed by our germination guarantee. To help advocate for a greener future in your state, sign up to volunteer with your local marijuana activism group, call or email your local representatives, and make sure you're registered to vote!
Top Selling Sativa Cannabis Seeds Delivered Fast
Sativa cannabis strains are known for their energizing effects and ability to boost creativity as well as mood. Because of their uplifting effects, sativas are best enjoyed in the daytime. We carry a large selection of high quality sativa cannabis seeds, including 
Get your sativa dominant seeds delivered fast when you order online from Growers Choice Seeds today. We offer fast and discreet delivery with tracking available on every order.
Order High Quality Weed Seeds For Fast Delivery
Order your high quality weed seeds one from Growers Choice Seeds today for fast and discreet delivery right to your door. As the number one place to buy Easton cannabis seeds online, we've got all of your favorite strains in stock. Check out our inventory today to view our selection of fully feminized and ungerminated cannabis seeds. Don't forget to sign up for our newsletter for your chance to win free seeds!
Most Popular Cannabis Seeds