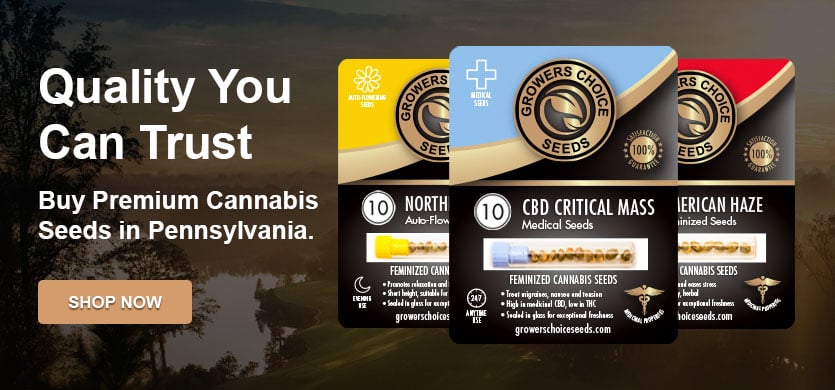 Growers Choice offers more than 500 premium marijuana seeds online, all of which can be purchased directly from our website and shipped to your home via discreet shipping. Online cannabis seed banks are truly the way to go when you want to grow marijuana at home in Pennsylvania.
The Benefits of Cannabis Seeds
Some people have a garden of tomatoes, while others have a garden of herbs like mint. What about a garden of cannabis plants, though? Yes, there are people across the globe who grow their own cannabis for their personal use, and the easiest way to do that is to start with cannabis seeds. In this instance, cannabis seeds are synonymous with marijuana seeds, weed seeds, and pot seeds. Marijuana plants are cannabis plants, and when you see cannabis seeds for sale, they are almost definitely going to be marijuana seeds. The only reason for clarification is that hemp seeds grow a kind of cannabis plant that is lacking in THC content, and THC is the psychoactive element of marijuana. Because hemp seeds don't grow what we think of as "marijuana plants," when you are searching for cannabis seeds for sale, they are assuredly going to be marijuana seeds, not hemp seeds.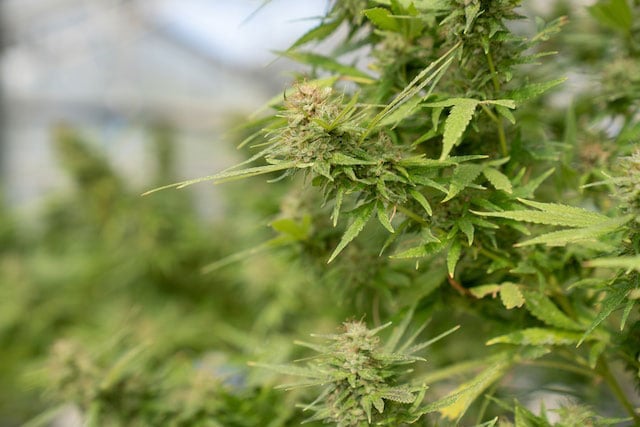 Different Kinds of Weed Seeds
Cannabis cultivation involves picking cannabis seed strains to grow, and popular strains of all kinds are out there. Sativa strains are energizing and feel more in the mind, so weed seeds for sativa strains are good for wake-and-bake smokers. Indica strains, as opposed to sativa plants, are relaxing and give you more of a body high. Those are an excellent choice for people who like to chill on the couch with the product of their marijuana seeds. Then, there are hybrid strains, which mix the elements of sativa plants and indica plants.
Some favorite strains out there include White Widow, Northern Lights, and Candy Kush Express, among others. However, even if you find a strain that is an ideal choice for you, you are always going to want feminized seeds for at-home cannabis cultivation. What is the importance of feminized cannabis seeds? Regular cannabis seeds might grow female plants, or they might grow male plants. The thing is, only female plants of the cannabis family have buds, and buds are where you find almost all the THC. Not only that, but even a single plant that is male in your garden will pollinate your female plants, and that will hinder your yield. That's why you want female seeds, and when you buy fully feminized marijuana seeds, they effectively guarantee you female plants each and every time.
A popular choice among some growers, especially beginner growers, is auto-flowering seeds. Most marijuana seeds grow photoperiod plants. These plants kick into their flowering time based on exposure to a light cycle, which means you have to carefully manage optimal conditions for light and for your photoperiod plants. Auto-flowering seeds, on the other hand, grow plants that flower based on the age of the plant. Now, there is nothing wrong with photoperiod plants, and photoperiod plants tend to have more yield than auto-flowering seeds. It's just something to consider.
Medical Marijuana Seeds
Some people use marijuana recreationally. However, medical cannabis is benefiting people all over the globe. The medicinal purposes for cannabis use are vast. Medical marijuana patients can get help with issues like chronic pain, insomnia, anxiety, depression, and more. One of the benefits of cannabis is how much it can help your health and sense of well-being.
Finding an Online Seed Bank for Regular Seeds
Getting marijuana seeds from seed banks is a great way to go when you grow your own cannabis at home. Top-shelf seed strains are available from online seed banks around the globe. With online seed banks, you can have your marijuana seeds delivered right to you. A reputable seed bank will offer premium seeds for dozens of popular strains. Fully-feminized marijuana seeds should be sold for every strain, of course. There is more to look for than just feminized marijuana seeds from online seed banks, though.
A reputable seed bank is going to ensure you get fully-feminized seeds, not regular cannabis seeds, and make the effort to provide you with premium seeds to make sure you remain a loyal customer. Fast, reliable, and discreet shipping is part of how online seed banks manage to stand out. Also, look for a germination guarantee from the online seed banks out there. Seed banks will offer you a certain germination rate on every order, though likely with a germination guideline provided as well.
There are some heavy hitters in the world of online seed banks, providing you with premium seeds for top-shelf seed strains of all sorts. Growers Choice is one such online seed bank, and so is Pacific Seed Bank for another example. When you get your favorite seed strains from reliable online seed banks, you will quickly realize the benefits of seed banks that really step up for their customers.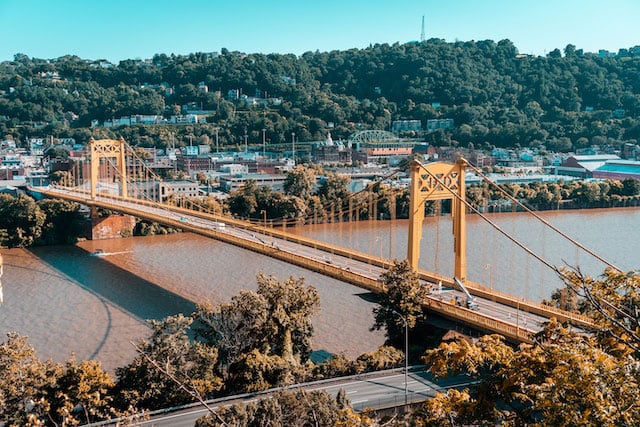 Cannabis Laws in Pennsylvania
Part of the cultivation process with cannabis is figuring out if you want to be an indoor grower or an outdoor grower. You might look at the weather in Pennsylvania where you think about environmental qualifying conditions/medical conditions and worry about cold temperatures in the late fall and early spring. Before you get to grow your own cannabis, though, be sure you are up on marijuana laws in your state, and therein lies an issue for Pennsylvanians.
Currently, recreational cannabis is not legal in Pennsylvania. Medical cannabis is, so there are medical cannabis patients in the state. However, even if you have a medical marijuana card, there is a state prohibition on growing your own plants at home, leading you to have to go to one of the state's medical marijuana dispensaries. There are the current regulations, but there has been a lot of effort to get recreational marijuana legal, including by former governor Tom Wolf, who was followed by fellow Democrat Josh Shapiro in office. We wouldn't be surprised to see recreational marijuana, and at-home marijuana cultivation, legalized.
We will note that basically, every major city in the state of Pennsylvania has decriminalized cannabis within their city limits. For example, in Philadelphia and Pittsburgh, possession of amounts of cannabis up to 30 grams is only punishable by a $25 fine. Some cities fine you up to $250, which is not ideal, and some only decriminalize for first-time offenses. As such, it is not quite the ideal time to be growing cannabis at home in Pennsylvania, but that could change soon. When it does, you'll know what to do to be ready to enjoy growing your own cannabis plants at home.
Find Cannabis Seeds In:
Great Reviews For Growers Choice Cannabis Seeds From Pennsylvania Shoppers
My first order with this company was truly a pleasure. Great experience all around. Wonderful communication, supreme stealth, beautiful quality. I am a loyal customer, so fortunate to have found them. And I tell all my friends.
Just ordered cannabis seeds in Pennsylvania and I'm feeling really good about this service. I had some questions about a few strains and got the answers I needed from Growers Choice's friendly customer service. They seem to know what they're talking about and were helpful in letting me know all about the different medical uses of each strain. Five star service and five star seeds!
Most Popular Cannabis Seeds