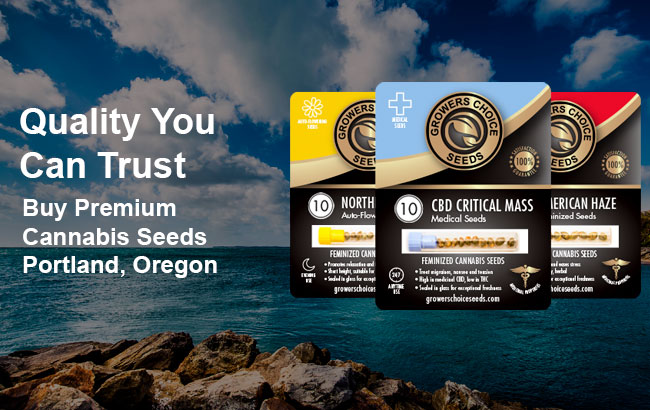 Cannabis Seeds for Sale in Portland, OR

As the largest city in Oregon, which was one of the first states in the U.S. to legalize cannabis for medicinal purposes back in 1998, and the third in the country to legalize recreational cannabis in 2015, Portlanders have long had access to recreational and medical marijuana dispensaries to the point that even the more conservative inhabitants of this progressive city don't really bat an eye when they find out that their neighbor works in the cannabis industry or that they are growing marijuana plants in the backyard or basement etc.
In fact, Portland has more dispensaries per capita than any other city not just in the Pacific Northwest, but the entire country.
Due to the abundance of recreational and medical dispensaries throughout the City of Roses and its almost-decade long history of cannabis at-home cultivation, you might be wondering why ordering your cannabis seeds from seed banks like Growers Choice Seeds or Pacific Seed Bank is even worthwhile as their discrete packaging is hardly going to be a priority in a place that seems to have as many dispensaries as it does coffee shops and breweries.
However, before answering that question, let's quickly look at Portland's cannabis possession and cultivation laws for medical and recreational users.
Portland's Cannabis Laws
Regardless of if you are a medical or recreational at-home grower, if you live in Portland you are exempt from Oregon's state law, which states that marijuana plants cannot be grown within 1,000 feet of a school. However, this exception ONLY applies to private at-home growers in Portland, as each county in Oregon has its own laws around this.
Medical Marijuana Patients:
To become a qualified patient in Portland you must be 18 years of age or older, or if you are a minor then you must have a designated caregiver who is either your parent or legal guardian.
The legal limits for medical patients and their caregivers in terms of the purchase and possession of cannabis are as follows: 24 ounces of marijuana, 16 ounces of cannabis products in solid form, 72 ounces of liquid marijuana products, 16 ounces of marijuana products in concentrate form, 5 grams of cannabinoid extracts.
Medical patients who are 21+ can grow 6 mature cannabis plants and 12 immature plants per patient with a maximum of 12 mature plants and 24 immature plants regardless of how many patients reside at the same address. For in-depth details related to growing, see here.
Recreational Marijuana Users:
You must be 21+ to be a legal adult-user.
When you go to a dispensary in Portland you can purchase the following quantities:


1 ounce of marijuana
5 grams of extracts or concentrates
16 ounces of marijuana products in solid form
72 ounces of liquid marijuana products.
The private possession legal limits for adult users are as laid out below, with the limits on solid marijuana products and liquid marijuana products remaining the same as listed above:

8 ounces of marijuana
1 ounce of extracts or concentrates

Adult users can grow up to 4 female plants at home per household and not per adult.
Why Portlanders Buy Their Weed Seeds from Online Seed Banks
Since the majority of Portland residents are all about supporting local businesses over large corporations, it may be something of a surprise to hear that they are still all about getting their marijuana seeds from large online seed banks like Growers Choice and Pacific Seed Bank.
However, the reason they are such big fans of using online marijuana seed shops has less to do with the discrete packaging provided by Growers Choice and Pacific Seed Bank and much more to do with the wide selection of seeds available, cost, and germination guarantees.
Selection: Larger online seed banks like Growers Choice are able to provide not only high-quality cannabis seeds but a much more extensive collection of cannabis seed strains due to the fact that they have a direct working relationship with numerous breeders.
Price Point: Growers Choice is able to offer top-shelf seed strains, fan-favorite strains, etc. at highly competitive prices due in large part to the size of their inventory and commitment to making quality cannabis seeds affordable to their customers.
Germination Guarantee: Another thing that makes Growers Choice so popular amongst indoor and outdoor growers is that they provide a germination guarantee that 90% of the feminized cannabis seeds you buy from them will germinate, provided you follow their cheap and easy germination guide.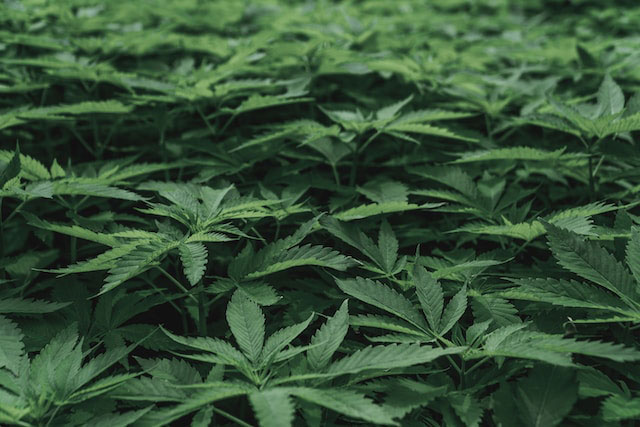 Feminized Marijuana Seeds vs. Autoflowering Seeds

Growers Choice Seeds only sells feminized cannabis seeds be they photoperiods or autoflowering strains–all of which come with a germination guarantee. They do not sell regular seeds because they will produce both male and female plants, and while male plants are very useful to breeders and highly experienced growers who wish to create new cannabis strains, they're not something that you. everyday Portland backyard home grower will have much use.
Feminized Cannabis Seeds
Feminized seeds have a 99% likelihood of producing female plants. The one challenge though about feminized strains, or "photoperiod strains," is that they aren't able to automatically flip to flower on their own. Instead, you will need to switch them from what is usually an 18/6 light and dark cycle to a 12/12 cycle in order for them to be able to transition from their vegetative growth stage to their flowering phase.
However, provided you take advantage of the resources and information provided in blogs by Growers Choice Seeds that include how to grow your own weed, you should be able pretty quickly figure out how and when to do this, as there are several feminized strains that are quite easy for first-time growers to cultivate, such as Grape God and Lucid Dream.
Feminized Autoflowering Seeds
Auto-flowering seeds can automatically flip to flower on their own, and they usually produce smaller plants that are hardier and faster-growing than most feminized strains. This is due to the fact that auto strains contain an average of 10% ruderalis, which you can learn all about here.
Since Portland has an average growing season of over 220 days, you could potentially get several outdoor harvests in one growing season from a fast-flowering auto strain like Pitbull or Jamaican Dream.
Portland's Cannabis Seed Cultivation Environment

It's important to preface this section by stating that climate change is a fact no matter how much one might wish to deny it. As such, while Portland has long had mild summers, things have been (rapidly) changing with their becoming significantly hotter and dryer for much longer periods of time, and its autumns and winters becoming more and more unpredictable.
However, for the time being, Portland can be something of a gardener's paradise with its rich soil, rainy autumns and winters, and near-perfect springs that usually start around April in terms of its official planting season.
On account of how wet autumn through spring can be in Portland, mold can be a real issue for indoor growers if they don't have good ventilation and a reliable dehumidifier in their grow spaces.
In addition, expert growers in Portland highly recommend that outdoor growers cultivate their plants in pots as this helps with ensuring good drainage so as to prevent root rot. Plus, because Portland summers are becoming increasingly hotter and early autumns and springs can see weeks of non-stop rain, being able to move your plants into the shade or even indoors is a huge bonus in a city that can be extremely dry one month and extremely wet the next.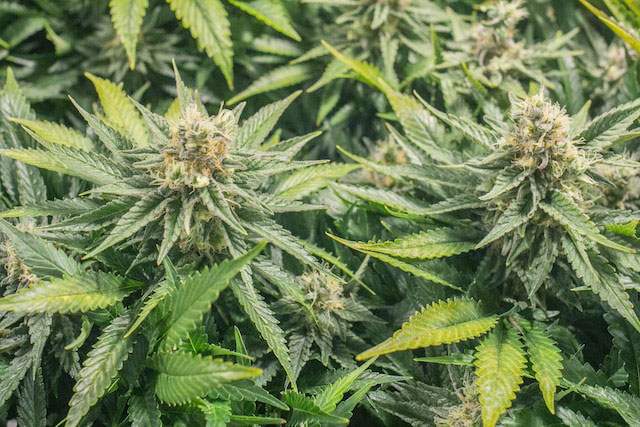 Five Top Strains for Cultivating in Portland

1. Mimosa feminized weed seeds: this sativa-dominant hybrid, which can do well in cool, hot, and temperate outdoor settings, should be ready for harvesting by mid-to-late October, which is before the first frost of the year in Portland, and indoors it should start to flower in just 9 weeks.
2. Oregon Diesel feminized weed seeds: this near-pure indica that was created in Oregon is obviously quite popular amongst Portland growers and is clearly well-suited to Portland's growing environment, which means that the fact that it's susceptible to powdery mildew shouldn't be a deterrent seeing as it hails from Oregon, so long as you keep a close eye on it.
3. Do-Si-Dos autoflowering weed seeds: this delicious indica-leaning hybrid, which requires a sunny, moderately humid outdoor environment, should do well in Portland; although if temps hit the 90s you will want to move it into the shade. As such, outdoor growers should grow this one in easy-to-move pots.
4. Master Yoda autoflowering weed seeds: this award-winning 50/50 hybrid will do great indoors during Portland's rainy autumn and winter months, and outside in its sunny spring and summer seasons.
5. Pineapple Thai feminized marijuana seeds: this incredibly rare pure sativa that can grow to be quite tall needs a semi-humid, Mediterranean-like climate, which means does well outdoors in Portland much of the year, and in the autumn and winter, growers just make sure to top it early in its vegetative growth stage so that they can cultivate it inside without its potential height being an issue.
Growers Choice is at the top of the list in Portland
I won't order seeds from anywhere else. Always get the best customer service from Growers Choice, and great product. I don't think there's anything you can improve on!
Buy Quality Seeds From Growers Choice
t's cool that Growers' office is so close to Portland – even though there's no shortage of seed places around here, I find it just as easy to just order from the comfort of my couch.
Most Popular Cannabis Seeds