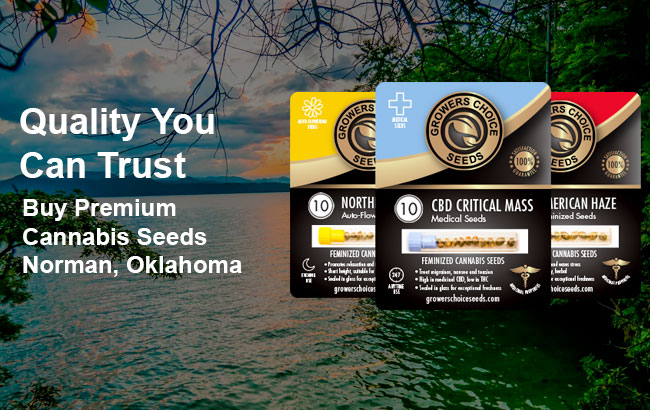 Where to buy cannabis seeds in Norman?
Although Norman, Oklahoma sits within Tornado Alley, there's plenty to do. The University of Oklahoma funds several of the city's most popular educational attractions, including the Fred Jones Jr Museum of Art, with its vast collection of historic works and impressionist pieces. The Sam Noble Oklahoma Museum of Natural History features in-depth exhibits chronicling natural and cultural history. The Lake Thunderbird state park features 2 marinas and swim beaches, as well as a nature center and trails for hiking and biking.
Choose Growers Choice for your Norman cannabis seeds.
Is cannabis legal in Norman?
The use of cannabis in Norman is restricted to medical cannabis, and those variates that are higher in cannabidiol, CBD, than tetrahydrocannabinol. CBD provides a host of therapeutic effect for users, without the psychoactive high you get with THC heavy cannabis strains. Cannabis strains high in CBD, like CBD Blueberry and CBD Moby Dick, are great choices when you are looking for an all-natural pain management solution, when you suffer from insomnia, to control epileptic seizures, or when you are undergoing chemotherapy. In Oklahoma, only children can use CBD to treat epileptic conditions, but the purchase of ungerminated cannabis seeds is legal throughout the USA.
Get weed seeds delivered in Norman?
Weed seeds are actually considered an adult novelty item and therefore you are free to purchase and own them. If you are looking to purchase cannabis seeds in Norman, look no further than the Growers Choice website. We carry a curated selection of Norman cannabis seeds that are chosen by hand and inspected to ensure you receive the best quality product available, and then shipped straight to your door.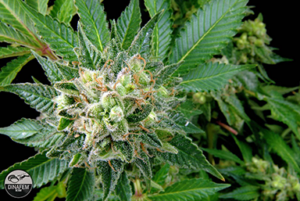 Can I use cannabis for headaches?
For decades individuals have been using cannabis to kick back and relax, but true cannabis proponents know the real benefits of this potent plants go far beyond the relaxing "high" high-schoolers and hippies may seek it out for. Recent medical research and anecdotal evidence have sought to shed light on the reality that cannabis can be used, where legal, to treat a number of ailments including:
headaches
migraines
chronic pain
acute pain
and more.
Order cannabis seeds in Oklahoma
Visit our Buy Cannabis Seeds retail page to get started!
Browse our selection and read the detailed descriptions to find the best cannabis seed strain for you.
Select the number of seeds you want – 3, 5, 10, or 25.
Click "buy now" and visit your shopping cart.
Enter your payment and mailing information into our secure server.
Wait for your premium cannabis seeds to be delivered, quickly and discreetly!
Read what customers are saying about us in Norman
I love this company. I have only had good experiences with them, my seeds have always arrived on time and fresh. I like the little glass vials, I dunno something about it says professional. I guess it's just the little things. I'll be ordering another batch of seeds again soon, these last ones, White WIdow, are just getting ready to flower.
Most Popular Cannabis Seeds