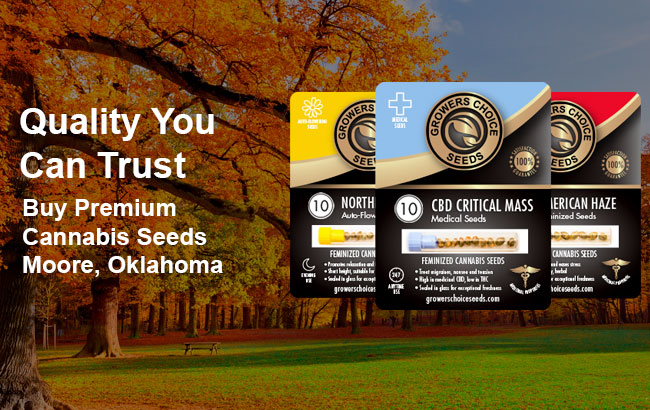 Buy cannabis seeds in Moore
Stop stressing about where to get your Moore cannabis seeds and head to Growers Choice today! Our premium selection of 40+ cannabis seed offers the best strains in the world, cultivated by our team of expert horticulturalist and medical specialists. All of our seeds are hand-picked, inspected, and tested to ensure you're getting only the freshest, best quality seeds. We offer regular, auto-flowering, and medical varieties of seeds and every order comes with a flat fee shipping rate based on your country of residence—whether you're buying 1 or 100 seeds your shipping is the same. All of our seeds also come with our 90% germination guarantee—that's the highest in the industry!
Is it legal to buy Moore cannabis seeds?
Cannabis seeds are legal to buy and own all across North America because of their status as collector's items. It is also legal currently in the state of Oklahoma for patients suffering from seriously debilitating or chronic conditions. At present, only low-THC cannabidiol oil, or CBD oil is legal to possess and use after receiving a recommendation from their medical practitioner. Qualifying conditions are decided by the medical practitioner but may include intractable nausea and vomiting, severe muscle spasms due to multiple sclerosis or paraplegia, or chronic wasting disease. A more expansive program that will include the legalization of the cultivation, use, and possession of cannabis will be on the ballet in the 2018 election for Oklahomans to decide.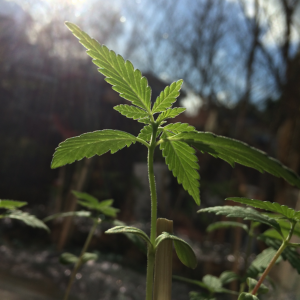 Best weed seeds for nausea
Our weed seeds can be used to help alleviate many symptoms related to medical conditions. It is a well-researched fact that cannabis offers many therapeutic benefits that help people live happier, healthier lives. However, if you're looking for treatment for specific symptoms, some research may be required to find the right strain for you. Different strains will have a different effect, particularly depending on whether they are indica-dominant or sativa-dominant strains. Indica strains typically provide a more 'stoned' effect resulting in a relaxed, sleepy feeling, while sativa-dominant strains typically provide more of a euphoric 'high' feeling. If you're looking for relief nausea, we recommend trying one of these strains:
OG Kush
Critical Purple
CBD Critical Mass
Cannabis seeds for sale in Moore
While it may still be difficult to find cannabis seeds in Moore, with Growers Choice you can have your cannabis seeds delivered discreetly directly to your door. We're dedicated to providing our customers with the best service and highest quality cannabis seeds. Our germination guarantee promises that if less than 90% of your seeds produce results, we'll replace the duds straight away. There's no reason to wait any longer to order your Moore cannabis seeds today from Growers choice! Our customer service representatives are ready to help you with any questions you may have to help you get your order Growers Choice cannabis seeds.
Most Popular Cannabis Seeds