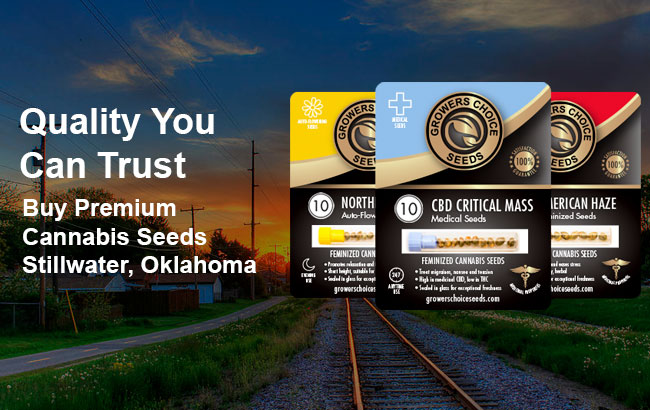 You Can Buy Premium Stillwater Cannabis Seeds Online
Are you interested in a legal source for premium Stillwater cannabis seeds? Grower's Choice Seeds delivers high-quality seeds straight to your doorstep. Choose from tons of strains of traditional feminized, auto-flowering, and high-CBD medical seeds and Grower's Choice will get them in your hands, fast! Searching for a reliable source for seeds that produce quality buds can be difficult and waste lots of time and energy. Grower's Choice Seeds will be your trusted online source of great seeds.
Legal Cannabis Seeds in Oklahoma
If you live in the state of Oklahoma, you can now buy cannabis seeds online from Grower's Choice Seeds! Recently, lawmakers legalized medical cannabis for approved patients. Just like a number of states around the country, approved patients can grow their own plant medicine at home. Are you an approved medical marijuana patient in the state of Oklahoma? You can grow up to 6 plants in your own backyard! Grower's Choice Seeds is your trusted online source for premium medical cannabis seeds. For those who are not approved medical patients, you can still legally purchase seeds from Grower's Choice Seeds for your private collection. Just leave your seeds ungerminated and unplanted so you are following the law. When the state of Oklahoma eventually legalizes marijuana for all adults, you will be ready to grow from day one using your favorite strains. Order high-quality cannabis seeds from Grower's Choice Seeds!
Medical MJ
If you are after the healing properties of cannabis, go with high-CBD marijuana seeds from Grower's Choice Seeds. These seeds grow buds rich with the natural compound, cannabidiol, or CBD. Studies are continuing to show the anti-inflammatory effects CBD has on the body, making them a great option for therapeutic relief. Are medical seeds right for you? Here is a short list of conditions that plant medicine can help with:
Muscle aches
Joint pain
Insomnia
Nausea
And much more
Grower's Choice Seeds will deliver the best medical seeds available on the internet straight to your front door.
How to Grow Auto-flowering Weed Seeds
Are you new to growing cannabis? Getting your feet wet with easy to grow weed seeds is a great way to start. Grower's Choice Seeds carries high-quality auto-flowering cannabis seeds for the first-timer and veteren alike. What is the difference between regular and auto-flowering seeds? With traditional marijuana seeds, growers need to shift plant growth from the vegetative stage to the flowering stage at the correct time with light manipulation. Auto-flowering seeds make that shift all by themselves!
Order Cannabis Seeds from Grower's Choice
High-quality Stillwater cannabis seeds are available to buy and get delivered to your doorstep from Grower's Choice Seeds. If you are looking for a legal source for premium seeds, go with Grower's Choice!
Most Popular Cannabis Seeds