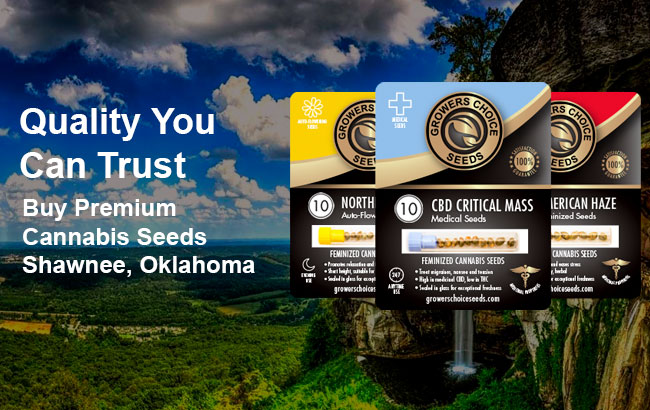 Order High-Quality Shawnee Cannabis Seeds
Premium Shawnee cannabis seeds are just a few clicks away with the help of Grower's Choice Seeds. We ship legal cannabis seeds directly to your doorstep. Choose from tons of strains of traditional feminized, auto-flowering, and high-CBD seeds. Not planning on growing right away? No problem! Seeds from Grower's Choice can maintain their excellent germination rates for up to 3 years with proper storage. Get seeds delivered fast with Grower's Choice Seeds!
Cannabis Laws in Oklahoma
If you live in the state of Oklahoma, you can now legally order cannabis seeds online from Grower's Choice Seeds! In 2018, lawmakers legalized medical marijuana for approved patients within the state. If you have a medical card, you can grow up to 6 plants at home. Grower's Choice is your easiest source for high-quality seeds. What if you do not have a medical card? You can still purchase and collect ungerminated marijuana seeds for your private collection. Just leave your seeds ungerminated and unplanted so you are following the law. Grower's Choice Seeds is your source for legal seeds online!
Medical Weed Seeds
Grower's Choice Seeds carries premium medical weed seeds and can deliver them straight to your front door. Have you been curious if the health benefits of marijuana could help you? More and more research is going into the healing properties of the plant. The results being published are very encouraging! Here are some conditions that cannabis can help with:
Muscle spasms
Epilepsy
PTSD
Cancer
And much more
Check out more information on the medical benefits of cannabis from Grower's Choice Seeds.
High-CBD Seeds Online
Are medical seeds right for you? Go with high-CBD medical seeds from Grower's Choice Seeds. These seeds are packed with the natural chemical compound called cannabidiol, or CBD. This cannabinoid has powerful anti-inflammatory effects on the body, making it a major focus for those seeking medical relief. Make Grower's Choice Seeds your online source for the highest quality medical seeds available on the internet. Start your medical seed delivery today!
Fully-Feminized Cannabis Seeds
All seeds from Grower's Choice Seeds are fully-feminized, meaning you can rest assured there will not be a male plant in the bunch. Why is this important? Growers must be very careful about not letting male cannabis plants pollinate their precious female plants. That can ruin the flowers you spent all that time, money, and effort growing! Trust that you are getting genetically-verified and fully-feminized seeds from Grower's Choice Seeds. Don't settle for less!
Buy Premium Cannabis Seeds in Oklahoma
Get Shawnee cannabis seeds delivered to your doorstep from Grower's Choice Seeds! Premium seeds are ready to be shipped directly to your home in Oklahoma. Take advantage of low prices on high-quality seeds from Grower's Choice.
Most Popular Cannabis Seeds